There's a tough competition ahead among Tablet manufacturers in India later this year. Last year, a Canadian company "Datawind" with collaboration of Indian government introduced the world cheapest Tablet "Aakash"—at the subsidized price of $46 (INR 2,250) for the Indian students. However, the company has failed to avail the surplus demand of Tablets into the retail stores across the country. On March 1 this year, India's one of the largest Telecom operators BSNL launched "Penta IS701R"  Tablet just at $71.01 (INR 3,499). And now, Reliance has also commercially introduced its CDMA network based Tablet in India after announcing the company's quarterly results yesterday. The Tablet will cost $260.76 (INR 12,999). The company has convinced that the device will have same functionality as R-Com's GSM Tablet (Reliance 3G Tab) has.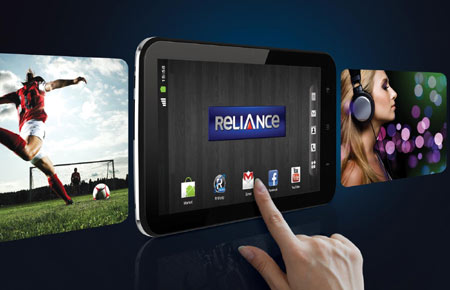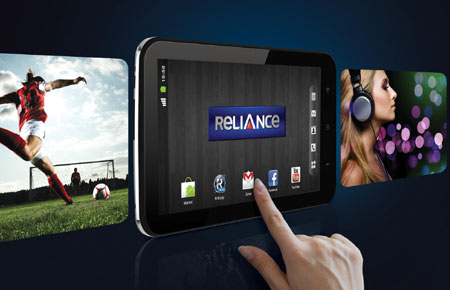 The CDMA network based Tablet has 7-inch sized capacitive touch screen along with 512 MB RAM. The Tablet is also equipped with 2MP front and rear camera and a micro SD external storage. Beside this, the Tablet is powered by Android 2.3 (Gingerbread) OS. The Tablet has 15 pre-loaded applications such as Document To Go, social networking services, Mobile TV, voice calling, GPS, video recording capability and more.
Reliance has availed the Tablet into its  Reliance World Stores, Reliance Mobile outlets and retail Stores. The Tablet is now available in all the 22 CDMA circles of Reliance in India. In addition to this, the company is also offering free subscription of R-ADAG's online movie streaming service for two months, free McAfee mobile security subscription for one year,  BigFlix+ and free calling on Reliance global call of worth Rs250.  The company is also privileging a free 4GB SD card and discount upto 40% on the regular tariff for postpaid plans.
Undoubtedly, Indian market is going to be flourished with cheap Tablets later this year.Apart from this, Datawind might launched the upgrade version of Aakash Tablet "UbiSlate 7" later this year—which will also have Gingerbread OS. Beside of OS, the features  of Tablets from different manufacturer are almost similar to each other accordance to price variance. BSNL has also introduced two other models along with Penta IS701R at two different price tags, which is almost nearer to the price tag of Reliance CDMA Tablet. In the present scenario, it's really difficult to predict success or failure of the Tablets. However, it's true Reliance will be succeeded to lure a huge numbers of dedicated users.