In this era of scientific innovations, India is successfully narrowing the gap between the students of rural areas and present technology. To move further on similar thought process, today it has launched a tablet operating on 2.2 Android which will merely cost Rs 2,250 ( $46) to the young Indian generation. Around one lakh students will be benefited with this cheap tablet PC and will be able to get their hands on the latest information technology by ease. This tablet, named as "AKASH" is developed jointly by the Indian Institute Of Technology,Rajasthan and DataWind Ltd. Though the tablet costs Rs 2,250 but the Central Government Of India has decided to make this tablet available to the higher education students for just Rs 1,125 by bearing its fifty percent cost on itself. Government has also confirmed that they are trying to bring down the cost of this tablet to around Rs 450 ( $10).
Human Resource Development Minister, Kapil Sibal says,"Akash is a milestone in history. It will bring paradigm shift in education delivery." He added by saying,"The device is not only for Indian students but for those of the world." Officials said "the low-cost device would allow students in the rural areas access technology that will define the 21st century."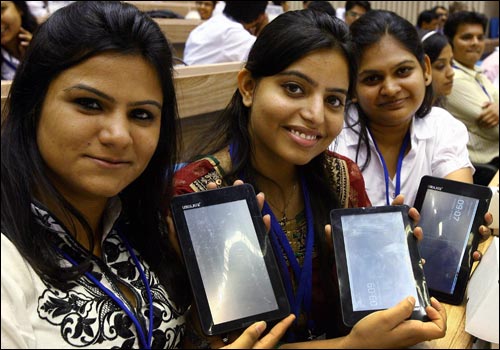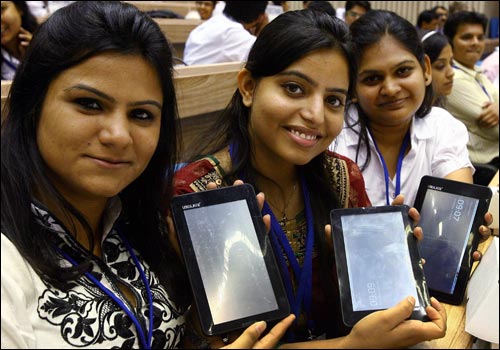 "People said it can't be done in India and by the Indians. We accepted the challenge," said DataWind chief executive officer Suneet Singh Tuli. IIT Rajasthan director Prem Kalra said that the prototype of the low-cost device was developed by his students.
Akash , the tablet developed has a 7 inch touchscreen display and operates on Android 2.2, it has integrated WiFi module for wireless network connection and data transfer and much more. There will be a different model available for commercial purpose as told by industry experts. Also, Suneet Singh Tuli, chief executive of DataWind told,"We plan to launch the commercial variant of the device somewhere in late-November." He added,"No doubt it's a great product. But our first priority is to provide it in India and then the rest of the world." Lets wait for the device to get  released commercially and to get our hands on it.
courtesy : indiatimes.com