There is always ambiguity among users about the best social networking site for brand promotions. As they mainly get confused between Twitter and Facebook. To help users,  Socialbakers has done a brief study which contains various stats, facts and figure to help users in determining the best social networking site for brand promotions.
It has been discovered that Facebook helps users in sharing their feedback about the product without any word limitation has been extended to 60,000 words. This allows brands to have details discussion with people over Facebook resulting in higher engagement ratio. On the other hand users on Twitter are bounded to express themselves in just 140 words, which is quite imperative for brands to trigger a discussion.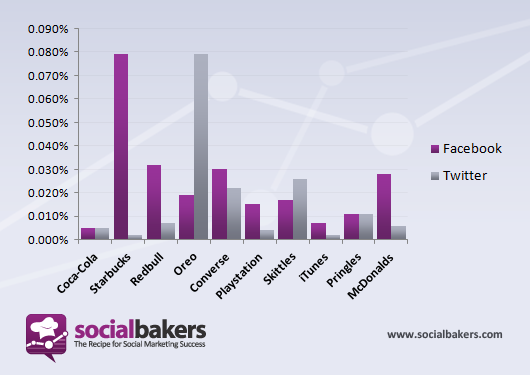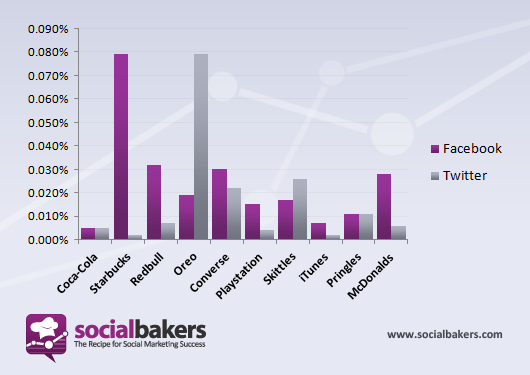 Study reveals that Twitter is one of the fastest modes of sharing contents and users can reach more audience in short span of time compare to Facebook – on which only 16 percent of the users' friends get the information about the updates. Twitter is best for brands that needs live streaming, blogging and ideas promoting.
Facebook is the best source for those companies who want to build customer relationship stronger with higher engagement ratio. People can share photographs, videos, and detailed content documents to make people connected and related.
Study enlightens that Starbucks, Redbull, Converse, iTunes and McDonalds engagement rate on Facebook is comparatively higher than Twitter. While, Oreo, Skittles are the most engaging brands on Twitter. It's mainly because Oreo has asked its followers to share their Oreo moments on Twitter as it celebrated its 100th Birthday. This sort of activities tickle users to adopt Twitter platform for quick and short updates which is stand alone statements. But, the same act didn't perform well on Facebook as people are expecting two-way conversation and discussion.
Indeed, Facebook is dominating in social media space and I see no one who can challenge it in near future. At the same time, Twitter has its own style to perform and speak. I feel that for a brand its important to adopt both the worlds and use them in their own style. People who are fascinated towards Twitter, find difficult to justify their time over Facebook, so the vise-versa.