Mobile malware are growing with galloping swift worldwide year-over-year and it has intensified to mobile platforms. A mobile security analysis firm "Juniper" has reportedly revealed that mobile malware grew with leaps and bound in the last year and it's expected that it will continuously be growing this year. Indeed, these malware attacks have affected a lot to individual as well as businesses worldwide.
Malware growth has more worsened to Android compare to other platforms. Last year, Microsoft announced to offer Windows Phone to Android victims after sharing of their malware story to the software giant. Recently, I have discussed about the vulnerability of Android platform in the security concern. However, a chart has been provided below, which compares malware growth on different mobile OS platforms.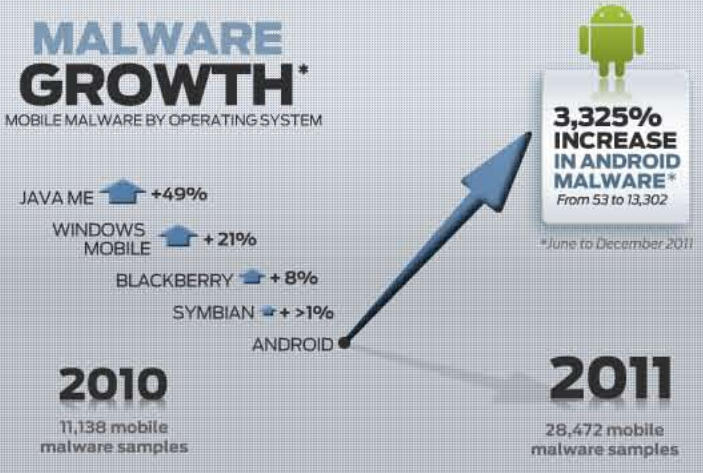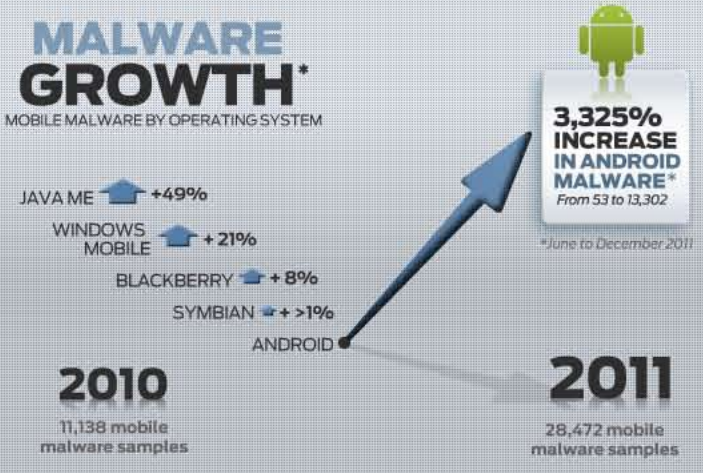 It's quite clear from the above chart that Android has astoundingly recorded highest malware growth, unbelievable 3,325% in the last year, followed by Java Me, Windows Mobile, BlackBerry and Symbian with 49%, 21%, 8% and over 1% respectively during the same period. Malware growth was all time highest in the last year—Google Android platform alone accounted 46.9% of malware attacks.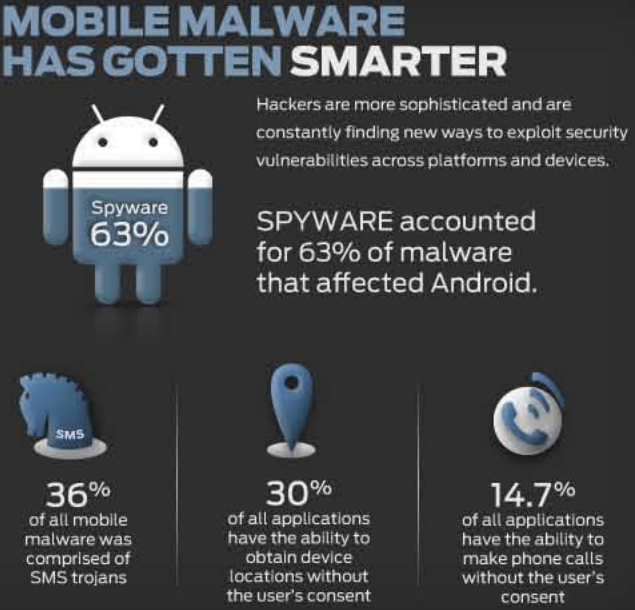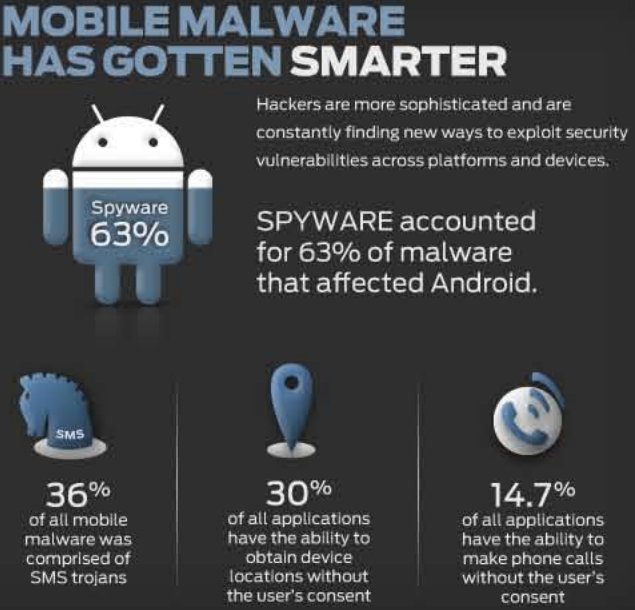 However, developers endeavored their label base to eradicate malware from different platforms, but ironically, mobile malware were getting smarter day-over-day. It's true that hackers are really smarter and they are more sophisticated. They are always seeking an innovative to exploit security vulnerability across the platform and devices.
Last year, majority of mobile devices were getting affected from either SMS Trojans or online applications. The firm has reported that 36% of mobile malware comprised SMS Trojans in the last year, while 30% applications installed on devices exposed the location of the devices to hackers without users' consent. In addition to these, 14.7% of all applications have the ability to make phone calls without the user's consent.
Over 10 billion applications were downloaded by users worldwide last year, which was the highest downloads ever. The firm has also reported that hackers face lower barrier to enter into apps store and that's the reason why app stores are quickly becoming the main point of entry for malware.
Source: Juniper