In last one year social networking sites have registered exponential growth in developed as well as under developing countries. Users, associated with these countries, have helped social networking sites in generating more revenue . Also, Growth rate in developing as well as under developing countries are comparatively higher than developed countries. Recent report highlights that social network penetration rate in emerging market, including Mexico and Indonesia, ranged from 56 percent to 86 percent of internet users. While penetration rate for internet users associated with social networking sites in developed nations like United States of America is 60 percent.
The growth of revenue for Social networking sites in non-US countries like India, Russia, and Brazil is much faster compared to U.S. . It's expected that by the end of 2012 social media revenue will touch the milestone of $8 billion, out of which more than half of the revenue will come from non-US countries alone.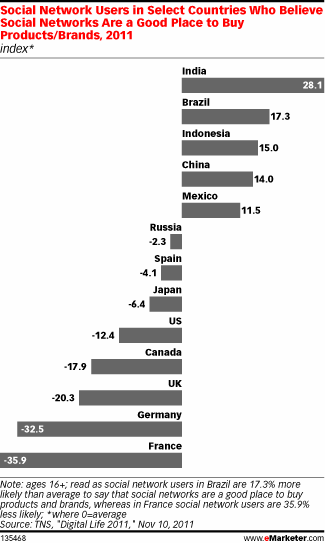 Interestingly, growth of social networks in developed markets is flat terrain while emerging market is experiencing double-digit growth rate. Social networking sites penetration rate in Indonesia and Russia was highest, at 86 percent combined in May 2011, up from 63 percent and 76 percent in 2010 respectively.
However, Brazil – which was not included in the list – has reached penetration rate of 93 percent of internet users in August 2011. Surprisingly, Brazilian users are one of the most active users on internet as well as social media. Therefore, most of the social networking sites are trying their level best to trap users from Brazil.
Apart from eMarketer report, TNS study found out that user from BRIC , Indonesia and Mexico look social media as a place to learn about brands and products. They prefer to buy more products via social media networking sites compared to developed markets like Canada, UK and US.
However, users from developed market prefer to buy products from third – party ecommerce sites using various payment methods. They look social networking site as a friend where they can spend their time for relaxation and personal engagement. While, in developing market ecommerce trend is still untested in the form of wide acceptance, so users used to purchase the products with the help of social media networking sites.
Social media networking site growth in developing countries is mainly due to absence of local competitors as well as widely accepted ecommerce trends. Users prefer to leverage over social media as a tool which can help them doing pre-sales analysis of product/service they want to purchase. Also, users from such countries get socially influence easily compare to developed countries.