One side Apple App Store and Android Market Place have tremendously marked a record of 10 billion apps download last year, while other side Apps download business is still behind the Apps development services. A recent study has revealed that the mobile apps development service has surpassed the total mobile apps distribution market by a factor of 3 folds.
A mobile analysis firm – research2Guidance – has targeted to application developers who contribute to service market, and also focused to the target users for whom the applications have been developed. The firm has also targeted to CEO and the Marketing Manager of companies to know all the details of application development services.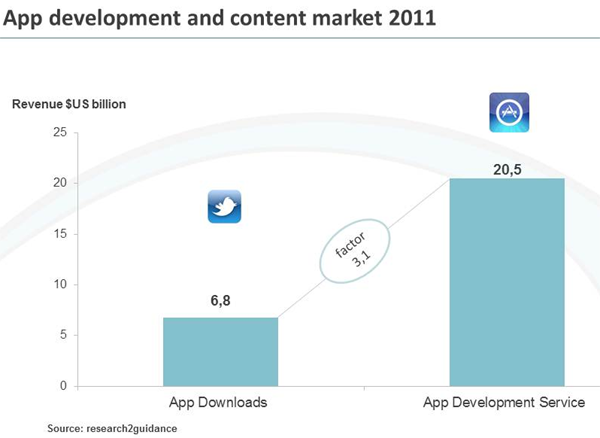 The mobile application development comprises of apps creations, apps management, distribution of the apps and finally to avail the extension of the apps to users. Off course, the turnover of the apps development service market has reached to $US 20.5 billion globally in 2011, which is three times the size of apps download market.  Therefore, in next 3 years said market will see revolution 400% growth as its expected to touch $100 billion by 2015. The firm has estimated that the Apps download market created a total revenue of $US 6.8 billion in the last year.
The report has been framed after insight investigation of the data provided by almost four-hundred companies including Apalon, Alibro, Bit Heads, SAP, Infosys, Capgemini, and more.  It has also stated that there is large 'variation of charge demand' by the developers in different market. The developers from UK market charge $US 626 per day for an mobile app development whereas it's low in India where developers only demand $US 138 per day.
The demand of apps download is expected to increase in upcoming years due to accelerated sales of smartphones in the market. Different application providers are now planning to develop a fruitful apps ecosystem to enhance number of apps downloads. Presently, a numerous number of apps are available in the market at the very low-price, definitely, it might sway to users.
The biggest contribution in app usage is being done by Android users as they are more data consumers than iPhone app users. Therefore, in 2012, we can expect to see more number of Android based apps than iOS as demand and usability of Android will remain higher than iPhone.