In today's generation bloggers play an important role in providing information to the users as well as industries. Such information may be of any type including news, analysis, or Infographic depends upon the environment. A Recent survey by Technorati – conducted over 45 english spoken countries reveals that more than three fifth of the bloggers are male against two fifth female and maximum of those are in the age group of 25-44 years. Study states that in U.S, California contributes the maximum with 15 percent, followed by New York with 7 percent and Texas -6 percent of overall number of bloggers.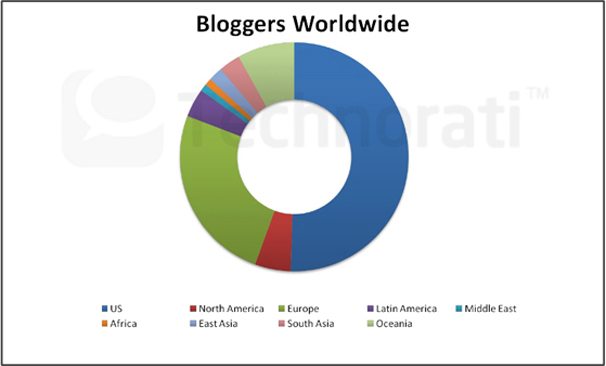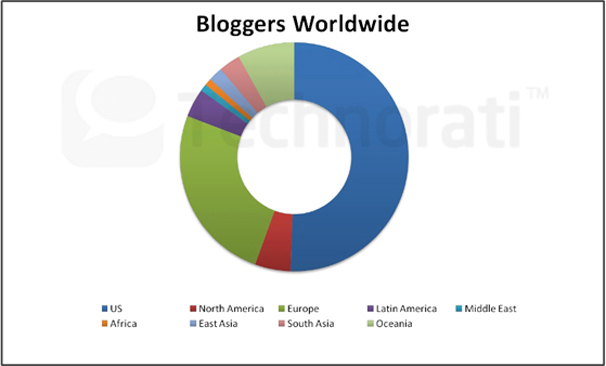 Survey highlights one of the most important facts that many bloggers are Graduate and out of which maximum are either entrepreneurs or professionals. On the basis of income near about half of the bloggers receive no annual salary for blogging and about 54 percent of them have reported about an annual income of more than $50,000. This directly indicates that many corporates are using revenue, from blogging, as a supplement to their household income. It also been reported that majority of bloggers are married and only 25-30 percent of them stays single.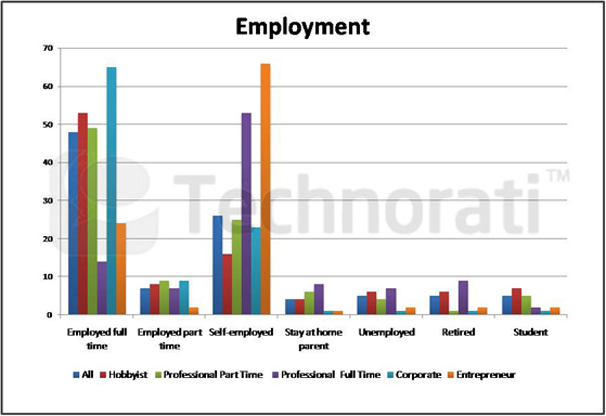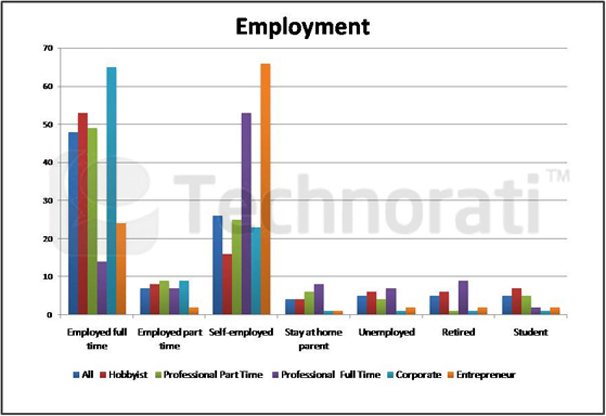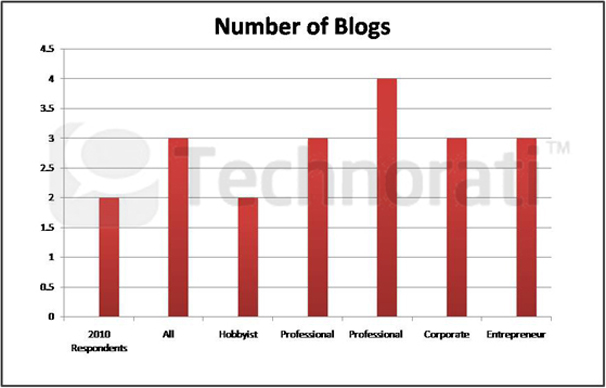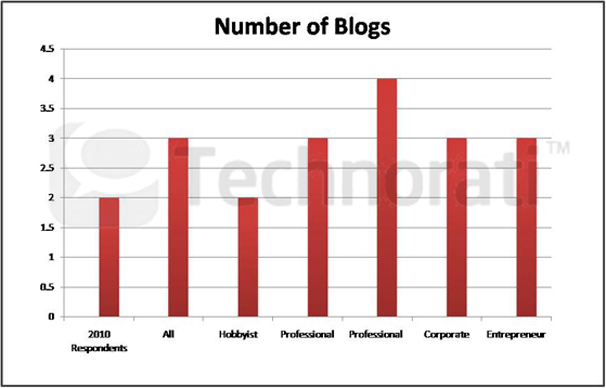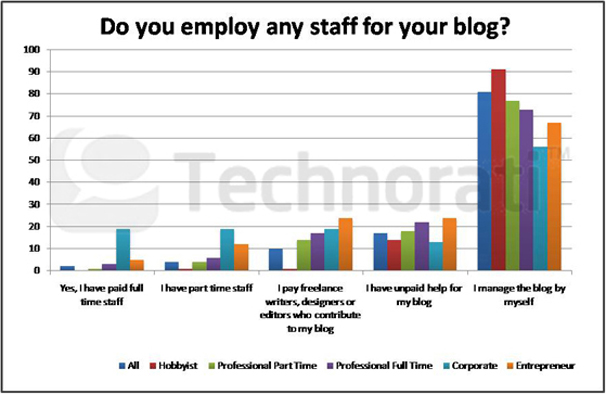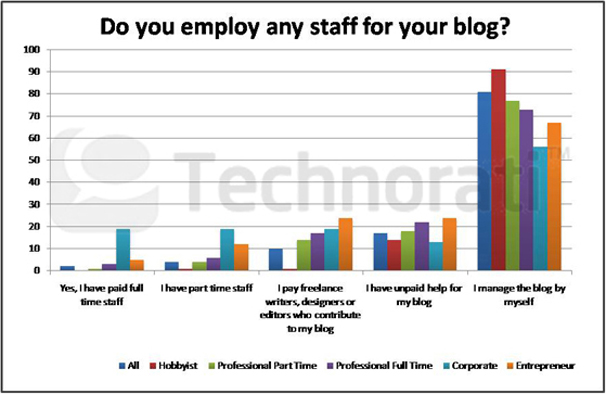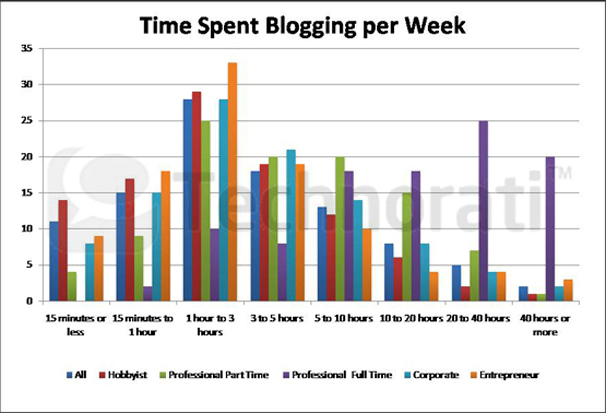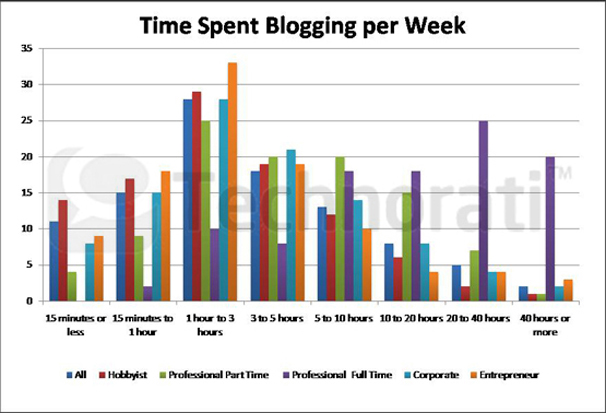 Series of chart enlighten many more interesting facts on blogging:
Near about 37 percent of professional full-time bloggers say that blogging stands as their primary source of income.
Out of these 37 percent, around 55 percent are parents (and 57 percent of Entrepreneurs are parents). This is almost 10 percent more than other segments of bloggers (46 percent of hobbyist, 48 percent of Professional part timers and 48 percent of Corporates are parents).
Professional full-time bloggers are mainly self-employed and sometime more likely to be stay at home parent or retired.
Professional Full time bloggers (56 percent) as well as Entrepreneurs (63 percent) are more likely to be married as compared to Hobbyist (51 percent).
Professional full-time bloggers are older in age as compared to others. Near about 28 percent are less than 34 years of age compared to 38 percent of overall age.
In field of education professional bloggers lags behind Corporates bloggers, with near about 41 percent of professional bloggers have at least some graduate work (31 percent have an actual graduate degree) compared to 55 percent of Corporates bloggers.
On a working day near about 35 percent of Professional Full time bloggers posts nearly two to three blogs daily as compared to 24 percent of professional part-time and 16 percent corporates.
In a week 20 percent of Professional full-time bloggers spent more than 40 hours for blogging compared to 3 percent of corporates bloggers.
Around 81 percent of bloggers, whose blog is businesses, manage the blog themselves compared to 38 percent of corporate bloggers who are either full-time or part-time paid.
From the above study we conclude that bloggers have become the backbone for industries and their requirement and this will keep on increasing in coming days. In future we may probably see blogging as one of the most prominent career options among youth and professionals.
But the big question is; with such open platform and freedom of expression, will people understand the true meaning of blogging and the responsibilities ? Or, will it be penalized just by being as one of the other revenue source for people ? Do share your views in comment section.