Almost all social media sites, including Facebook Inc. (NASDAQ:FB), Twitter Inc. (NYSE:TWTR), LinkedIn Corp. (NYSE:LNKD), have turned into a battle ground for brand marketers across the globe. Marketers are increasing their social media activities on various networking sites to generate leads and acquire customers. According to a '2014 Social media marketing industry report' by Social media examiner, which surveyed over 2,800 marketers worldwide, nearly 92% of marketers considered social media as vital tool for their businesses, up from 86% in 2013. About 89% of marketers were keen to learn various social media tactics to achieve desirable results for their social media ad campaigns.
Facebook Was Up Voted As 'Most Important Marketing Platform' By 54% Of Marketers!
Nearly 54% of respondents up voted Facebook as most important marketing platform. LinkedIn was second most important platform for 17% of marketers and Twitter for 12%. In graph below we can see that Social media titan Facebook owns lion's share of 54%, which is a significant improvement from 40% in 2013. LinkedIn, too, increased its share from 16% in 2013 to 17% this year. Interestingly, Blogging was in 4th place with only 8% of respondents voting it as important marketing platform.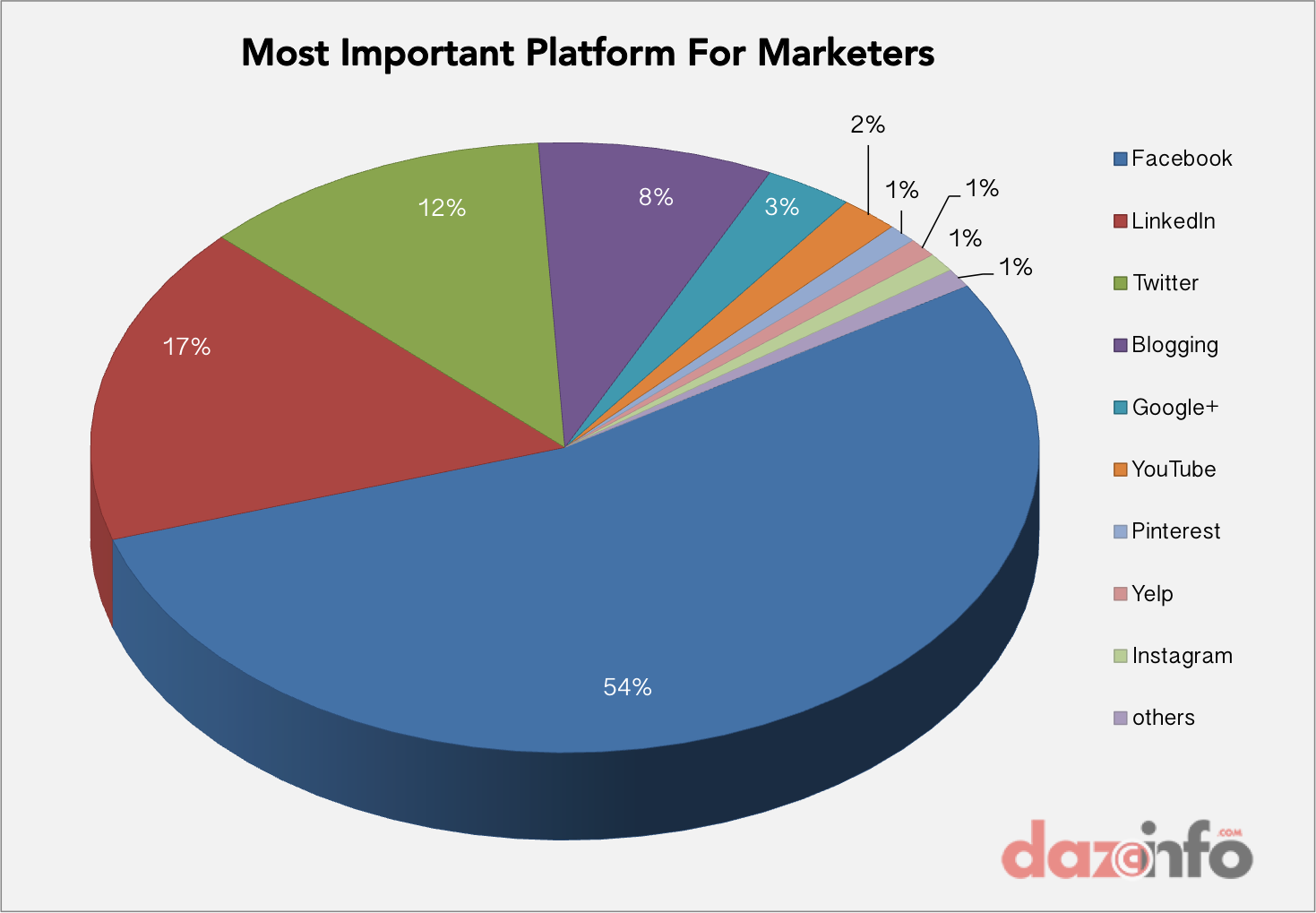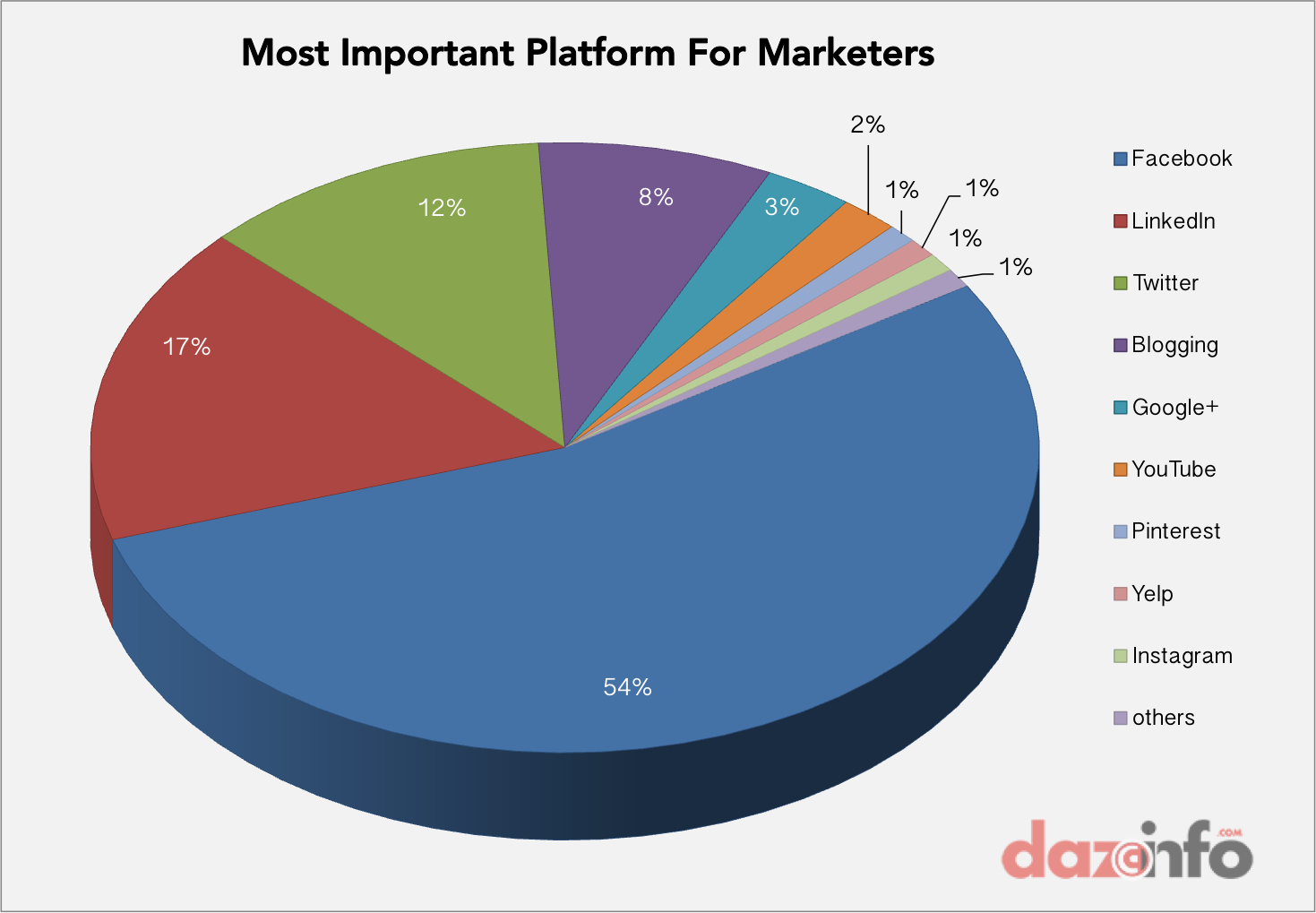 Although, analysts might have predicted doomsday for Facebook very soon, still its 10+ years of striving efforts has helped to maintain a niche for itself. The social media titan is on a dream run breaking all revenue records, mainly due to its advertising initiatives, like geo-targeting of ads, custom audience feature, 'page reviews' feature, mobile NewsFeed ads, ad targeting based on gender, age, browsing activity (cookies), dark posts and the news feed revamp. The social networking platform of over 1.28 billion users, accounting for 15.8% of overall time spent on internet, is bound to retain its top position for few more years.
LinkedIn, known as world's largest professional networking site, gained second spot amongst marketers mainly due to its niche like-minded user base who network on platform mainly for business purposes. LinkedIn's influencer's group, channel content and LinkedIn Intro has helped marketers, especially the ones from B2B arena, to expand their businesses. Twitter is undoubtedly more viral and spreads news at wild-fire pace when compared to other networking sites but, its growing percentage of inactive registered users has caused greater concern amongst marketers.
Facebook: Favourite For 68% of B2C Marketers
If we breakdown the above analysis into marketers of B2C and B2B type, Facebook nearly outplayed all other networking sites with massive 68% of B2C marketers who are labelling it as their top choice for social marketing. Next in line was Twitter with 10%, followed by Blogging and LinkedIn with 6% share each.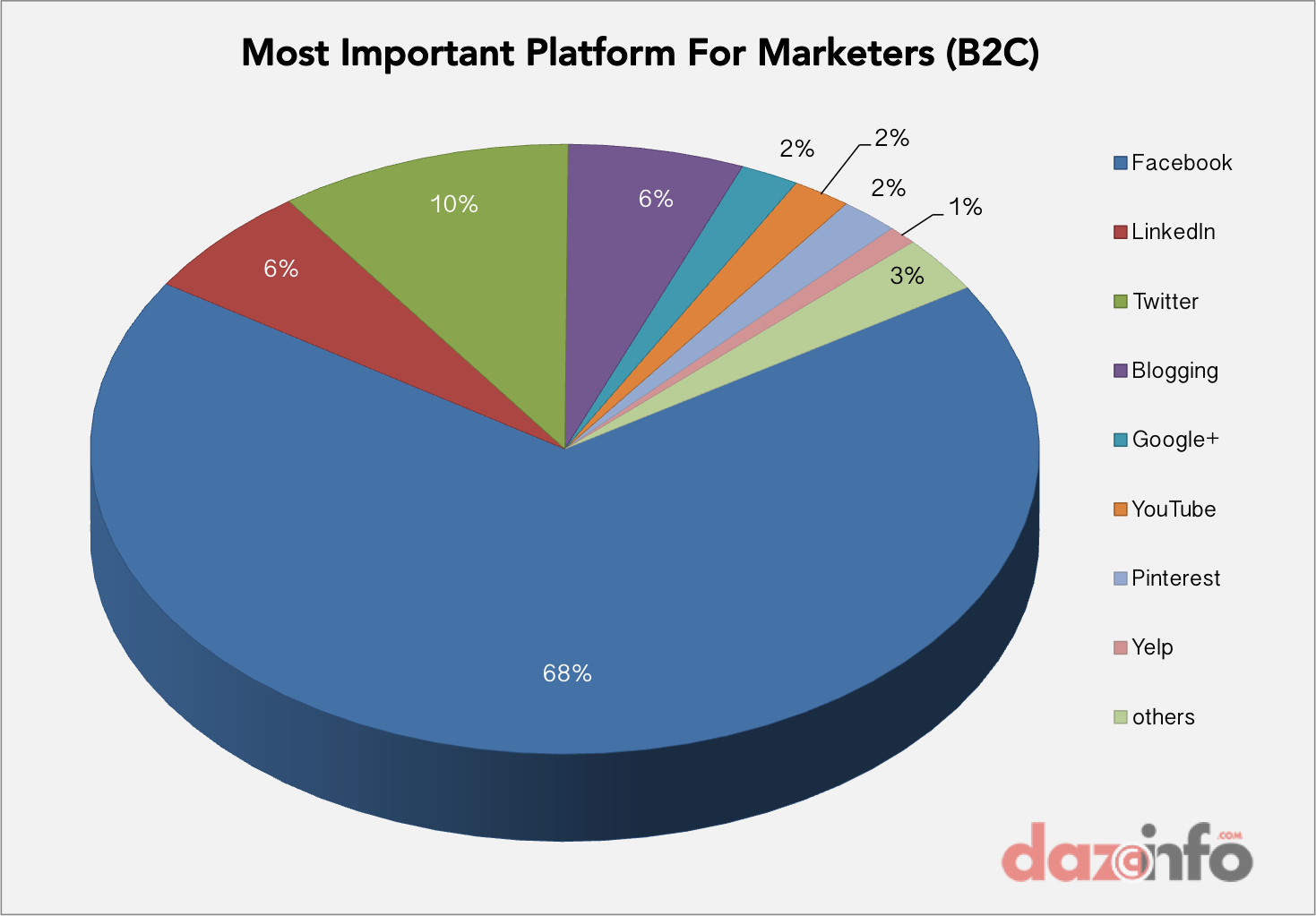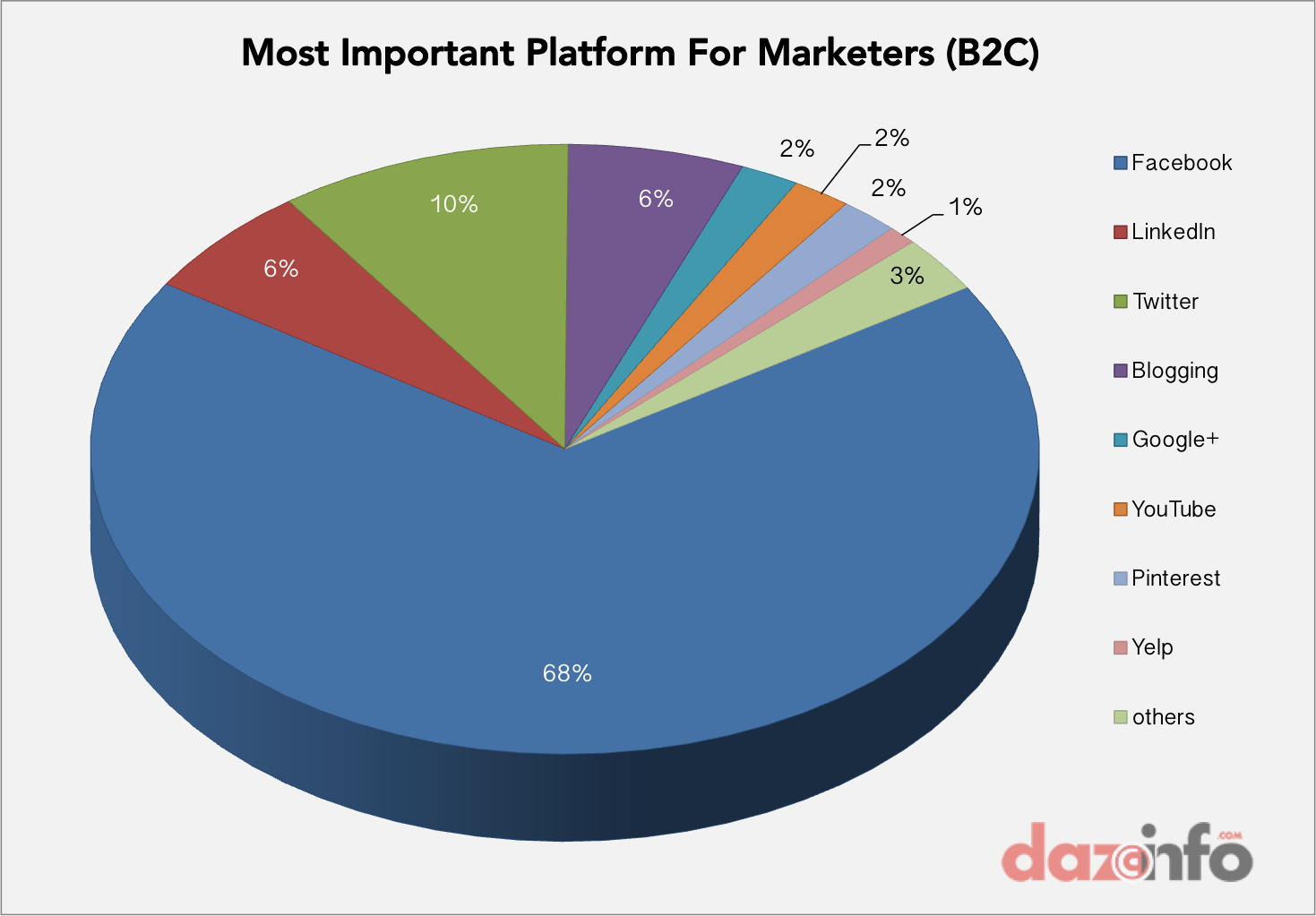 In B2B arena, LinkedIn proved to be dominant with 33% of marketers are favoring its usage over other networking platforms. Facebook, however, is not far behind with 31% of respondents prioritizing it as their first choice for marketing. Twitter is upheld by 16% and Blogging by 11% of respondents.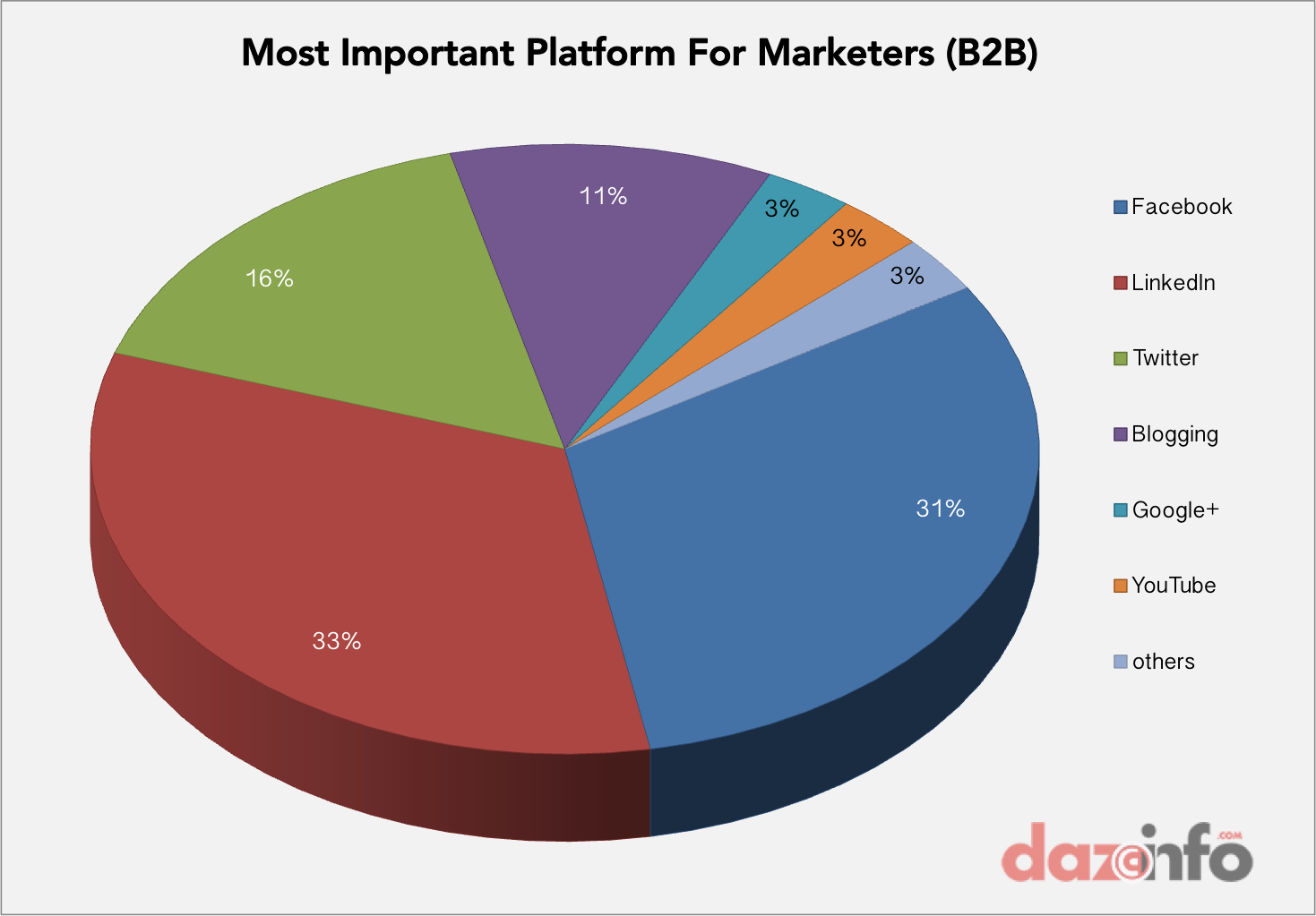 What Marketers Plan To Do In Future?
Social media marketing is fluctuating at lightning pace making it difficult for marketers to standardize any particular strategy to achieve desirable results. Most of the recently carried out social media marketing strategies are on trial and error basis. When respondents were asked "which online marketing strategy they would prioritize in future ?", nearly 68% are in favor of blogging. About 67% are planning to increase their marketing activities on YouTube, 67% on Twitter, 64% on LinkedIn and 64% on Facebook.
Blogging, one of the most cost-effective and influential platform, is favored by 74% of B2B and 63% of B2C marketers. King of video content site YouTube is next in line with 67% respondents are planning to market their product through attractive video ads. Usage of Twitter increased from 64% in 2013 to 67% in 2014, attributing to the growing awareness of its  mass communication tool. Professional networking site LinkedIn too is in list of top priorities for about 64% of marketers. As expected, majority of them (in favor of LinkedIn) are from B2B segment (77%) compared to B2C (54%).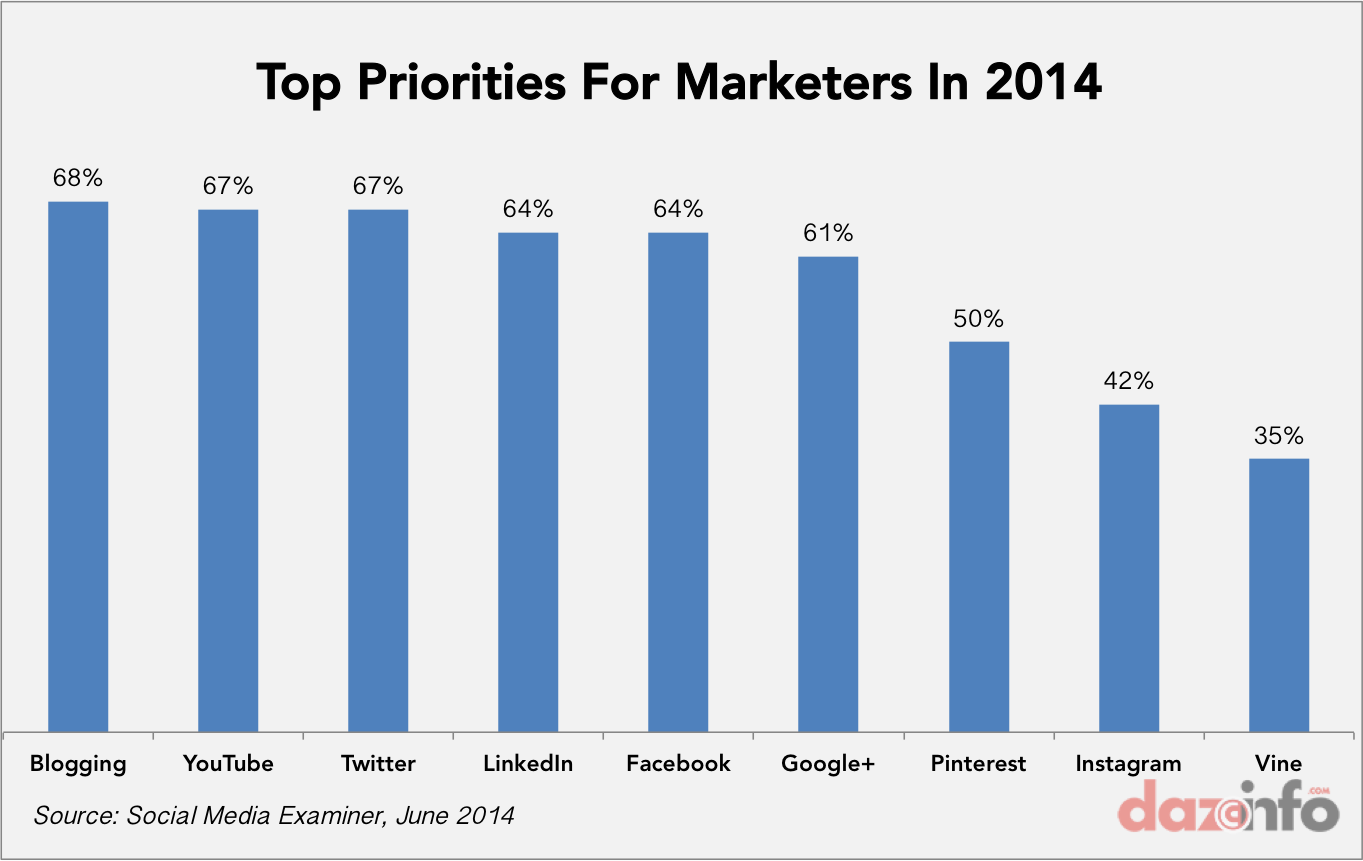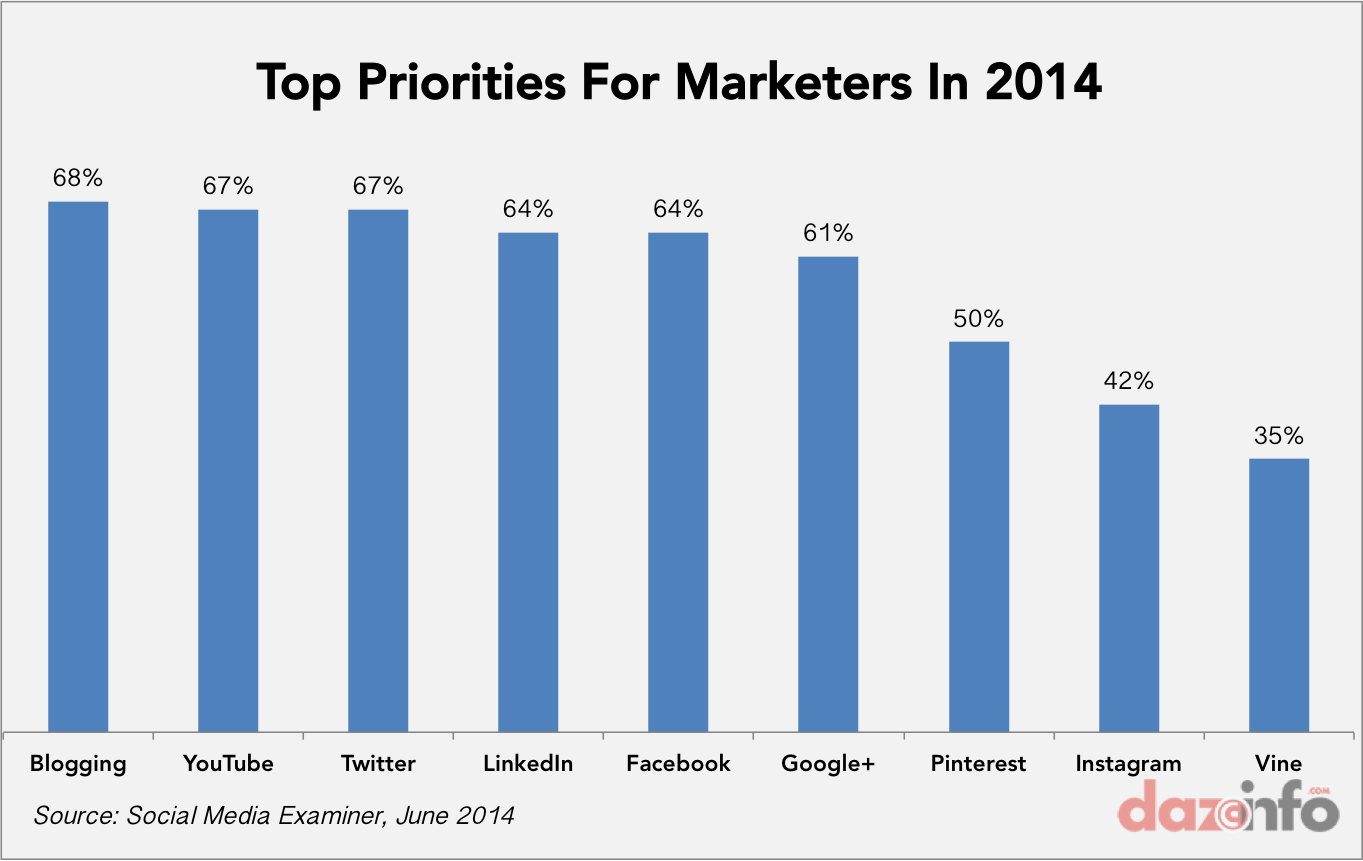 Although, the social media giant Facebook was still considered vital by about 64% of marketers, its position moved down from second position in 2013 to fifth position in 2014. Search giant's networking arm Google Plus was not far behind with 61% of respondents planning to increase their activity on the site. Google Plus hosts more than a billion registered users world-wide, its attractive GIF images has created significant buzz amongst marketers.
Pin board style photo sharing website, Pinterest (50%), photo sharing app Instagram (42%) and Vine (35%) are other networking sites where marketers have planned to increase their activity for rest of 2014. Marketers should plan their social media activities based on their product type and target audience. Presence and activity on various networking sites is required as trend keeps shifting from one social media platform to another.