Internet Explorer was launched by Microsoft with Windows 95 in 1995 as add-on package. Since then it is one of the widely used browsers and probably the most 'chosen' one. It had attained the market share of 95 percent during 2002 and 2003 with Internet explorer 5 and Internet explorer 6. But with the launch of other browsers IE continuously has been losing its market charm and today, for the first time in last one decade, its market share has dipped below 50 percent. The main reason behind such plunge is the significant rise of Google Chrome, Mozilla Firefox and Apple Safari. One will be surprised to know that Microsoft is also loosing faith on its web browser IE and the best example is a recent tie up with Firefox.
According to NetMarketShare, IE has fallen below 50 percent in browsing war; its web traffic has reduced to 49.58 percent from 64.6 percent in November 2009. Comparatively, its competitors Firefox is holding 21.20 percent and Chrome is holding 16.59 percent of market share for global web traffic. Google Chrome has emerged as the biggest gainer in last two-year with 16.59 percent market share in November this year compare to 9.98 percent on December 2010. However Safari is still struggling with only 8.54 percent market share despite of Apple's record sales figure of iPhone and iPad, that come pre-loaded safari browser.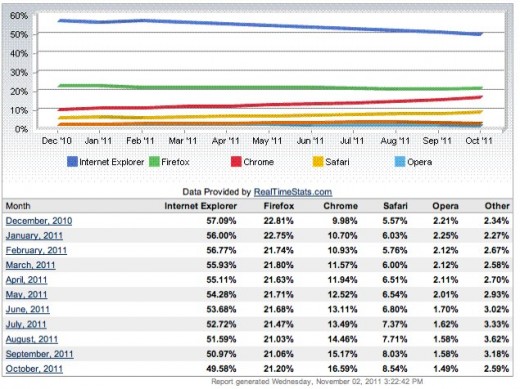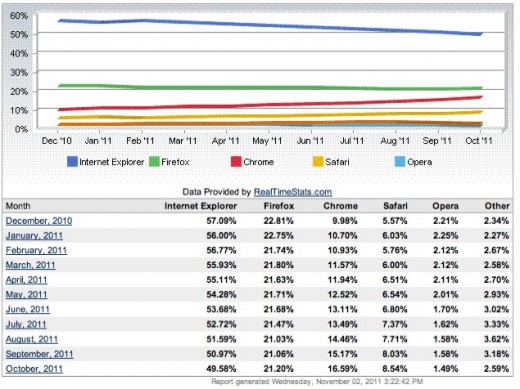 Such major difference in browser market share is might be due to loads of Applications' extensions availability on Chrome and Firefox as compared to Internet Explorer.
As we know that more and more devices are shipping with Chrome and Chrome OS;  in coming years we might see further rise in market share for Chrome browser. Even, in smartphone industry Android is leading the way where Google can leverage upon for Chrome. However, market share for Internet Explorer might go down in coming days due not-so-warm response Microsoft is receiving for Windows phone 7.
Though, its was reported the bounce back of Microsoft in Smartphone by 2015 when Windows Phone 7 may leapfrog other mobile OS. If that happens, undoubtedly IE will emerge again with up-head, probably in a new Avataar. Anyways, Microsoft has reportedly started working on the next version – IE 10.
Do you think that there is some else Microsoft should do to rank back it position in browser market. Do let us know in comment section.