With each passing day social media is gaining more traction among internet users and numbers are increasing with an exponential rate. Few days earlier, Facebook reached the landmark of 800 million users, now it's Google+ that has consumed 50 million users – a fastest growing social media network ever. On September 20th, company announced its first API and made it openly available for all internet users to sign-up. Since then it has recorded a monstrous growth of 1269 percent in traffic according to data from Expertise Hitwise.
In June this year, Google+ reached 10 million users mark in just two weeks of the launch and recently it has opened the free access to all internet users which has helped it to reach 50 million users, according to analyst Paul Allen – who is tracking the stats of Google+ from the day first.
Compare to other social media platforms; it took only 88 days for Google+ to hit 50 million mark-  the fastest achievement till date. Facebook consumed almost 3 years, Twitter 30 months and LinkedIn 78 months to touch the same user mark.
Last week company reportedly saw 15 million total US visits and after opening the door for users its traffic spike is increasing with constant speed.
"I start with US Census Bureau data about surname popularity in the U.S., and compare it to the number of Google+ users with each surname. I split the U.S. users from the non-U.S. users. By using a sample of 100-200 surnames, I am able to accurately estimate the total percentage of the U.S. population that has signed up for Google+. Then I use that number and a calculated ratio of U.S. to non-U.S. users to generate my worldwide estimates. My ratio is 1 US user for every 2.12 non-U.S. users. That ratio was calculated on July 4th through a laborious effort, and I haven't updated it since", process adopted by Analyst Paul Allen for finding figures.
Here's a graph which will show how fast the growth of Google+ is when compared with other well known social networking sites: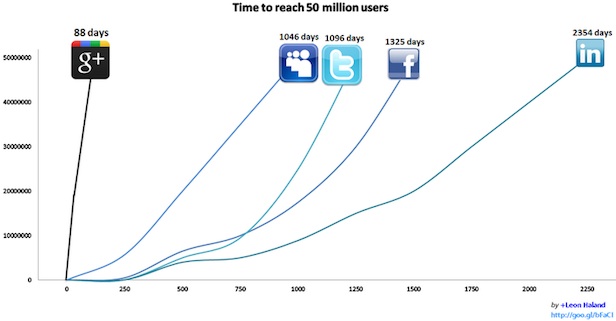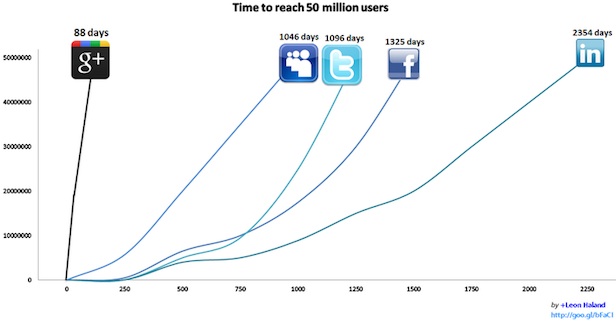 Google+ achieving this target in such a less time will be a threat for other social media giants, let's watch how many days it will take to reach 100 million marks. If Google manages to maintain the trend, we can just predict the downfall of Facebook in coming 2 years.