Mobile industry across the globe is witnessing a major revolution. Be it platform dependency, network capability or mobile ad network, industry is constantly enhancing its delivery capabilities. India is not an expectation and constant growth for last few years has made a way for India to be one of the most triumphant markets for handset manufacturers, network providers and mobile advertisement companies.
As per the latest report published by InMobi, one of the largest independent mobile ad network management companies, Indian mobile ad network industry, with 706 million subscribers, is the biggest contributor in global mobile ad revenue collection. Consequently, ASIA is has emerged at the biggest continent which have the maximum impact on mobile ad across the globe.
With the maximum mobile ad impressions of 12.4 billion recorded by InMobi network by October 2010, ASIA pacific leads the mobile ad industry where 5.8 billion ads (marginally lesser than 50%) was originated from India alone. Interestingly, Nokia and Symbian remained as preferred operating system source of ads in India which originated more than 3.7 billion of ad impressions.
Asia, apparently,has followed the trend of India and recorded the maximum ad impressions , 5.1 billion, through the handsets which was running on Nokia and Symbian OS.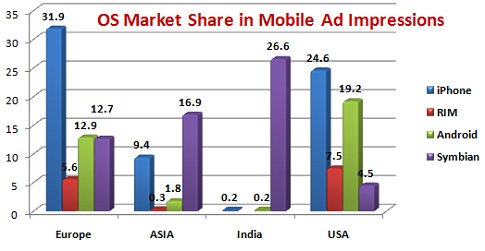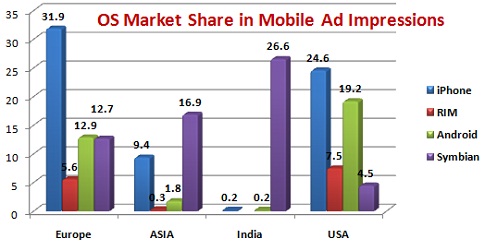 However, the scenario was largely diverted in USA and Europe. Close to 2.9 billion ads impressions, out of overall impressions recorded by InMobi, were originated from USA. As expected, maximum ads were appeared on iPhone unlike ASIA and India. This claims the prominent dominance of Apple across the USA. Not so far, Android just trailing iPhone with 574 million impressions followed by RIM and Symbion with 224 million and 133 million respectively.
Without any surprise, Europe proved to be just a replica of USA market. With 2.73 billion ad impressions, UK seems to be pegging to Apple's iPhone. Much impressive Android shows better promising future market which climbed to 12.9% from just2.99% in 90 days.
With all such great market analysis and infography of InMobi ad impressions across the globe, one things which can commonly recorded is the identical growth of number of ad impression originated from Android based handset at the cost of Nokia and Symbian OS.