The global venture funding landscape experienced a notable rebound in Q3 2023, bringing a sense of relief to entrepreneurs and innovators. According to the latest CB Insights report, the total venture investment reached an impressive $64.6 billion in Q3 2023, with an 11% QoQ increase. Nearly half (45.8%) of this VC funding was attributed to mega-rounds of $100 million or more, underscoring the growing appetite for high-stakes investment opportunities.
Despite the positive quarterly surge, a year-on-year comparison delivered a stark reality check, showing a substantial 22.7% drop in the global funding value for Q3 2023.
Adding to the intrigue, the global venture funding deal volume also declined 11.3% QoQ and 36.1% YoY, reaching 6,111 deals in Q3 2023. Notably, this quarter not only marked the sixth consecutive quarter of decline in deal volume but also set a new milestone by reaching the lowest deal volume recorded since 2016.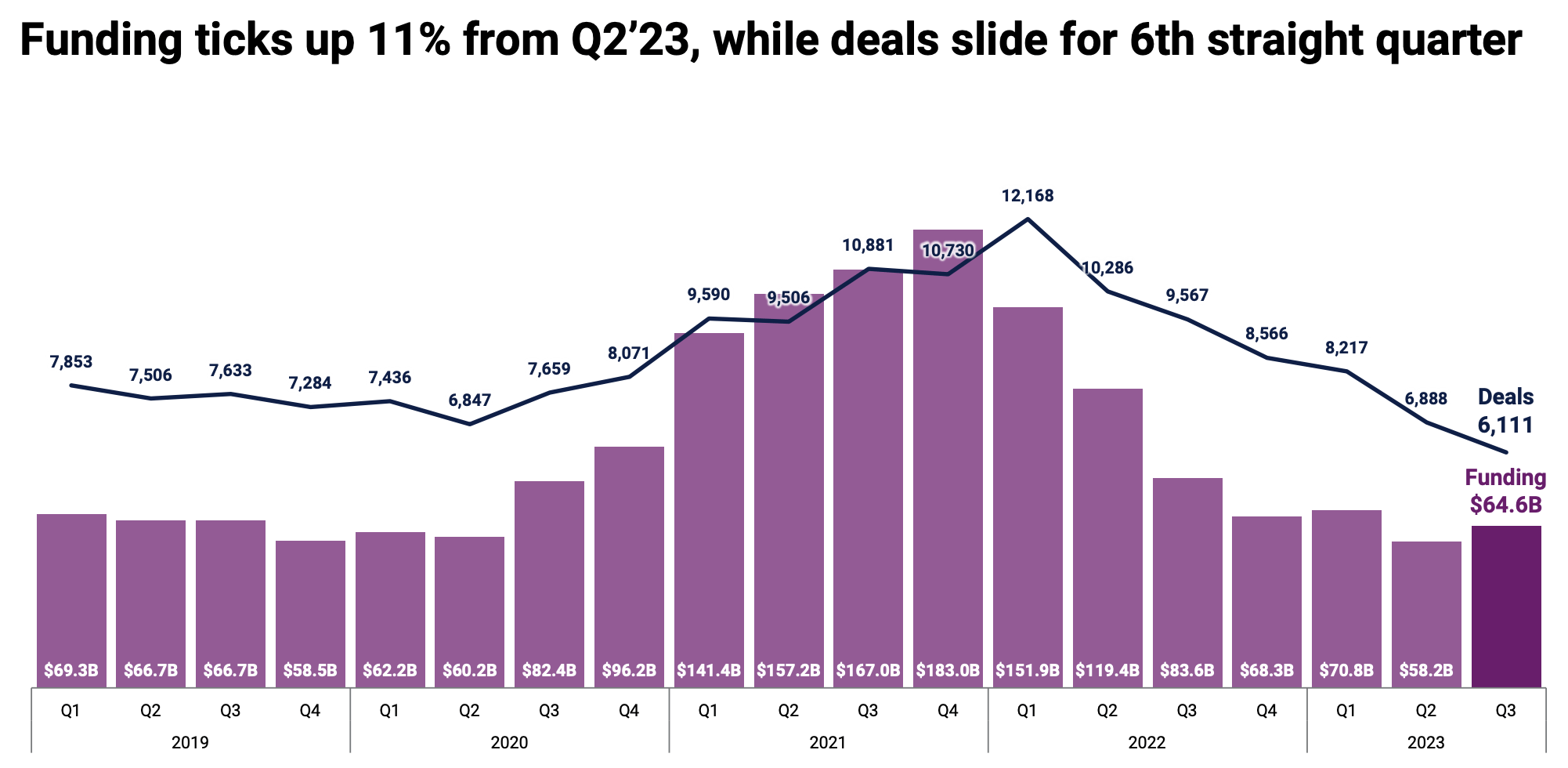 Zooming out to gain a broader perspective, the total amount of global VC funding stood at $193.6 billion for the nine months of 2023. Although this is no small figure, it represents less than half of the astonishing $423.2 billion invested in companies during the entirety of 2022. The funding deal volume paints a similar picture, with 21,216 deals recorded as of September 2023, a notable drop from the 40,587 deals throughout 2022.
The highest point in recent VC funding history was observed in 2021, when a total of 40,707 deals amounted to a staggering $648.6 billion.
Global Distribution: US is Leading
The United States, a powerhouse in the startup ecosystem, played a dominant role in the venture funding narrative. The US-based companies seized a remarkable 49.7% of the total venture funding in Q3 2023, amounting to an impressive $32.1 billion. This financial support was reflected in the numbers, with a total of 2,209 deals, representing 36.1% of all deals during the quarter. It's a testament to the resilience and innovation of American startups.
This is followed by the Asia region, which accounted for 32.4% of the total deal volume and 23.1% of the total deal value worldwide in Q3 2023. Asian-based companies found strong support from venture capitalists, securing a total of 1,981 deals valued at $14.9 billion during the third quarter.
Europe, too, made its presence felt in the venture funding landscape, with 1,466 deals worth $14.3 billion in Q3 2023. This makes up 24% of the total volume and 22.1% of the total value.
Unicorn Births: A Changing Landscape
The birth of unicorns, the startups worth over $1 billion, is fundamentally tied to the investments they secure from venture capitalists. Surprisingly, the unicorn birth rate witnessed a significant downturn in Q3 2023. The global startup ecosystem welcomed only 12 new unicorns, down 40% QoQ from 20 new unicorns in the preceding quarter. Notably, Q3 2023 also goes down in history as the quarter with the lowest count of new unicorns in over six years.
On an annual basis, the birth of new startup unicorns declined 52% in Q3 2023 compared to Q3 2022, when 25 new unicorns emerged worldwide.
The US, Asia, Europe, etc., all major regions experienced noticeable quarter-on-quarter declines in the birth of new unicorns during Q3 2023. The United States maintained its position at the forefront, welcoming 5 new unicorns during the September quarter. These new additions accounted for 41.7% of all unicorns born worldwide during that period. Asia closely followed with 4 new unicorns, and Europe contributed 2 to this select group.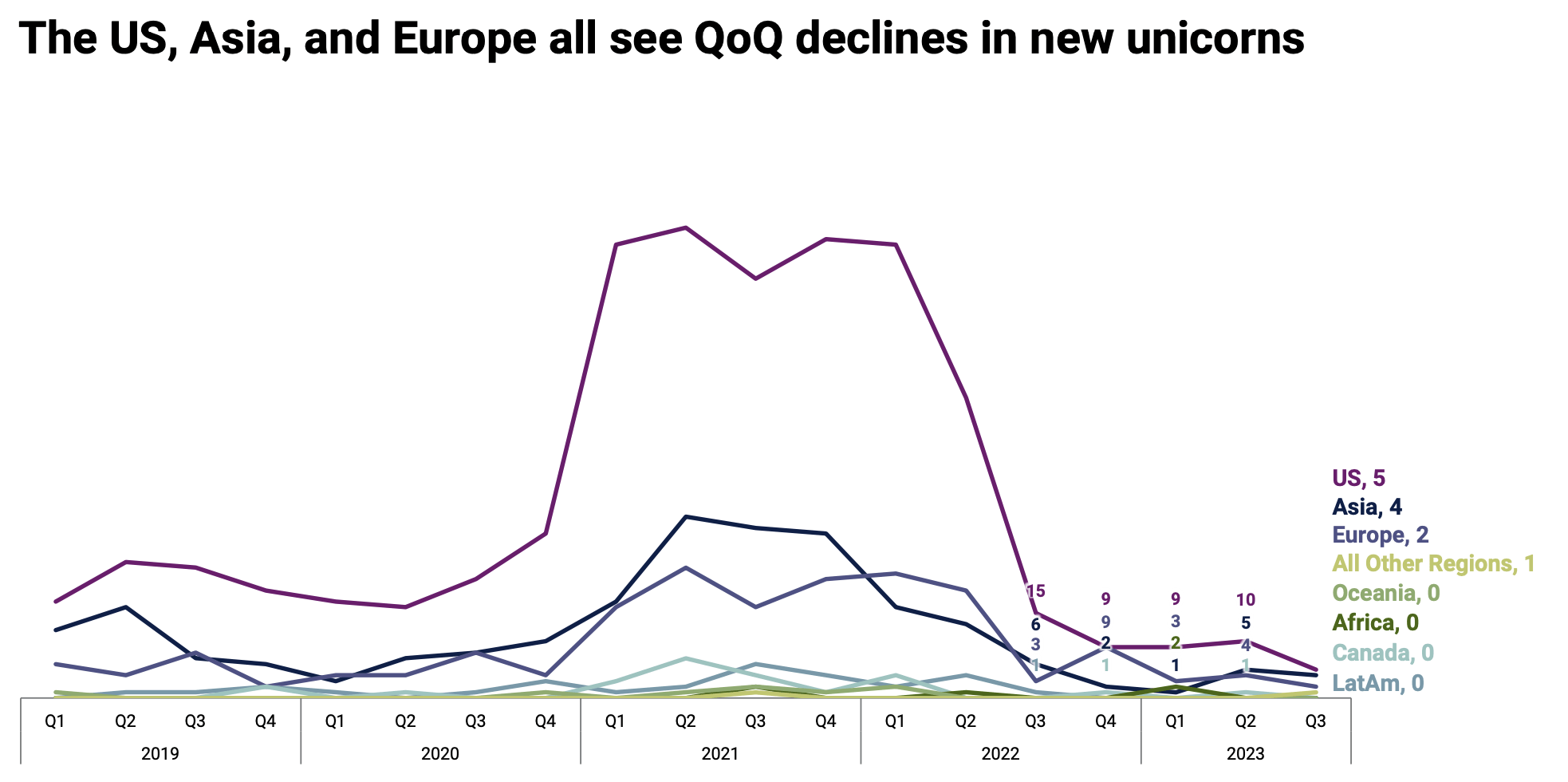 Reflecting on the state of unicorn births a year ago, in Q3 2022, a total of 25 new unicorns emerged in the global startup ecosystem. Out of these, the United States took the lead, giving birth to 15 new unicorns, while Asia celebrated the birth of 6, and Europe added 3 to its ranks.
Among startups reaching unicorn status in Q3 2023, artificial intelligence (AI) takes a prominent place, reflecting the enduring enthusiasm for this transformative technology. The new unicorns include 4 AI companies, including Helsing ($1.8 billion valuation), AI21 Labs ($1.4 billion valuation), Imbue ($1 billion valuation) and Zhipu AI ($1 billion valuation).
The venture funding landscape is a thrilling journey filled with ups and downs. Q3 2023 brought a resurgence in funding, but the year-on-year comparisons reveal the challenges faced in this dynamic business world. The birth of unicorns also exhibited a fluctuating pattern, underlining the need for adaptability and resilience among entrepreneurs and investors in this ever-changing startup ecosystem.