Since the debut of Pixel devices, Google has been leaving no stone unturned to provide the best Android smartphone at a competitive price. The efforts, however, is not paying off as a sizeable share of Google Pixel device is jumping off the ship while trading their devices.
The latest report from BankMyCell reveals some worrying trends as only 51% of Google Pixel smartphone users stuck to Pixel devices while trade-in their old device in H1 2019. This is in sharp contrast to other leading smartphone brands, Samsung and Apple, which enjoyed 63.9% and 74.6% brand loyalty by their trade-in customers.
The trend indicates that despite all the efforts put in by Google to provide the best Android experience Pixel users are still not fascinated. Pixel device users get lastest Android updates before any other smartphone brand. Besides, the competitive pricing strategy employed by Google is also helping the company to strengthen its market share. In Q2 2019 the shipments of Pixel devices doubled. The retention, however, appears to be a big challenge for Google and the company is struggling to keep users glued.
The trend leads us to a question, which brand is fascinating Google Pixel users more? It's none other than Samsung.
Google Pixel: Losing Hardware Battle To Other OEMs
Out of 49% of Pixel users who jumped off the ship while trade-in, 13.2% decided to onboard Samsung, while 12% moved to HTC devices.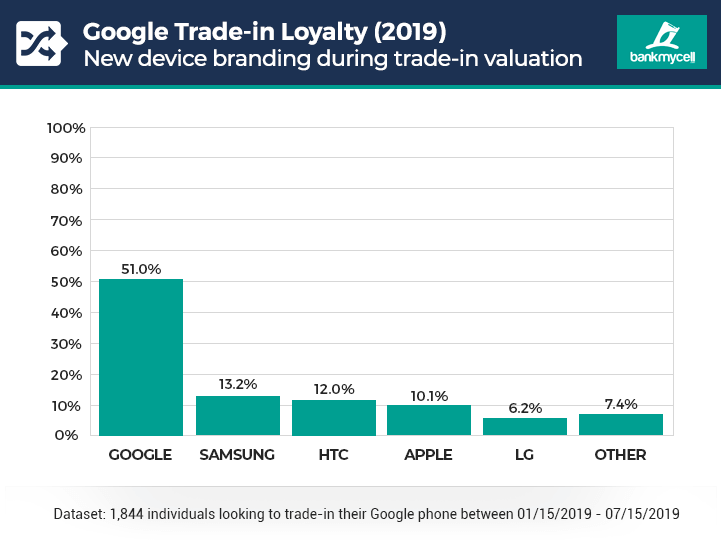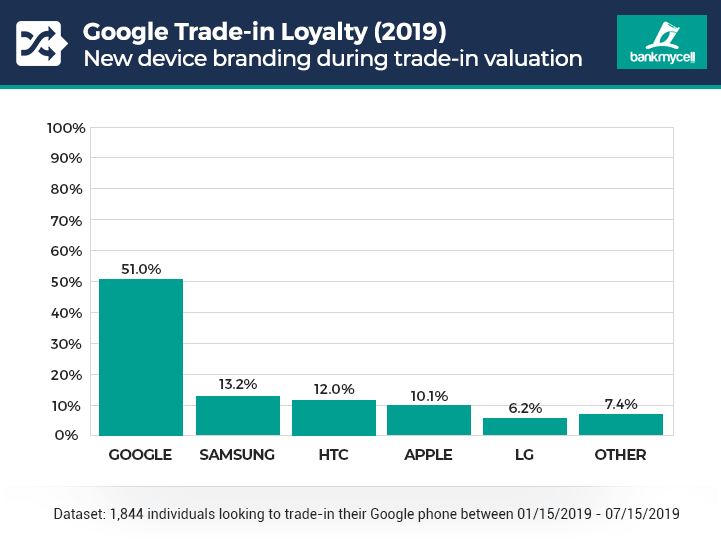 This is a clear indication that a sizeable share of Pixel users is looking beyond just excellent Android OS experience and getting attracted towards powerful hardware specs being provided by Samsung. The top-notch display technology and powerful Camera capable of capturing mind-boggling photos are indeed fascinating.
But, not all is lost for Google Pixel devices. A close observation of the report findings also reveals that Pixel devices users are apparently the most loyal Android device users. As compared to 17% and 17.5% of trade-in users of Samsung and LG device users who ditched Android completely for Apple, only 10.1% of Pixel device users moved to Apple. 90% of Google Pixel users remain loyal to Android. It is the highest percentage of Android loyalty any Android smartphone OEM has achieved so far.
Among all the top Android OMEs, LG lost the maximum users to Apple during trade-in. Samsung, however, was not far away as 17% of Samsung users decided to switch to Apple during trade-in.
All the above findings are derived from data collected by BankMyCell from their customers engaged in trade-in activities. The company evaluated data of 63,273 unique users indulged in trading one of 323 devices listed on its platform.