Gauged in terms of revenue and market capitalization, Amazon is the lead player in India's eCommerce marketplace. The global e-commerce major's sales revenue alone is estimated to clocked $8.8 billion in 2018. Being prominent and might Amazon never let its peer competitors succeed in terms of market value in any means. However, market analysts expect that after the acquisition of Flipkart by Walmart, the market equation would be changed soon.
Flipkart is leaving no stone unturned to leapfrog Amazon in India eCommerce market by 2023. This insight is based on the curated data from Edge by Ascential that was sent to Business Insider Intelligence for research purposes.
Flipkart is estimated to perceive $14.9 billion in online sales by 2023, which is a significant increase from just $8.1 billion in 2018. It is estimated that Amazon would trail Flipkart with the projected revenue figure of $11.7 billion in 2023.
Overall, the India eCommerce market is projected to be worth $65 billion by 2023, more than double from just $29 billion in 2018.
Sounds great, right?.
India's eCommerce Market: Flipkart's Farsighted Business Plan
Flipkart's business operations subsequent to its takeover by Walmart shall, therefore, redeem its market value, with Amazon already acing the race.
Flipkart's all-new online grocery business and enhanced digital transformation would strengthen its market presence and soar up in the business. The e-tailer's forecasted rise is absolutely based on soaring market share of its online grocery business which propelled back in the year 2018. This exclusive service is directly accessible in numerous Indian cities.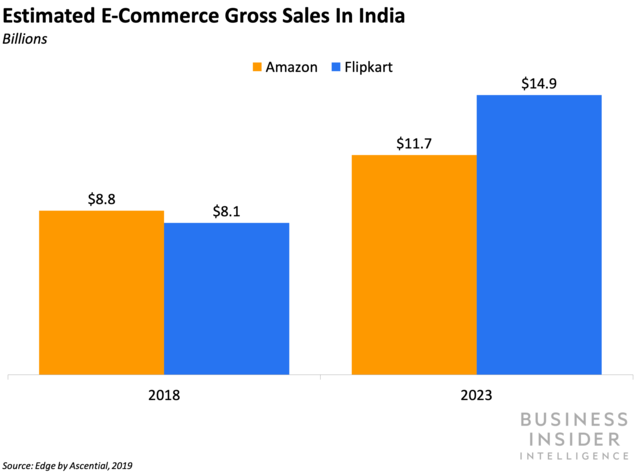 Apparently, online grocery service provides maximum turnover to the business. The transformation in India's online grocery business is calculated to expand from roughly $1 billion in 2017 to significantly $5 billion by 2020.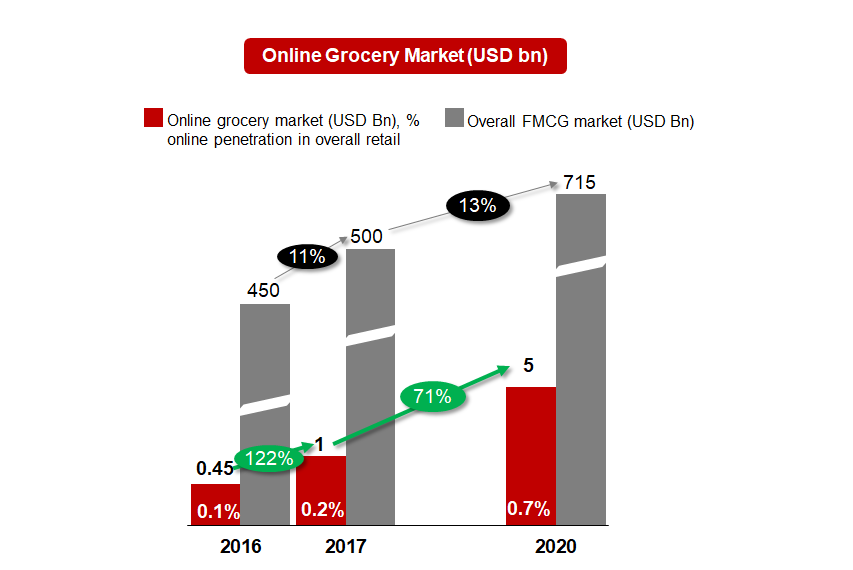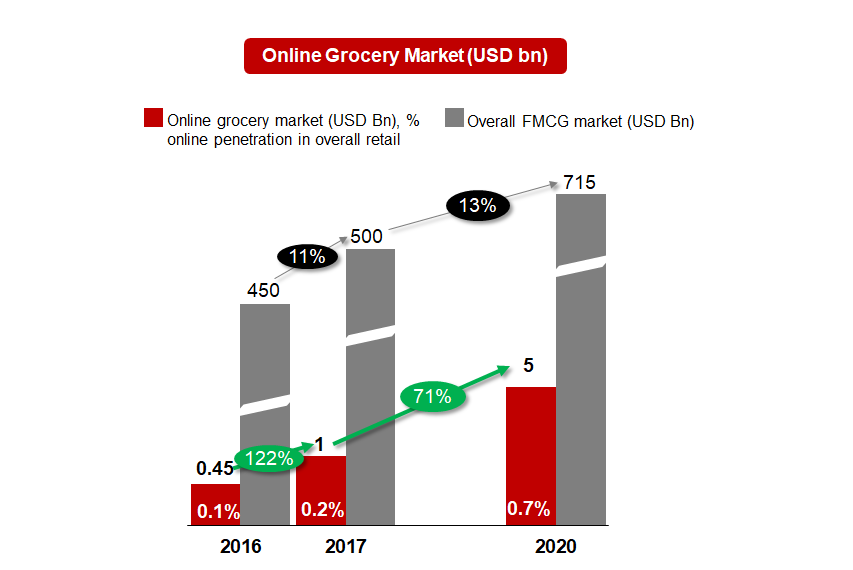 Flipkart's Hagglebot- Bargaining Bot !!
Moreover, Flipkart's awakening novel tool Hagglebot lets customers bargain and purchase on reduction through Google's voice shopping. This can certainly proffer enchanting e-commerce market place more alluring and user-friendly. By incorporating digital transformation with enhanced technologies would probably make Flipkart supersede Amazon.
Amazon Repel Off Walmart owned Flipkart
On the other hand, Amazon is also strengthening its own market presence to repel off Flipkart and Walmart. Amazon, the Seattle-based tech behemoth has appended the Hindi language to its website along with different visual support to make the online shopping experience more alluring for Indian customers. It has also initiated modest stores such as kiosk where customers can get instant support and assistance for shopping online.
It is expected that both of these actions may influence more Indian shoppers to shop online, possibly achieving more sales and loyal customers for Amazon, expanding its market share for years to come.
Flipkart and Amazon's die-hard efforts
These two largest e-tailers, Flipkart and Amazon, are manoeuvring for the number one position in the India's ecommerce market, which is also one of the fastest growing online markets worldwide. At the same time, it would be interesting to see how the new FDI regulations eventually define their scenery.
Amazon and Flipkart are both seeking to make online shopping more comfortable, which is the core formulae to win e-commerce war in India. 32% of Indian consumers – 457 million customers – is forecasted to be online shoppers by 2023. Flipkart or Amazon, whoever would be able to turn the major chunk of the addressable customer base into their actual customer base will dominate India's ecommerce market in the years to come.