With India e-tail market bowled over with new foreign investment policies, brick and mortar retailers can be high on the hog! Apparently, CRISIL noted that with revised restrictions over equity ownerships in sellers, the supply chain needs to be altered in case of e-retailers. On a completely dramatic turn of events, this change in the e-retailing supply chain can be a gain for the retail sector of the country.
In consonance with reports by CRISIL, retail shops can witness an increased revenue of 150-200 basis points in the fiscal year 2020. This will be a relative repercussion of online players altering business models according to revised regulations, which are comparatively more stringent and will surely decelerate their revenue growth.
The Department of Industrial Policy & Promotion's recent statement regarding the policy of Foreign Direct Investment (FDI) restricts equity ownership and capitalizes procurement for sellers from e-markets. This also tightens its grip on an exclusive partnership with a brand or luring certain vendor space with favourable perks.
Big Blow to E-tailing Sector in India:
As subsequent aftermath of this regulation, e-tailers may have to flush down Rs. 10,000-12,000 crore revenues down the drain.
"Nearly 35-40% of e-retail industry sales, amounting to Rs 35,000-40,000 crore, could be impacted due to the tightened policy. The impact on e-retailers would be largely in the electronics and apparel segments, which account for a bulk of their revenues." – Anuj Sethi, senior director, CRISIL Ratings.
The two top-tiered e-retailers of the country account for about 70 per cent of the revenue, generate nearly half of their sales via group companies. Following the restriction imposed now, these e-retailers will have to make certain changes in their supply chain. The renewed policy prohibits e-tail portals from influencing the price of goods and services in any way, be it directly or indirectly. Apparently, this may lead to their business models being altered in various ways which can also mean adoption of the franchise model. Such reforms can only accelerate the cost of compliance, keeping the fact in mind that the revised guidelines must be adhered to within 40 days.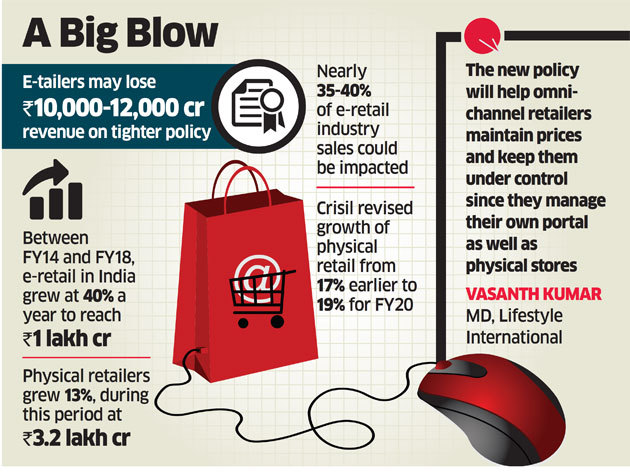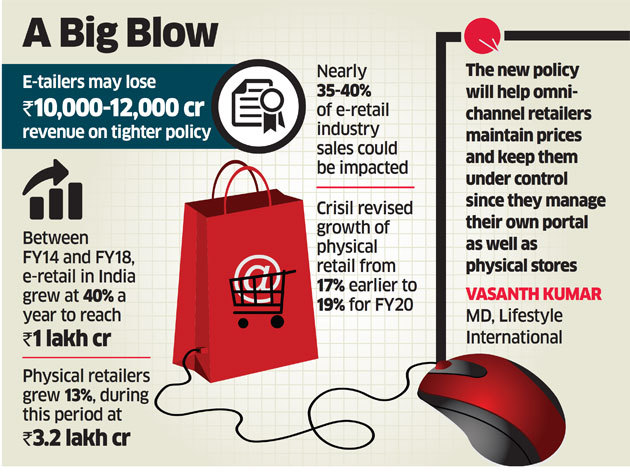 In consonance with a status released by Commerce Ministry, e-retail space can only engage in a business-to-business model and not in the business-to-consumer model. This is stringent to all sorts of activities in the e-commerce space, including the purchase of goods and services as well as selling the same, over a digital and electronic medium.
The revised policy will be made effective from February 1, 2019. 
Indian Economy: A Levelled Playing Field?
Between fiscal years 2014 and 2018, the e-retail space in the country grew at 40 per cent a year to reach Rs. 1 lakh crore. This pace was considered way faster than the growth of retailing sector which lagged way behind at 13 per cent that was Rs. 3.2 lakh crore.
Given such stringent and tightened regulatory policy, this quick moderation in the revenue growth for e-retailers has resulted due to penetration of FDI rules. This moderation in fiscal 2020 will provide a level playing field to retailing sites. This will improve the revenue growth along with profitability and better influx for retailers in the country. This will also prove to be beneficial for individual profiles.
The main harbinger of the introduction of FDI into marketplaces was meant to be good-times samaritan for the Indian economy. It was to enable growth in the Micro, Small, and Medium Enterprises (MSMEs) of the country. Apparently, the revised regulations of FDI may help create a fair-play arena for all sellers.