Despite all the obstacles that Apple is facing with regards to its sale of iPhones, the one market where its dominance is undisputed is the global smartwatch market. The Apple Watch has been a hit, driving the global smartwatch market in 2018 while its competitors continue playing catch up. However, the scenario is changing with each passing year. Apple's dominance is not the same as it was a year earlier. Its competitors like Samsung and Fitbit are making their presence felt.
In Q4 2018, the global smartwatch shipments grew an impressive 56.9% YoY to reach 18.2 million units. However, in full-year 2018, the global smartwatch shipments hit an all-time high of 45 million units.
Global Smartwatch Market Q4 2018: Apple Dominates
Back in Q4 2017, Apple commanded a whopping 67.2% share of the global Smartwatch market. This was followed by Fitbit, Samsung and Garmin with 4.3%, 5.2% and 6% market share, respectively. A year later, everything looks different. Apple's smartwatch market share decreased to 50.7% in Q4 2018, though it is still the leader of the global smartwatch market. The big movers upwards are indeed Samsung and Fitbit, with a 13.2% and 12.7% market share, respectively.
Here the question arises, how can a market change this much in just one year?
While thinking about the above, we need to take into consideration the fact that the global smartwatch market in itself is in a nascent stage. It is in a growing stage, making it susceptible to all kinds of changes. The figures in the above graph give testament to this very fact.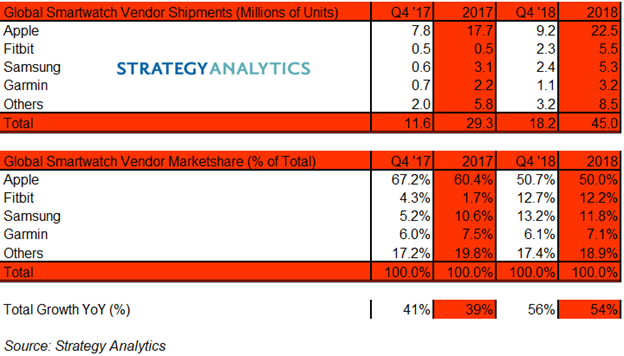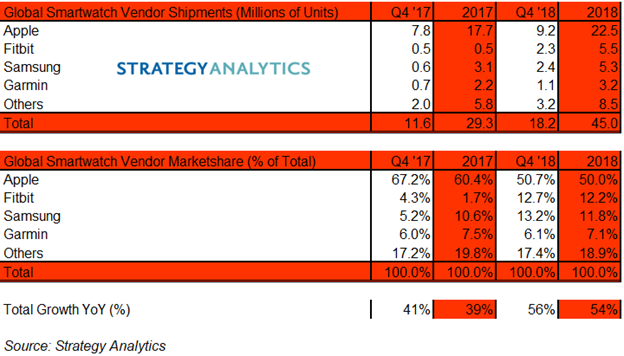 In the year 2017, a total of 29.3 million units of smartwatches were shipped, globally. By the end of 2018, there was a whopping 53.5% YoY increase in global smartwatch shipments to 45 million units! But, that's not all. If CCS Insight is to be believed, the worldwide smart wearable market is set to become a $27 billion industry with 233 million units of sales by 2022. Smartwatches will be driving the growth primarily, thanks to the huge demand of the Apple Watch.
Apple shipped 9.2 million units of smartwatches in Q4 2018, globally. That's nearly 18% YoY growth. In full-year 2018, about 23 million units of Apple Watch were shipped, recorded 27% YoY growth. However, despite the significant growth in its global smartwatch shipments, Apple's market share declined to nearly 51% in the last quarter, from 67% during the same period a year ago.
It is important to note that Apple does not disclose the sales figures of its Watch. But according to Q4 2018 or say fiscal Q1 2019 report, Apple's wearables, Home and Accessories net sales increased 33% YoY, primarily due to higher net sales of Apple Watch and AirPods. Apple Watch Series 4 was launched in September 2018, along with three most expensive iPhones.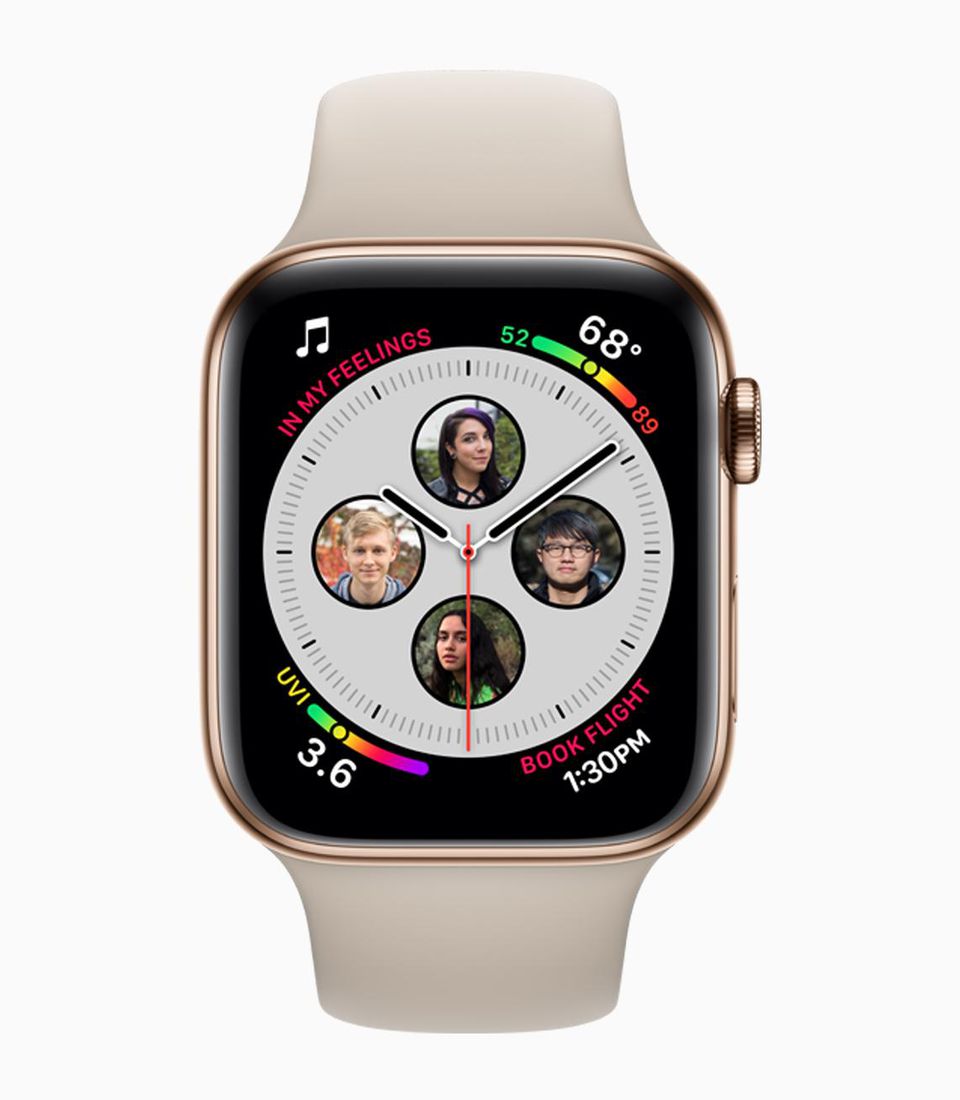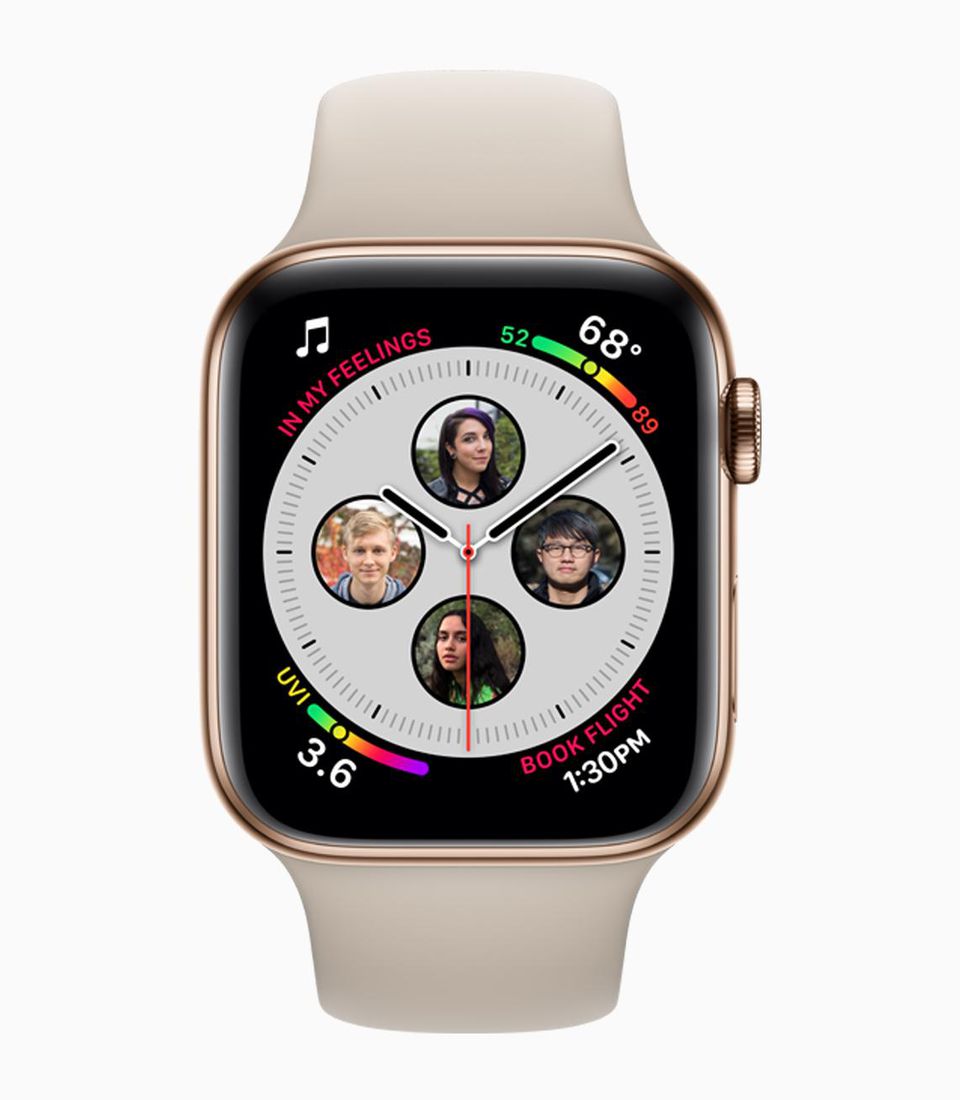 Thus, the potential in the market is there for everyone to see. Which company will be able to make the most of the potential remains to be seen.
Samsung and Fitbit exhibit significant growth
Fitbit, Samsung and even Apple exhibited a significant increase in its smartwatch shipments from last year, despite the falling market share of the latter. Apple still dominates over half of the global Smartwatch market, with none of its competitors close to it at the moment. However, the competition to the Apple Watch is not a secret anymore, thanks to products like Fitbit's Versa and Samsung's Galaxy Watch.
Surprisingly, in Q4 2018, Fitbit witnessed a massive 360% YoY growth in its smartwatch shipments to 2.3 million units, globally. It also tripled the shipment share to 12.7% in Q4 2018, rising strongly from just 4.3% during the same period a year ago.
In the full year 2018, Fitbit shipped 5.5 million units of smartwatches, registering a whopping 1000% YoY growth. Currently, it is holding a significant 12.1% share of the global smartwatch market, trailing behind Apple.
The world's third largest smartwatch maker Samsung, in terms of shipments, has shipped 2.4 million units in Q4 2018, registering a massive 300% YoY growth. During the full-year 2018, the company shipped 5.3 million smartwatches, worldwide.
However, Samsung is still the second largest smartwatch brand in the world when it comes to market share. Samsung captured a 13.2% share of the global smartwatch market in Q4 2018, a significant increase from just 5.2% market share a year ago period.
The losers in the Smartwatch market race
However, not everyone is a winner here. The growth of Samsung and Fitbit has come at the cost of other players in the global smartwatch market. Companies like Garmin, which was controlling a bigger chunk of the pie than both Fitbit and Samsung in Q4 2017, now holding the fourth spot in the global smartwatch market. Smartwatch market share of Garmin increased minimal 1.6% YoY. Rising competition from Apple, Fitbit, Samsung and other players in the sports and music categories is making it harder for Garmin to make headway in smartwatches.
Google, in particular, has not hit the ground running with its Wear OS like it thought it would have. This is due to the fact that most of its competitors are deciding to stick with their own technology to drive their products. With no particular smartwatches of its own, the tech giant's influence on the wearable market seems to be negligible. However, it is still trying to stay in the fray. It was only recently that the company bought Fossil's wearable technology, rumoured to be integrated into its "Pixel watch".
The love that the Samsung and Fitbit smartwatches are getting from the people poses a threat to Apple in the long term. The overpricing strategy with regards to the iPhone has not been as fruitful in recent times as they thought it would be. It would be an even bigger slip-up on their part if they were to lose this position of strength in the global smartwatch market to their rivals.