The latest smartphone OS data from Kantar Worldpanel is out, and there is a good news for both of the two largest smartphone makers in the world – Samsung Electronics (KRX:005930) and Apple Inc. (NASDAQ:AAPL).
Starting with Apple, the world's second-largest smartphone manufacturer had a pretty good quarter from June to August. Apple managed to gain ground on rivals Samsung in the US and managed to tie them, with both companies accounting for around 35% sales share during the aforementioned period.
However, despite the similar sales numbers, the momentum lies with Apple, whose sales grew by 3.7 percentage points compared to last year. In contrast, Samsung's sales only grew by 0.8 percentage points. The primary factor behind this is Samsung's poor sales through the Verizon network, which is the largest cellular network in the US.
Apple also did quite well in Europe during this time, registering varying levels of growth in major markets such as Germany France and Spain. However, one blemish here was their poor performance in Great Britain, where their sales share fell by 2 percentage points.
Turning to China, there is, once again, a reason to smile for Apple. After a period of worrying decline in iPhone sales in the world's largest smartphone market, Apple has bounced back. Apple closed the gap with number two placed BBK Electronics (parent company of Oppo and Vivo), with the sales share increasing to 17.7%, up from 13.4% last year in the 3 month period. However, Apple still considerably lags behind market leader Huawei, who accounted for 31.1% share of the sales during June-August.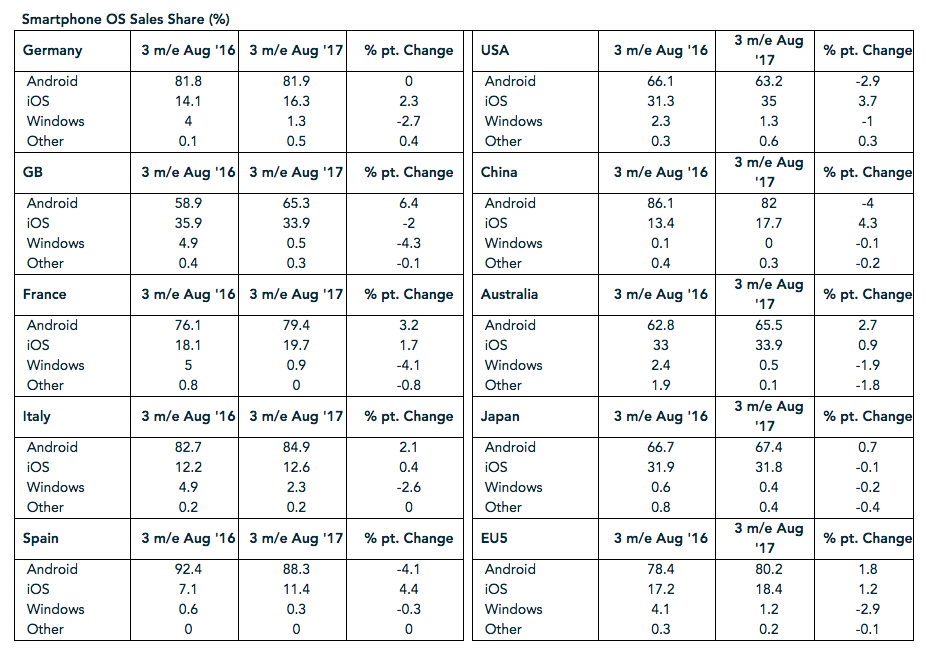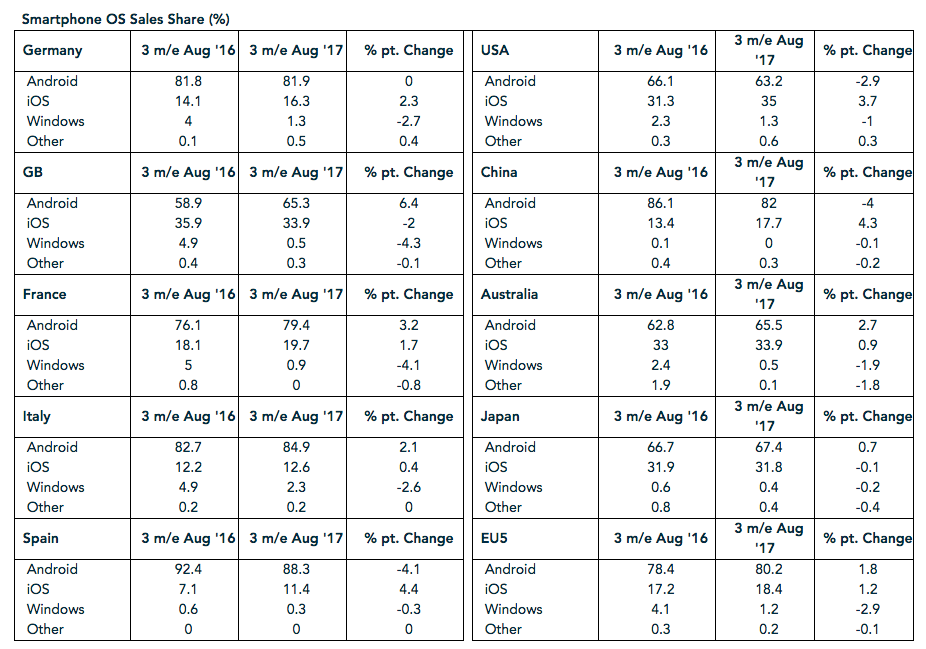 Now looking at Samsung, the story is a bit different. Samsung's performance in the US was somewhat disappointing, with only 0.8 percentage point improvement in sales compared to the previous year. However, Samsung's poor performance in the US is somewhat offset by its strong showing in Europe, specifically in Great Britain. During the June-August period, Samsung accounted for 38.4% share in this region, showing its best in the past 3 years. This was due to their extensive promotional and marketing endeavours before the unveiling of the iPhone 8/8 Plus and iPhone X. In fact, over 25% of Samsung Galaxy S8 buyers in Great Britain attributed a promotion as the motivating factor behind their purchase. Also, nearly 50% cited attractive pricing as a key factor driving their purchase. In the case of Great Britain, Apple's loss was clearly Samsung's gain.
Of course, this data is only applicable till the end of August. Due to the subsequent releases of the Galaxy Note 8, iPhone 8/8 Plus and iPhone X, we may yet to see another shakeup in the market in subsequent quarters.