The consumption of porn content on mobile is all high time. With each passing year the porn industry is recording an unprecedented growth. The exploded adoption of mobile has helped porn content consumer to spend more time than ever on porn websites. In 2016, the porn content consumption on mobile devices reached a new height as women are preferring mobile devices over Desktop to consume porn content.
2017 is a landmark year for the mobile internet. For the first time ever, Google's Android mobile OS overtook Microsoft's Windows desktop OS as the premier platform for internet usage with 37.93% of the market share compared to Windows' 37.91% market share. This is only one trend among many others showcasing the growing dominance of mobile.
The effect is clearly visible on porn consumption pattern worldwide, where mobile has emerged as the most favourite platform to consume adult content. A recent report by Pornhub proves that the mobile revolution has also conquered porn.
Mobile Is Fueling The Massive Growth Of The Porn Industry
While seldom talked about and considered taboo, the fact remains that pornography is a major aspect of the internet. Moreover, new data shows that the porn industry is only growing, with more and more people watching every year.
According to Pornhub's "Year In Review" reports for 2015 and 2016, nearly 92 billion videos were viewed in 2016. This is up from the 87.8 billion videos viewed in 2015. This amounted to nearly 4.6 billion hours of porn watched in 2016 compared to 4.39 billion hours watched in 2015. What's even more astounding is that Pornhub got 64 million visitors per day in 2016. To put this in perspective, video streaming giant Youtube gets 30 million visitors per day.
Not only are people visiting Pornhub more, they are also spending more time on the website. The time spent per session increased for almost all countries, with the average time globally being 9 minutes and 36 seconds. This is about 16 seconds more than in 2015. All this has made Pornhub the 44th most popular site in the world.
This incredible growth has been facilitated in large part thanks to mobile platforms. In 2016, the traffic from smartphones increased from 53% to 61% at the expense of desktop, which fell from 36% to 28%. Traffic from tablets remained nearly stagnant, dropping from 12% to 11%. The increased proliferation of smartphones and introduction of fast wireless technologies like 3G, 4G have enabled this migration towards mobile.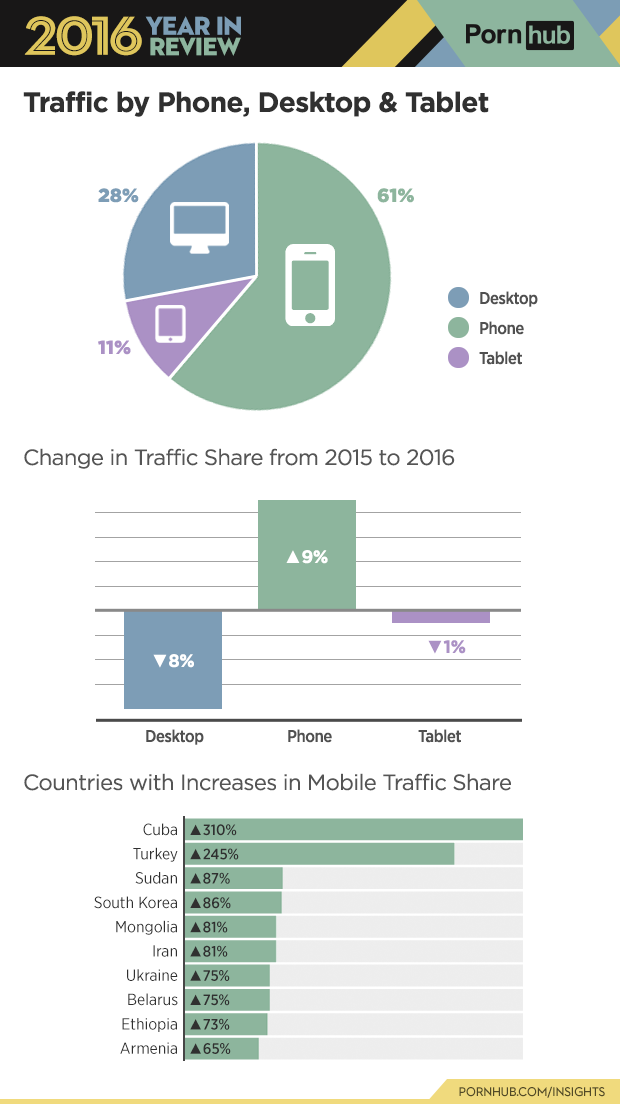 Consumption of Porn Is Led by Women
For a long time society held the belief that women do not view pornography. However, the latest data suggests that the number of women watching porn is steadily increasing. In 2014, 23% of visitors to Pornhub were female. This number has since risen to 24% in 2015 and 26% in 2016. Dr. Laurie Betito attributes this increase to a growing sense of empowerment about women's sexuality. In fact, Pornhub reported a massive drop in traffic during the Women's March on January 21. This clearly demonstrates that women make up a sizable portion of Pornhub's audience.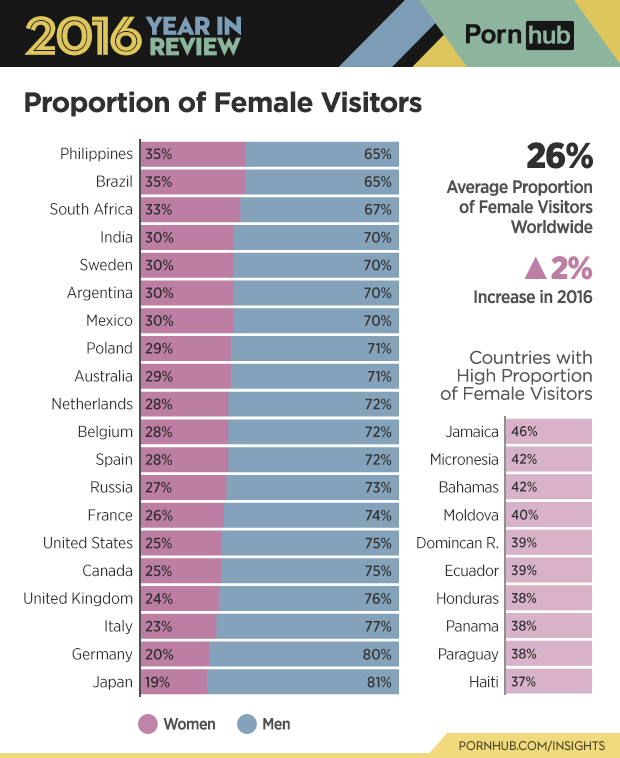 The female demographic of Pornhub varies from region to region, however. Out of the top 20 countries with the most traffic, the report finds Brazil and Philippines with the highest proportion of female viewers, at 35%. They are followed by South Africa (33%) and Sweden, Argentina, Mexico and surprisingly, India, all at 30%. Overall, Jamaica has the highest proportion of female viewers at 46%.
There is a trend here of higher female viewership percentage in countries which are democratic. This is likely due to the comparative freedoms and empowerment enjoyed by women in a democratic setup.
Women More Likely To Watch Pornography On Mobile Compared To Men
There are a few surprising trends that emerge from Pornhub's Women and Tech report. With nearly 72% of worldwide traffic to Pornhub coming from smartphones and tablets, it is clear that mobile is the preferred device to view pornography. However, it seems that a higher percentage of women watch porn on their smartphones than men. As of February 2017, around 80% of all female traffic comes from mobile, compared to 69% for men. Women are 16% more likely than men to use phones to view pornography, and 10% more likely to use tablets. Consequently, they are 34% less likely than men to use desktops for watching porn.
However, device preference also changes with the age demographic. 78% of females aged 18-34 view pornography via their smartphones, but less than 50% of women over the age of 50 use smartphones for porn.
Nevertheless, women are always more likely than men to use mobile devices. Women over 55 years of age are 40% more likely to use smartphones than men. This gap widens to 66% for the 65+ age group.
The popularity of mobile among women also varies by country. The data finds that women in South Africa (91%), United States (89%), United Kingdom (86%), Pakistan (86%) and India (86%) are most likely to use mobile to view pornography.
Pornography In India
India currently stands at 4th position in the list of top 20 countries with an astounding 30% female viewership. Interestingly, nearly half of Pornhub visitors (48%) in India are aged between 18 and 24. Last year, Patna, which got free wifi services from Google and Railtel at its railway stations, tops the chart when it comes data usage. Most of them use free wi-fi to consume the porn content, according to IANS.
Takeaways
The porn content consumption is growing at a rapid pace worldwide.
Mobile is emerging as the most preferred device source for porn consumption. Therefore, porn content creators must employ the mobile-first strategy.
Women use mobile devices more than men to consume porn content. Porn content creators must push more women preferred porn content on mobile devices over men preferred content.
Not many porn content consumers prefer to have porn app installed on their mobile devices. Therefore, it's important that porn content creators must focus on making mobile web experience rich and adorable.