In a recent blog post, the Internet behemoth, Google, revealed spectacular engagement rate of its free Wi-Fi initiative on the occasion of world Wi-Fi day. It's a huge milestone as a mammoth 1.5 million people are benefiting from the Google's free wifi in India across 19 Railway Stations.
The company's sole aim is to bridge 'the digital divide' by providing high-speed Wi-Fi network to millions of Indians coming to the Railway Stations. A week earlier Google expanded its initiative to four of the busiest Railway Stations in the country namely: Lucknow Jn, Lucknow, Gorakhpur Jn and Sealdah. The company appeared enthralled citing the response in the earlier stage. Google, however, emphasised that only 20% of the work of rolling out the free Wifi in India will be completed by the end of 2016.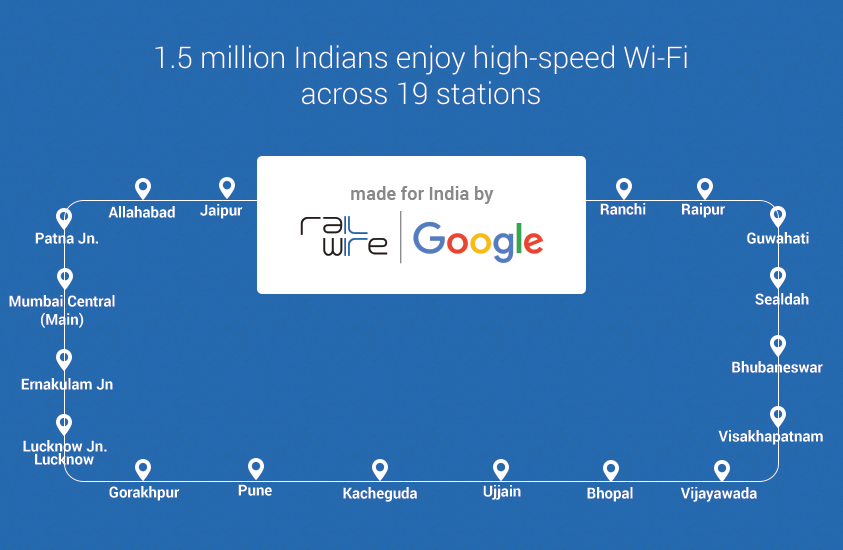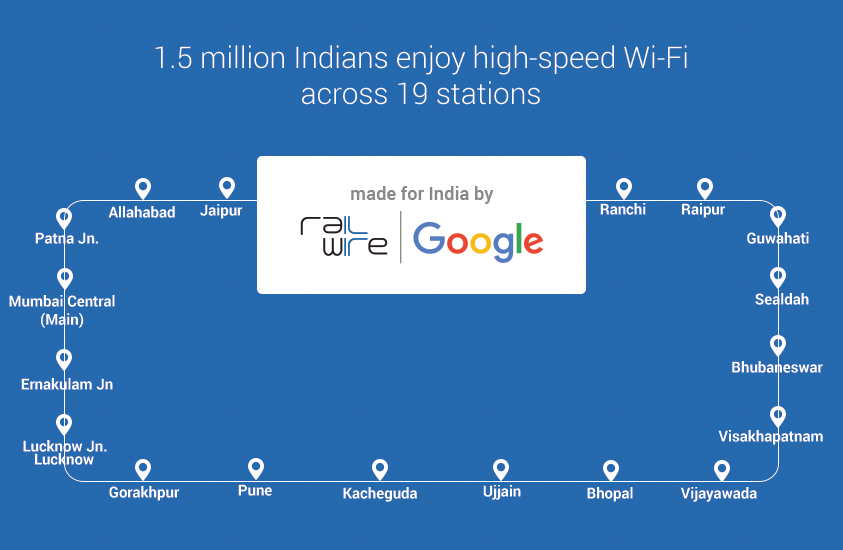 Google is gradually penetrating the untouched Internet market space in India. Google's free Wi-Fi in India project was initiated in January this year in partnership with Railtel in Mumbai and has planned to cover 300 Railway Stations across the country. A few weeks back the Silicon Valley honcho also launched its Project Loon in India which will provide high-speed Internet connection to the remote areas of the country.
Google's prime objective is to provide millions of Indians with 'abundant broadband access' which would in turn 'enhance the benefits and productivity of the Internet.'
The noticeable and astonishing fact that Google revealed in the blog post surrounds the heavy Internet consumption at Railway Stations situated in Tier-2 cities of India. When Google launched its initiative at the Mumbai Central Station, a considerable 100,000 people used the service within a week of its launch. Later, when the company rolled out its service at other Railway Stations, the consumption rate skyrocketed exponentially.
Tier 2 cities in India recorded a considerable per capita consumption rate of data when compared to Tier 1 cities in India. Bhubaneshwar within a day of the launch surpassed the data consumption rate that Mumbai Central recorded within a week of its launch. Other Tier 2 cities including Patna, Vishakhapatnam and Jaipur recorded the similar engagement rates akin Bhubaneshwar.
The Internet giant tracked the usage patterns as well; Infotainment lead the data consumption followed by Job search in tier 2 cities. Whereas in Pune and Bhubaneshwar a chunk of data was consumed by students who came looking for their results, downloading softwares, educational information, and upgrading their smartphone applications.
Deciphering the data consumptions rates the company looked quite astonished citing the gross consumption rates as Railway Stations are transit places. Google recorded 15 times more data consumption per user when compared to the 3G data a user consumes within a day.
Google's Free Wifi in India: Why only Railway Stations?
First and foremost, why only Indian Railway Stations? Indian Railway network is one of the largest and longest Railway networks in the world that carries approximately 21 million passengers daily and in next 5 years the figure is expected to grow up to 30 million passengers daily. In the present time, Indian Railways boast an 114,000 km's long track length which in coming 5 years will be increased to 138,000 km's across more than 8000 stations in the country. The numbers speak for themselves and citing the numbers 1.5 million users making use of Google's free wifi in India doesn't surprise much.
How will Google benefit?
Google tracks users' browsing behaviour in order to feed them with appropriate ads and in turn strengthen its financial health. A majority of mobile phone users across the globe uses Google search engine for searching information across the Internet. According to Netmarketshare, Google search engine enjoys a terrific 95.37% share of the total search engine market in the mobile plus tablet category.
Desktop advertisements are slowly losing their grip with the increased adoption rate of smartphone and mobile devices. Google has dominated mobile ad revenue according to eMarketer, an estimated 33.7% of the total global mobile ad revenue belongs to Google. And, as smartphone adoption is increasing by leaps and bounds in India, Silicon Valley honcho's Free Wi-Fi initiative may be viewed as a perfect platform to increase its user base.
According to Gartner, Indian smartphone market may record a 29% YoY growth in smartphone shipments in 2016 compared to 7% global growth. India still lacks smartphone penetration as a mere 17% of the total population has a smartphone.
The Internet giant, however, is not alone who has set its eye on the land of opportunity, India. Microsoft with its White-Fi (White Space Spectrum) technology is also targeting the remote areas. Thus, India has emerged as a major playground for many technological hunks as it possesses an extravagant market potential for Internet and smartphone companies.