Google's Project Loon is likely to take-off in India after a four days trial in either Andhra Pradesh or Maharashtra. The aim of the company is to provide internet access to remote areas which are void of Internet connectivity. Other countries including Brazil, Australia, New Zealand, Indonesia, United States and Sri Lanka are also conducting trials of this futuristic project.
The Project was announced way back in 2013 by Google to provide high-speed internet in remote areas and in turn accumulate a number of users. Google Project Loon incorporates Helium-filled balloons that will hover at an altitude of 20 Km and would cover a radius of 40Kms providing LTE- level high-speed internet.
Earlier, the Project had to stumble through a lot of hurdles from the Indian Ministry. The IT Ministry seemed sceptical that the Google's Project Loon may interfere with the existing cellular networks as it also uses the same network bands as that of other service providers. Along with the IT Ministry, Home and Defense Ministry also seemed dubious regarding the fact that Project Loon may also cause disturbance insecurity and military surveillance. Besides all such hurdles, Aviation Ministry was also suspicious about the Project that it may hinder the flight's path.
The telecom operators also raised the issue of allowing the Project Loon in India without charging a single penny by the Government. To counter that Google has partnered with indigenous Telecom supplier BSNL for the project. Few other reports signal that the internet giant may use 2500 MHz spectrum which will not hinder with the existing spectrum band allocated to cellular providers in India.
Some time ago, Google also launched its Free Wi-Fi project partnered with Railtel that offers free and fast internet across a number of Railway stations in India. Earlier, Facebook tried to rope in the mass number of internet users in India by introducing Free Basics, but due to its incompatibility with Net-Neutrality, the Indian Government slashed the project.
Why the search giant is so optimistic about India
Firstly, a considerable share of revenue of Google is served by Digital Advertisements. It's a simple equation: expanding internet connectivity will result in the increased number of internet users across India, who will, in turn, use Google's services and the company will be having access to millions of people to serve them with advertisements.
According to Statista, the search giant recorded a whopping $67.39 billion dollars of revenue through advertisements in 2015. If we talk about the percentage, Google's 90.4% of the total revenue in 2015 was catered by advertising.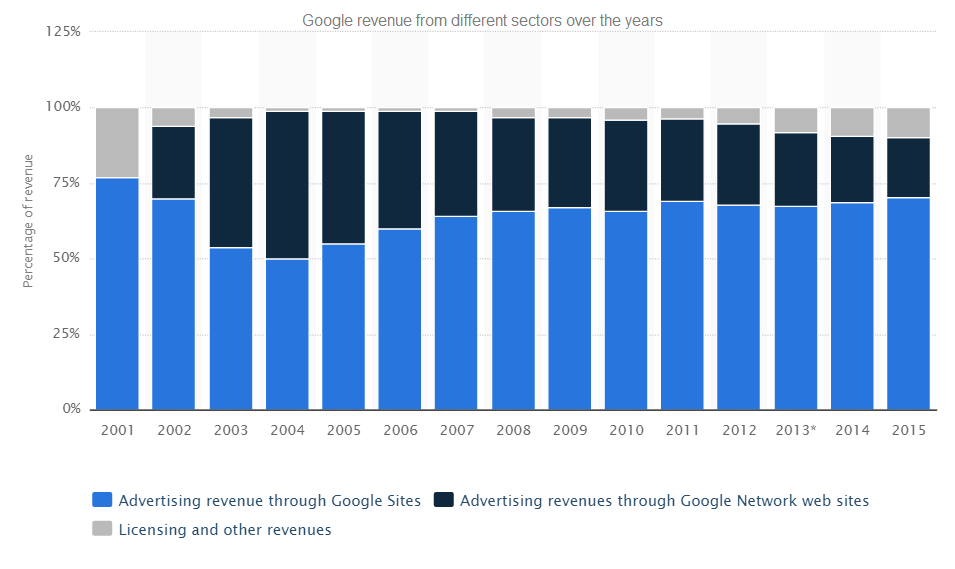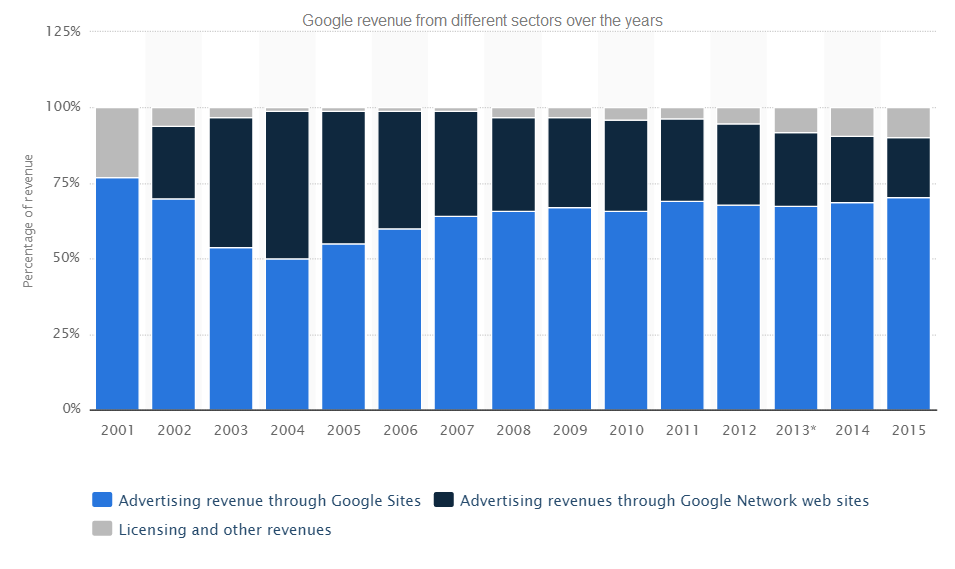 Secondly, a whopping 900 million people in India are still void of Internet. That states that only 22% of the total population of India had access to the internet by the end of 2015. A report by IAMAI predicts that total internet users in India will rise to 462 million by June 2016 recording a 31% YoY growth.
Despite all above fascinating growth figures, a large chunk of the Indian population doesn't have access to the internet. A majority of Internet void population in India lives in Tier-2 and Tier-3 cities where an even adequate amount of electricity is hard to serve. The country needs some out-of-box solution to connect those millions of people with the internet as fast as possible. Project Loon seems to be a silver lining for India's remote areas as even with the use of minimal infrastructure it can provide a faster internet.
The Challenges of Google Project Loon:
Google's rivals Microsoft and Facebook are also testing their devices that provide free internet. After Tim Cook, Microsoft's CEO, Satya Nadella will be visiting India on May 10th and the main purpose of his visit revolves around engulfing Microsoft's futuristic White-Fi (White Space Spectrum) technology, which will also provide internet access in remote areas of India.
Facebook is also not left behind; its solar powered Aquila drones are designed and developed to provide internet access to the remote areas. The drones will be able to fly for 3 months in a single go without landing and is fitted with laser communication system. The striking feature of the technology is that it'll be able to provide 10 Gbps of data. The drones will fly between 60,000 to 90,000 feet above the ground.
With so much of focus being received by top tech giants, India is heading towards the era of the internet in a true sense. While there are few underlying challenges as well, but it would be interesting to see how soon and how many people in India onboard the internet through such channels.