If one wants to look at how not to rile up a country and get downgraded from almost a rockstar level status to a loathed one, the Facebook saga is the prime example of it.
It is a story of how arrogance and persistence could lead to a downfall of prestige. One should not burn one's own pastures as did by Facebook Inc. (NASDAQ:FB). Companies should be humble in the attitude towards the markets where they hope to derive the maximum growth in future.
A tale of how arrogant Facebook junked its chances of taking the lead from its competitor and technology giant Google in India. The arrogance that came to Mark Zuckerberg & Team after they overcame massive challenges from Google's product "Google Plus", became a speed breaker for its future success. Facebook, which was a few days back celebrating the success of its ever-growing user base, suddenly found the Government of India, Telecom Regulator and plenty of its own logged in users, on the other side.
Even enormous lobbying by Facebook for its product Free Basics formerly known as Internet.Org could not stop its downfall. And no other than Facebook is to blame for it.
So what was exactly the issue about?
The controversial term that got Facebook so much worked up was Net Neutrality. In simple terms, it means that any telecom operator/provider cannot give preference to one Website over another on the publicly available Internet. FCC of USA ruled in support of Net Neutrality a few months back.
With its huge young 1.3 billion population, India was obviously the next battleground for net neutrality. Thus, Facebook partnered with an Indian Telecom giant in order to run a service called as Internet.Org. It was supposed to be free for all users of that network. The catch: It was only available on that Telecom provider. If you were not using the services of that Telecom operator, you were out of luck. However, there was a bigger catch. In addition, you could only access a few sites that were "pre-approved" by Facebook.
This riled a number of new age entrepreneurs who were not happy with the walled garden approach of Facebook.
Sensing the opposition Facebook quickly changed the name of the platform to Free Basics. In our opinion, it was just to distract from the idea of net neutrality and win the only market with a future potential of getting 1 billion people on board for the Facebook. In the disastrous AMA session that followed, Facebook Free Basics chief was unable to convince Indian audience that why Free Basics was good for India.
The fightback begins
A number of entrepreneurs, media enthusiasts and even a lot of Facebook users started the campaign against Facebook's idea of free Internet and how detrimental it was to the freedom of Internet. Tim Berners Lee landed a punch when he tweeted why Free Basics was harmful to India.
Free Basics started getting debated across Indian spectrum; on social media platforms, inside newsrooms, in government circles and most important in TRAI (Telecom Regulatory Authority of India), the body that makes the ultimate decision related to Telecom.
An intense war was kindled between Facebook and net neutrality activists. At an estimate Facebook spent over Rs. 300 crore (US$44.1 million) putting spreads on newspaper ads, TV commercials, billboard ads and surprise even buying ad space from Google. The ads showed how every poor Ganesh was being helped by Facebook Free Basics plan. Even Facebook users were asked to support in fight towards Free Basics.
The turnaround
However, it seems that activists were winning the war and Facebook was losing fast.
The first shock to Facebook came when TRAI in a strongly worded letter admonished Facebook for spamming it with emails that almost had identical contents when what it was looking for their point of views.
Meanwhile, the fight reached government corridors. The Government decided not to intervene and left it to regulators to decide the fate of Free Basics.
The final blow
The final blow arrived in early February 2016 when TRAI in its ruling banned all sort of services that violate principles of net neutrality, a verdict that is considered far ahead of verdict by FCC and endorsed fully by the Tim Berners Lee.
That means Free Basics became an invalid product in India.
While the activists hailed this ruling, obviously folks at Facebook did got upset. Mark Zuckerberg, CEO of Facebook, and Sheryl Sandberg, COO – Facebook, voiced their "disappointment" over the ruling. Though we do not want to comment on what they had in mind, the tone was surely condescending to Indians.
Here Is what Mark wrote
And here what Sheryl said on the same post
"We are all disappointed that people in India won't be able to take advantage of Free Basics – but glad that our other work with Internet.org continues. We will keep connecting the world."
And if those foreigners telling India what is good for it was not bad enough for a lot of people, another Marc (Marc Andreesson) who is an investor in Facebook riled up Indians with his tweet about colonization of India.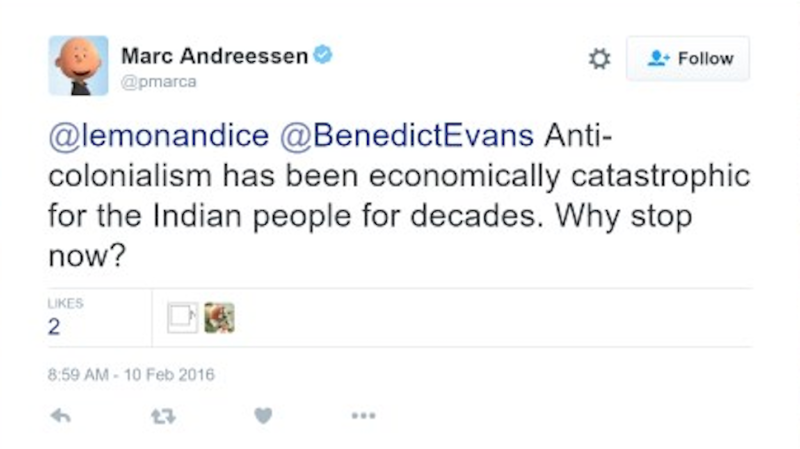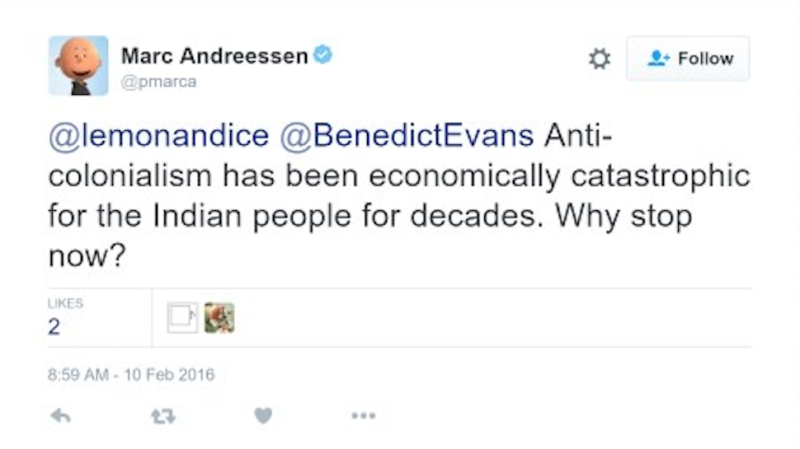 He purportedly wrote that and following the criticism from all around the globe he decided to delete it but the screenshot of his tweet became the headlines.
Eventually, the social media world was lit up, with counter reactions from hundreds of Indians, who were outraged at this tweet.
The next day while Marc was sleeping (in his US time zone), the internet was rife with news how bad in taste tweets were. Apparently, Marc was caught licking his own spit with a series of Facebook updates and tweets apologizing for his earlier tweet.
https://twitter.com/pmarca/status/697612900584718336
https://twitter.com/pmarca/status/697613037163802624
https://twitter.com/pmarca/status/697613170957950977
https://twitter.com/pmarca/status/697613266382626816
https://twitter.com/pmarca/status/697613368253771776
However, the damage was done and later Mark Zuckerberg came for Marc's rescue, but astonishingly Mark's words had a tone of his distress, in spite of being humble, he seemed more diplomatic.
The other Marc apologized too
The damage was done. Soon Mark Zuckerberg also wrote a post separating Facebook from this controversy stating
However, all these efforts came to a naught as the Telecom Operator decided to make Free Basics chargeable based on the new TRAI ruling. The position of Facebook became untenable and Free Basics as of now has been withdrawn from India. The battle was won decisively in favor of net neutrality and TRAI's decision has been backed by the world.
What did Facebook do wrong here?
The biggest mistake Facebook committed probably was misleading the Indians into a pseudo-philanthropy act which actually was a profit-making strategy for Facebook as a chunk of revenue for Facebook comes from Online Ads. India, being the forerunner in the rising economies also has a large number of young populations. The internet penetration in India is estimated to touch just 33% by June 2016. This portrays a big window of opportunity for any internet based business looking to get next billion users.
It was followed by a continuous wave of attacks on social media activists and entrepreneurs who were raising awareness. Considering Facebook's prestige, it was a disgraceful act as some of them are well-known personalities.
Another one was the continuous bombardment of ads on Indian audience which made enough people aware of the Facebook plan and helped activists make them understand the nuances better.
Fourth, arrogance; the tweets by the eminent board member has a smell of racism. It was a dagger that was thrust by Facebook into the heart of Free Basics.
Fifth, Pride; rather taking anyone's opinion Facebook was keen on thrusting its agenda down Indian throats. These things brought a shame to the eminence of Facebook as Net Neutrality is our fundamental right.
Conclusion
This could be a classic management study about how to be respectful of local sensibilities when you are trying to conduct business in any country. Sometimes low-key campaigns, listening to well-meaning people and cultural sensibilities help to build a better brand image.
Facebook, for now, has suffered a big blow to its brand image from this story which it will take some time to recover from. And, by now, if you are wondering why so much of hullabaloo among the Facebook team for a country that is accounting for less than 14% of Facebook's revenue, then you must continue reading our earlier data-driven insightful analysis on "Why does India hold the key to Success for Facebook in future."