With Facebook Inc. (NASDAQ:FB) emerging as a fierce competitor and acquiring a number of ventures, the confidence of this social network giant has reached its zenith. However, when TRAI disappointed the minds at Menlo Park two days back, the internet was taken over by a storm- some jubilant at the brave decision taken by TRAI and some, like Mark Zuckerberg and his highly ambitious team, heartbroken. The disappointment and dejection of the TRAI's (Telecom Regulatory of India) decision of banning the service providers from charging different prices for access to different types of data services was highlighted in Mark's Facebook post on February 8th. In his post, he humbly acknowledged his initiative Internet.org and linked it to different initiatives such as solar-power planes, satellites and lasers etc.
His post was transparent enough to let the world know that this genius is shattered by TRAI's decision. He, however, condemned the move, elaborating that the decision made by TRAI to restrict the services for providing free access to data, will restrict Free Basics.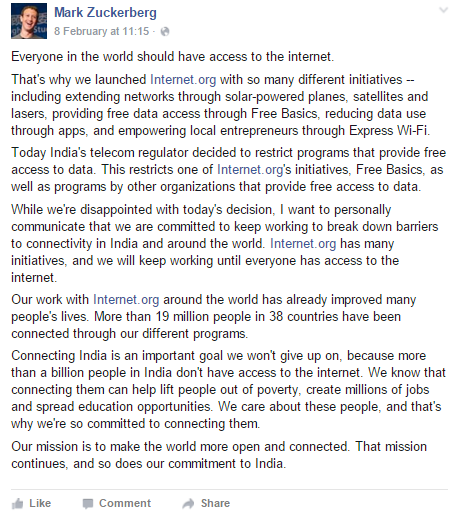 Free Basics, did not correspond with net neutrality and was thus, slammed by TRAI in a letter, issued on 8th February 2016, to Facebook on grounds of differential pricing and digital inequality. Net Neutrality stresses on the equal treatment of all web traffic and Free Basics was in contradiction with it. Anyone, who violates TRAI's norms will face a fine of Rs. 50,000 (US$735) per day up to Rs. 5 million (or US$73,585). On the home soil, some Indian startups including Flipkart and Paytm, also opposed Free Basics.
The rejection of skeptical Free Basics does not appear to lower Mark Zuckerberg's morale, and his fighting attitude was reflected, as he said that "We will keep working until everyone has access to the Internet."The status of Mark Zuckerberg didn't go well
The status of Mark Zuckerberg didn't go well with the people of India. And, if that was not enough Marc Andreessen, Board of Director – Facebook, fueled the fire with his insensitive tweet.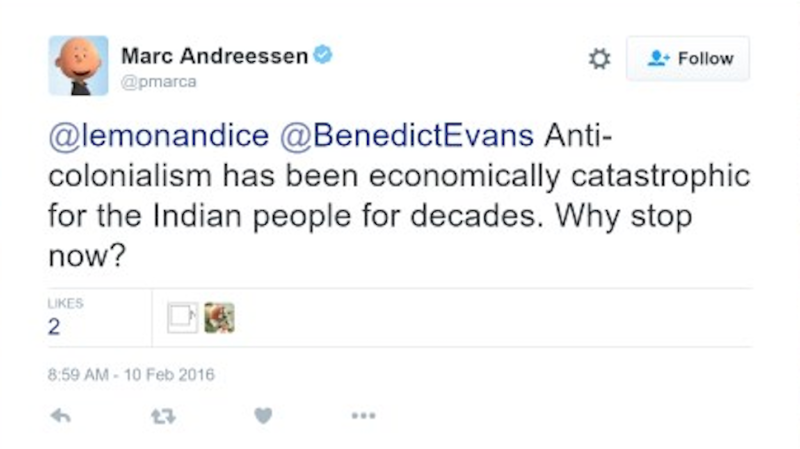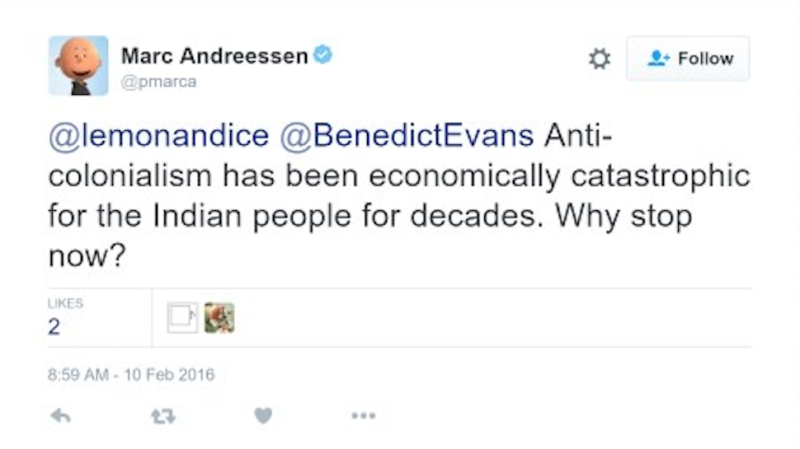 Though Andreessen later deleted the tweet after facing extreme criticism, the frustration of Mark Zuckerberg and Marc Andreessen is clearly visible in their updates.
This leads us to think if India, as a market, holds such an important strategic value for Facebook, especially when India stands at third position behind US & Canada and Europe in terms of Average Revenue Per User (ARPU) earned by Facebook?
Why is India So Important For Facebook?
Among BRIC nations, India's economic growth is commendable with an estimated growth figure of 7.8% in 2016 and with the added bright prediction by Softbank's CEO, Mr. Masayoshi Son, who believes India will rule the economy, in next 20-25 years. Other markets like the US and Europe are saturated and India, with 70% of the total population, is remaining void of mobile Internet, appears to be the most advantageous.
Low Penetration High Potential
Asia-Pacific is the largest region on Facebook by the number of users; By the end of Q4 2015, Facebook has recorded 309 million daily active users from the region. China and India, together, account for the maximum number of internet users in this region. China being the 'no man's land' for Facebook, India has emerged as the single largest potential market for Facebook with 129 million users.
The population of internet users in India is estimated to reach 462 million by June 2016, out of which 371 million internet users will be on mobile, according to the latest IAMAI report.
 The figures, 462 and 371 million may appear gigantic but in reality, it is just 36% and 29% of the total 1.3 billion population of India. This portrays a big window of opportunity for Facebook to where almost two-third of the population is yet to come on the internet. If Facebook could manage to become a gateway to the internet for those, it will be a great success for the social giant in the world's second-largest country by population, the number of mobile phones and the number of internet users.
Facebook's revenue model and saturating US market
Facebook's revenue model is similar to that of Google, with chunks of their revenues being generated by digital advertisements. Ad revenue is directly proportional to the amount of traffic on the site, which in turn, is directly proportional to the number of internet users. The growth of the internet and mobile, both, has been saturated in the US while Europe does not show a sign of a great deal in future. With a staggering 45.4% market share in social media websites as of October 2015, the United States' Facebook market seems to have ripened. There will be a mere rise of 24.2 million Facebook users in the US between 2014 and 2020 as predicted by Statista. Good news poured in for Facebook as, United Kingdom's Facebook market share peaked at 79.49%, as of January 2016.
As Facebook's 96% revenue is coming from digital ads, it's important that Mark Zuckerberg must find new avenues for revenues in future. In Q4 2015, Facebook's advertising revenues in the US increased by 56% YoY as compared to 45% in Europe. It was, however, India where Facebook recorded the maximum growth of 57% during the same period.
Though Mark sees Ad Blockers as the biggest fear for Facebook in the future, India with enough of room to expand, is undoubtedly the most promising market for the Facebook's future growth.
Smartphone: Driving The Growth in India
With 996 million mobile phone subscriptions India is the second largest mobile phone market trailing behind China. India surpassed the US with 239 million smartphone users by the end of 2015. Social Media is the second most popular category of mobile phone users by the data usage. Even, people are spending much more time on social media through their mobile phone compared to the desktop time.
Acquiring another billion smartphone users can't be possible for Facebook without focusing on India.
The portrayed scenario, data and thoughts above require no further explanation and are the apt replies as to why Facebook is immensely disappointed with TRAI. India, being the most lucrative future market to fill large pockets of Facebook's investors, Mark Zuckerberg and his team cannot afford to embitter this largest democracy and its authorities. All said and done, we believe there is a lot more drama to be unfolded in future!