From a garage baby to a dominating incorporation on the Internet, Google has come a long way. But, who played a key role in Google's immense success recently? The answer is Sundar Pichai. And today, we will reveal Google's surprise gift to this golden boy.
A product of research project of Larry Page and Sergey Brin, Google was incorporated in 1998 out of a garage at Menlo Park. With Eric Schmidt as the first CEO and brilliant minds like Larry Page and Sergey Brin working round the clock, Google went on to become an invincible technological super power. Like a hungry predator, Google, slayed all other search engines to emerge as the king of the search engine world and the word 'to google' has now become a standard verb used by millions across the world.
Google's profitable diversification in the past decade can be attributed to its ultramodern CEO, Sundar Pichai. He was the one of the masterminds behind the idea of Google's Chrome browser in 2004 and it is his  implausible work on various Google's products like Google Docs, Gmail and Android which secured him the position of Google's Product Chief in 2014.
Following the restructuring of Google, the world was presented with Alphabet Inc. (NASDAQ:GOOGL), and Sundar was appointed as the Chief Executive Officer of Google.
Spearheading marvelous ideas to create a success story for Google, the company gifted Sundar a, not so modest, $199 million worth of shares of Alphabet, as a gesture to thank him for his smart moves and making him the highest paid Chief Executive Officer in the US. Alphabet handed over its 273,328 class C shares worth $199 million on 3rd February 2016.
This magnanimous grant awarded by Google has outshone all the others that were awarded in the past. Second to this reward, comes the $42.8 million restricted stock awarded to Diane Greene, the founder of VMware Inc and the pioneer of Goggle's Cloud business, in November last year. Her other venture Bebop Technologies Inc, was acquired by Google for $380 million including $148 million in equity in 2015.
The gifted Indian CEO still, trails behind the founding CEO of Google, Eric Schmidt, now the Executive Chairman of Alphabet, who owns a hefty $3.2 billion worth of Alphabet shares compared to Mr. Sundar Pichai, who owns a grand total of $650 million worth of shares of Alphabet Inc. presently.
An Indian Institute of Technology at Kharagpur alumnus, Sundar Pichai was appointed as the CEO of the world's most influential company in August 2015 as Google's fathers, Brin and Larry, focused their attention on the restructured Alphabet Inc. Alphabet, is a now the parent company of Google and various other companies owned by this giant.
Google's rising star and boss
With the shifting focus of Google's founding duo Larry and Brin, the whole responsibility of Google fell on the worthy shoulders of Sundar Pichai. And this new star has fulfilled Larry Page's expectations and is scaling new heights, much to everyone's confidence at Mountain View.
Google recorded a net revenue growth of 10.2% in 2015, with Sundar as the new CEO and has surpassed the expected profit of every Quarter for 2015.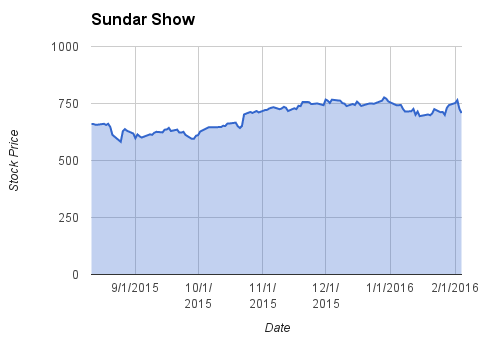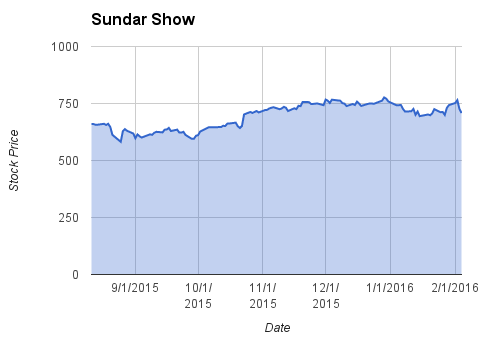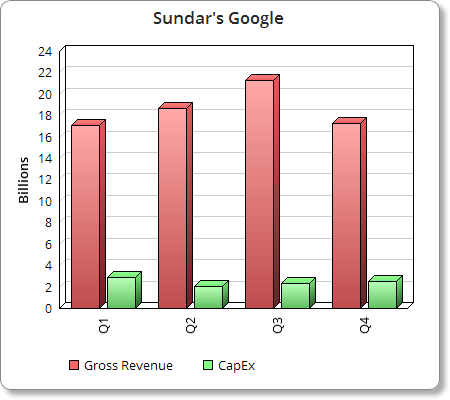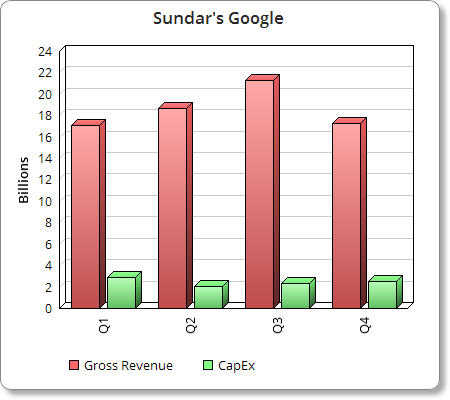 Larry's blue eyed boy
Pichai was mentored by Larry Page and has had the opportunity to work closely with him, quickly becoming Page's favourite. While Larry's interest shifted from Google to his other venture, namely Alphabet, he handed over the prestigious 'Google CEO' position to him. As a result, Alphabet Inc. quite recently surpassed Apple Inc. (NASDAQ;AAPL) in net revenue, for a short while though, to become the technological giant.
"Sundar has been saying the things I would have said (and sometimes better!) for quite some time now, and I've been tremendously enjoying work together," Larry Page said before he formed Alphabet.
Everyone loves Sundar Pichai
Sundar Pichai, is often referred as a 'Mild-mannered', 'nice' and 'warm' gentleman. In a recent quora post, many of his colleagues posted about Pichai and his etiquette at work. Chris Beckmann, a former employee of Google, praised Sundar Pichai's decisions, for eg. the creation of Chrome web browser in 2008 and the Google Toolbar, that made Google experience a financial success.
Chris also praised his team and his leadership by saying "He recruited, mentored, and retained a great team. Sundar's team of product managers had a reputation as being among the best of the best, similar to the reputation of the software engineers within Search Quality."
Sundar's path to glory
Sundar pioneered Gmail and Google Maps projects. Recently, he launched Google's free Wi-Fi initiative in India with Railtel, which was welcomed hands on by the consumers.
Apart from the failure of AndroidOne project, that Sundar launched in 2014, designed to command Android market in Budget Smartphone category, Sundar's tenure at Google can be marked as triumphant. With his path-breaking ideas of Chrome Browser and Toolbar, he is seen walking in the footsteps of Larry Page and Sergey Brin. His achievements have earned him the well deserved appointment and admiration from people across continents. With his latest visit to India and following the interaction with students, we are sure that he has inspired a number of young minds to reach out for the impossible.