India – the world's second largest country by population, second largest by mobile users, third largest by Internet population, and second largest by Facebook users – has got a new feather in the cap. But, this time it may not be – or may be, for many – celebrated as a moment of proud. India is rated at fifth-position in the list of countries having most prolific consumers of internet pornography. Surprisingly, in a country where smartphone penetration (population) is mere 10%, nearly 50% of porn content consumers in India use their smartphones to access online pornographic.
The above findings are derived from the data provided by the world's largest adult website PornHub – world's 72th most popular website according to Alexa. While, there are possibilities that statistics may not be portraying a precise picture of adult content consumption in India due to the fact that such findings are completely based on a single website data, but it largely indicate the trends and consumption of adult content in India.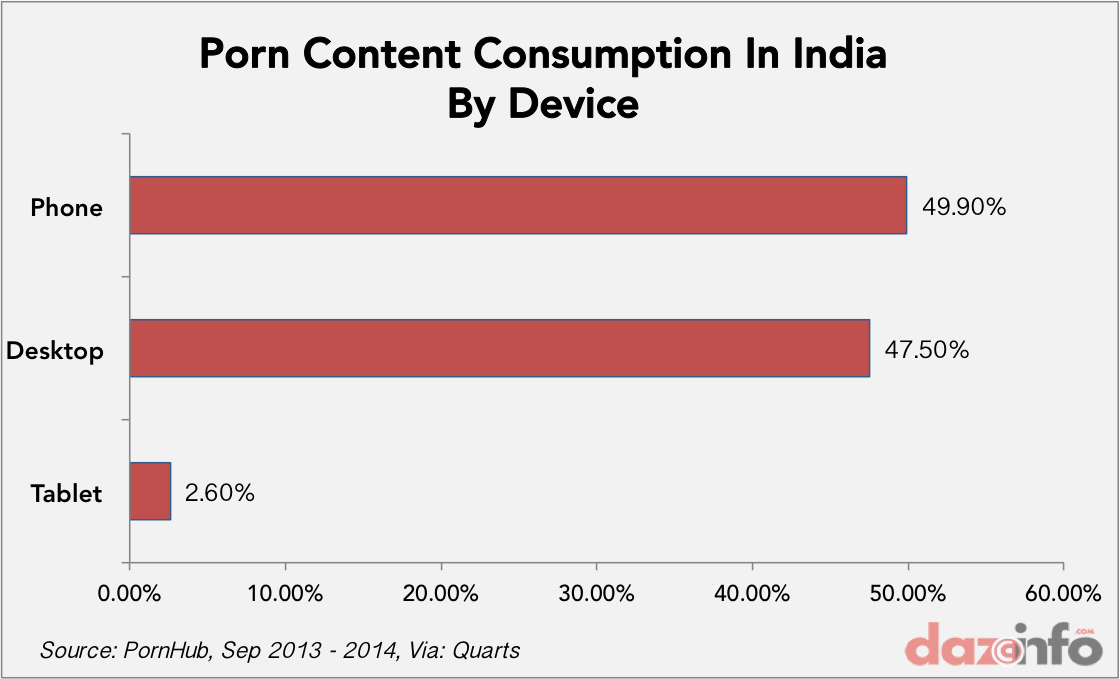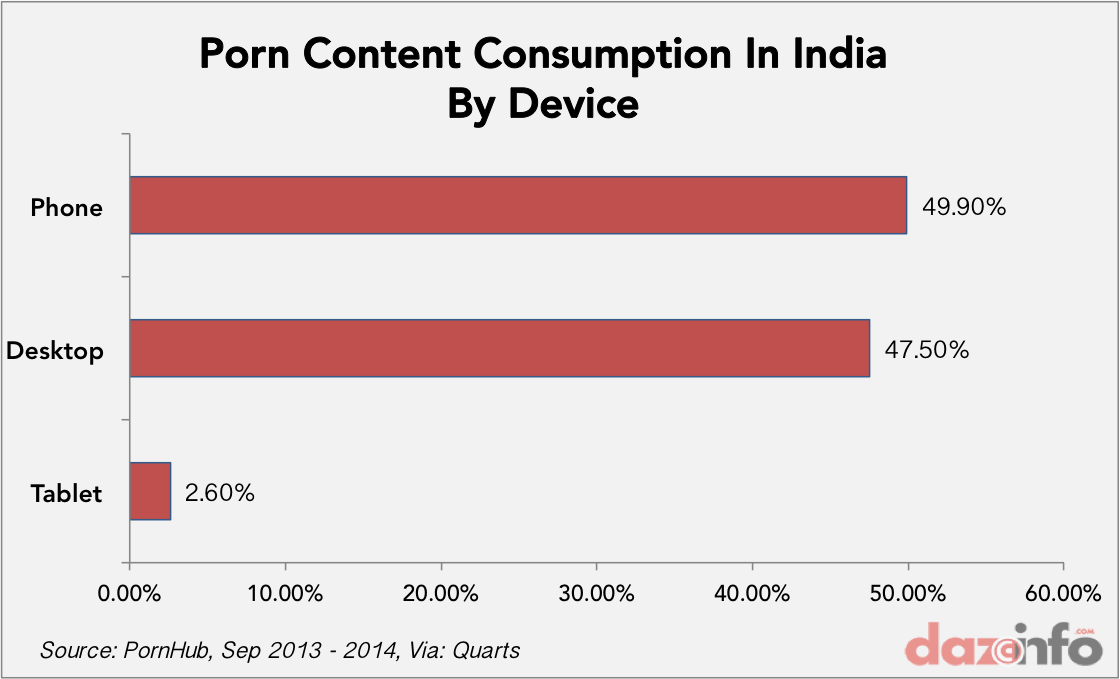 The data also highlights the low tablet adoption in india as only 2.6% of porn content consumer access it via tablet devices – a much lower than global average of 11%. While smartphone users have emerged as the biggest consumer of porn content, 47.5% of porn users make use of Desktop too.
Indian Consumers View 7 Page per Visit
Adult content is undoubtedly is the most selling content on web. This could be proved by the fact that Sex.com is among the one of the most expensive domains all the time. The domain name was sold for $3 million in June this year. Similarly, fantasy of indian people towards adult content could be well-analysed with the fact that they view 7.32 pages on each visit to porn sites. This is almost 3X higher than global average page views per visit count.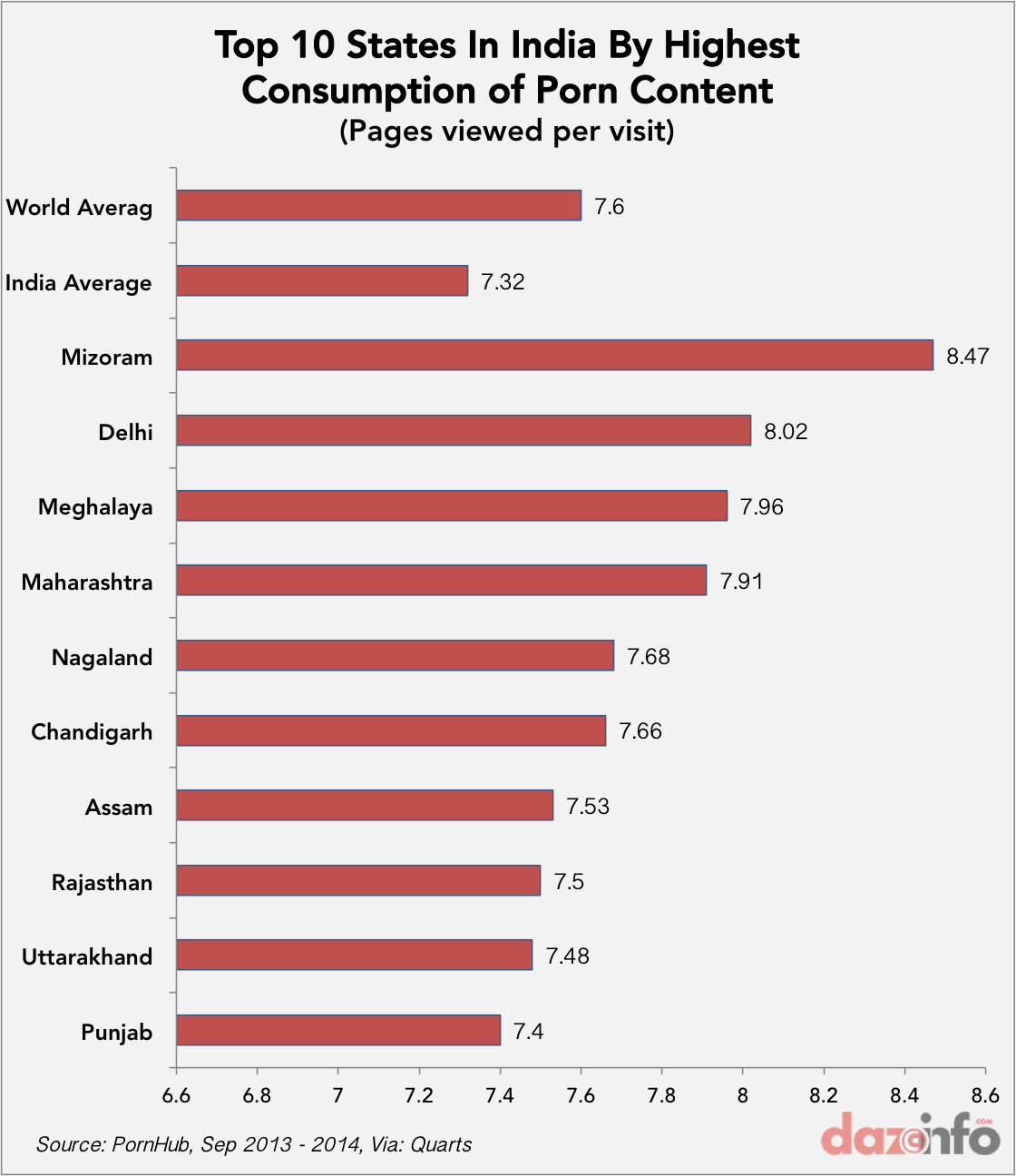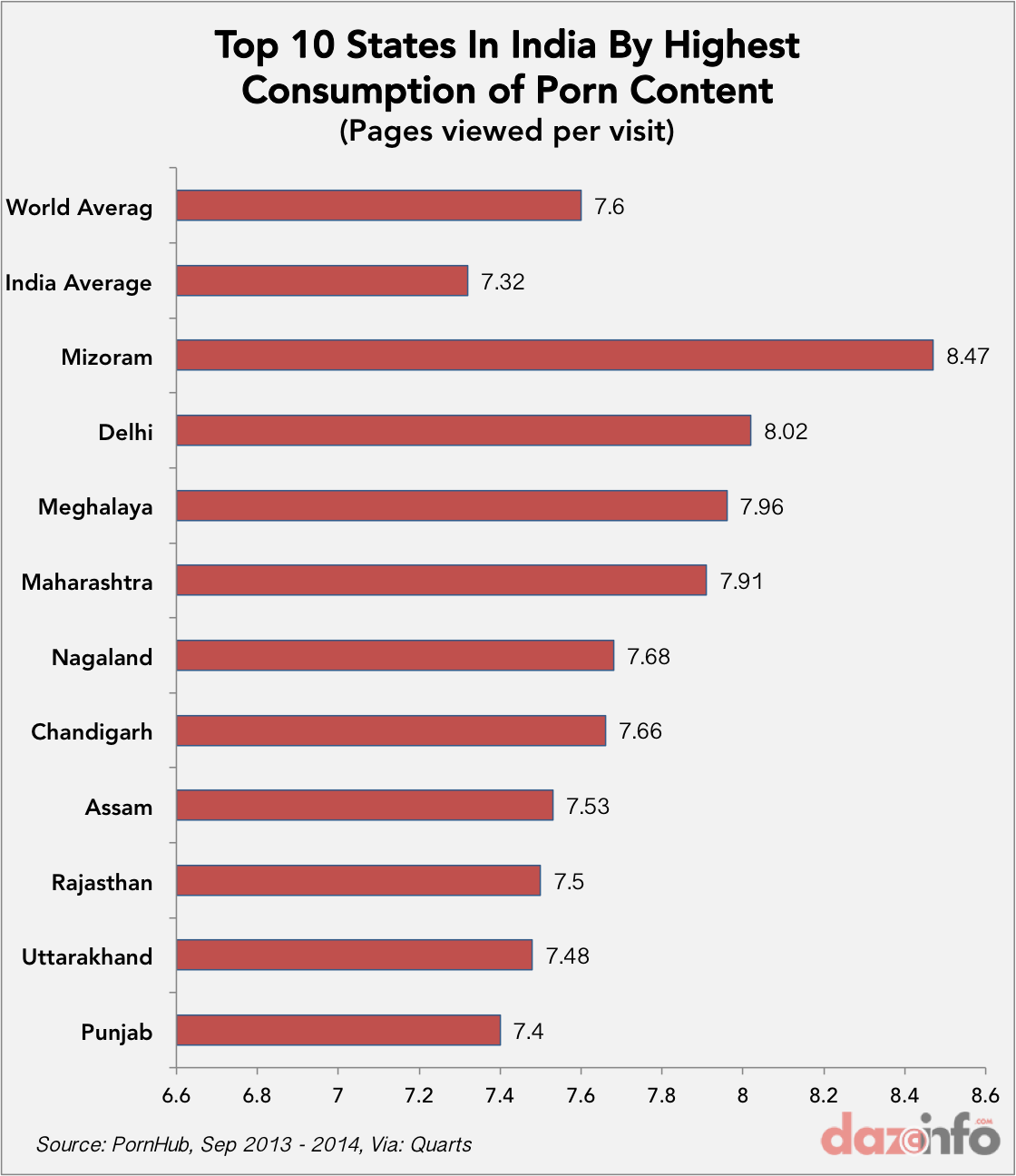 Among the cities, surprisingly, Mizoram tops the chart with 8.47 page views per visit, beating Delhi, Maharashtra, West Bengal and Karnataka – states having top cities of India by the number of maximum Internet users. Delhi follows Mizoram though, Meghalaya wins third place, depicting a fact that northeast Internet users are the greatest consumer of online porn content.
Sunny Leone Most Favorite
The retired canadian born india-origina porn star Sunny leone is still hot favorite of all porn content consumers in India. Despite her retirement from porn industry in 2013, the lady still beats all her competitor on Internet. She is followed by Lisa Anna and Priya rai.
But, above all of it, there is something more interesting; the consumption of porn/adult content in India is seasonal. Unlike any other country in world, fascination towards porn content reportedly plunges during festival season – probably because of sacred days or people find no spare time to spend on internet. During Diwali, traffic to the porn website dives down by 35.86%, while in Dussehra and New Year its die down by 30%. On Republic Day and Independence Day people find themselves blessed with extra relaxation time, consequently traffic to the porn site jumps up by 2.6% and 5.8%, respectively.
Likewise, in India, Saturday is found to be the most relaxing day when consumption of porn site content remains greatest. However, in the United States, the United Kingdom, Brazil and Germany Monday happens to be the most popular day. In India, Sunday remains the leanest day from the prospective of consumption of porn content.
You may be blaming – or appraising – indian men for such an 'outstanding performance' in online porn industry at global level, women also have scored well. Nearly one-fourth of the site users coming from india are female, beating the world's average of 23%. But that's not the only surprising element; in a country where moral value and demographic culture is highly respected publicly, the most favorite categories for female users are lesbian, closely followed by gay.
This makes India as the fifth largest consumer of porn content in the world, the United Stats leading the list with 40% of total traffic. And, while the above statistics may leave you stun, India government is planning to impose a complete ban on porn content.
Via: Quartz