Ever since the advent of the smartphone and an app based software ecosystem, download numbers have been the primary metric to measure success. However, this circumstance has seen a drastic change over the past few years. With the unceasing evolution of the smartphone and app industry, the strategies for success have changed, along with the metrics to measure it.
Now, the industry has started valuing app user retention far more than user acquisition.
The reasons for this shift are manifold. As we outlined in a previous article, the saturation of the app market along with the rise of business models such as in-app purchases (which rewards user retention) are the two primary reasons. Even a small increase of 5% in user retention can lead to increased profitability by 25% to 95%.
App Abandonment Is On the Rise, While App Retention Levels Are Stagnating
A recently released report by Localytics highlights some troubling statistics about app engagement. The report found that 24% of users abandoned an app after using it just one time. The figure is slightly up from a 23% abandonment rate recorded during the same time in 2016. App user abandonment rate is the second highest since 2012.
This is a worrying development, it suggests that many of the traditional methodologies to encourage user engagement are no longer as effective as before.
Meanwhile, the percentage of users who use a particular app 11 or more times is also down to 37% from 38% in 2016.
These figures more than sufficiently outline the difficulties of app user engagement in today's market.
A Change In Strategy
From the above data, it is pretty clear that some changes are needed. Many app creators need to rethink the way they go about to retain their users. Some of the most important factors in determining user engagement levels in today's app market are expanded on below:-
The First Impression– As of March 2017, there are over 6.5 million apps available on app stores to download. In today's highly congested app market, first expressions are key to the success of any app. Apps which have a simple and intuitive UI and provide to the point information are much more likely to capture the users' attention. One effective way to achieve this is through in-app messages. These are messages received by the user inside the app, without having to sign up to a mailing list. The report by Localytics finds that an in-app message sent to an app user increases app retention rate. 54% of app users visit an app 11 or more times if they receive an in-app message during their first visit to that particular app. This is despite the fact that retention rates during the first visit are lower for apps showing in-app messages. The data also suggests that most users make up their minds about an app within the first few visits, further accentuating the need for a good first impression.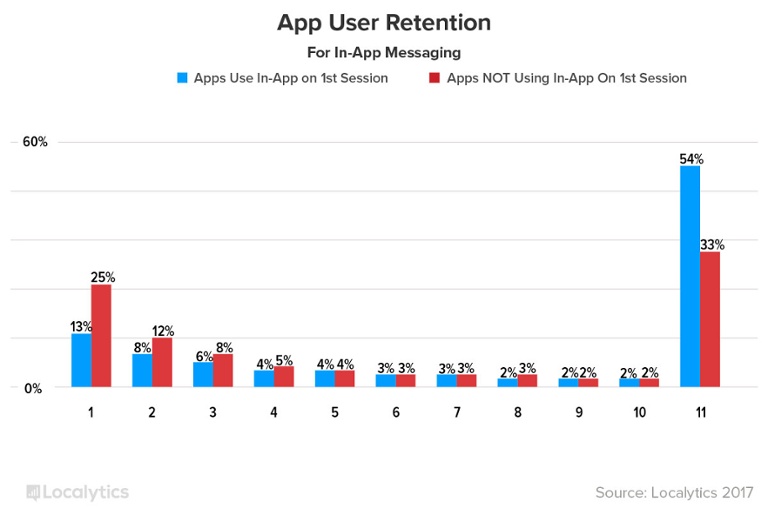 In contrast, apps who don't use in-app messaging loose 25% of their users after the very first visit only. Only one-third of users visit an app 11 times for more, eventually increasing the user acquisition cost.
Personalization and Customization – Personalization and customization features hold tremendous value in the app market. Personalization helps provide a more targeted and relevant experience to the specific user. This has significant value especially in retail-related apps such as shopping/lifestyle and can even encourage higher sales by understanding the user's needs. Besides increasing user engagement rates, personalization features can also help digital advertisers in displaying more relevant ads.
Incentives – Another effective way to ramp up user interest and engagement is via the practice of providing incentives. This practice gets the user to get invested in the app. A good example of this is e-commerce giant Amazon India's shopping app. Users are promised exclusive discounts and deals on the mobile app in order to drive higher retention levels. This practice is also pretty effective in gaming apps, with incentives such as daily in-game rewards encouraging users to log in frequently.
Frequent Updates/New Features – Regular app updates and the adding of new features can often drive user retention beyond expected levels. Analytics such as touch heatmaps and user recordings can be used to understand how users engage with the app. This can provide information about which features of the app are popular, and which need improvement. This is especially relevant when it comes to mobile games, which can often make or break based on the frequency of updates.
App Onboarding – Thorough onboarding practices are critical to successful user engagement of any app. These include welcome screens and beginner tutorials. These provide important information about the scope and functionality of the app in a quick way. With a proper onboarding experience, app abandonment rates after one-time use fell down to 9%. App retention rates for 11 or more sessions also rose up to 61%. On the flip side, apps that asked users to sign up during the first session had 17% abandonment rates and only 41% app retention rates.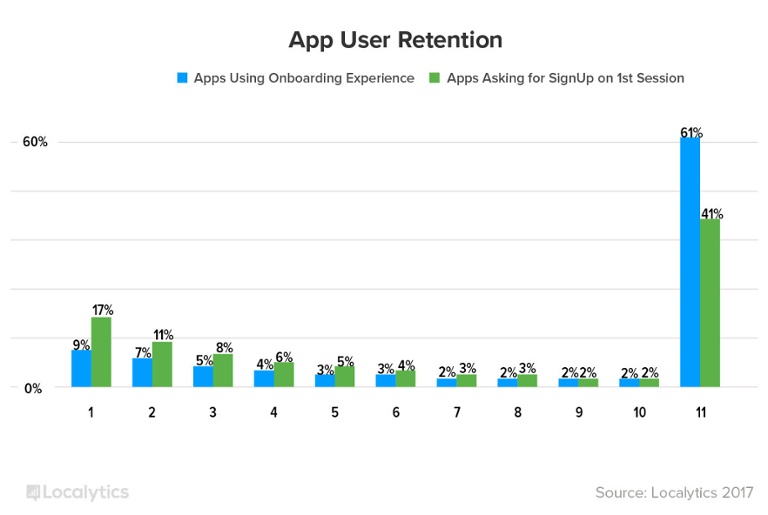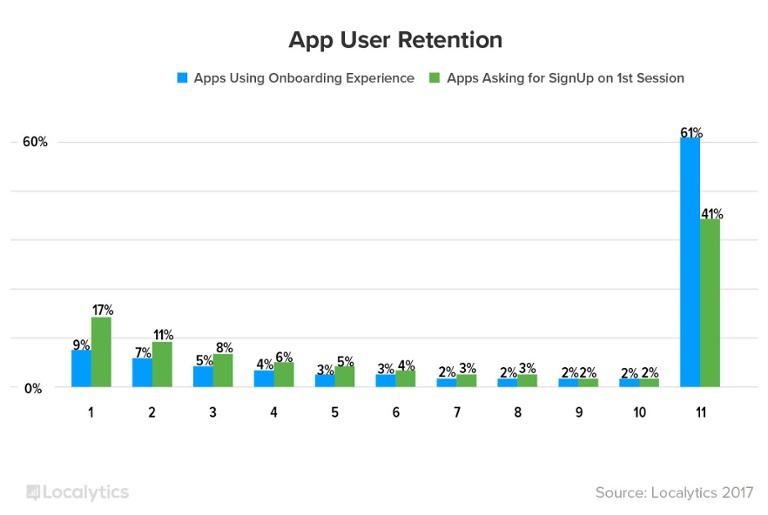 Actionable Insights
With the increasing availability of apps and choices, mobile app users are becoming more selective. App developers must offer a USP (Unique Selling Proposition) to keep app users hooked.
While in-app messages are the best way to retain app users, avoid overuse of the feature. Let a user has the hang of functionalities and benefits offered by an app before you trigger in-app messages. This will help in increasing the relationship of app users.
App developers should keep the onboarding process as simple as possible. Trying to capture users' information without tracking his interest level in the app could affect the popularity and retention.
Proper onboarding, frequent updates and an intuitive UI are some of the most important factors in driving user retention. App developers must pay equal attention to UI/UX, functionalities and features.