Scaale Group is a growth consultant helping companies execute innovative and global strategies through the capital, talent and sales. We have a presence in 6 countries (USA, Canada, Spain, UK, China and India) and a team of 100+ professionals working with our 100+ clients.
CBA (Cross Border Angels) is a group company of Scaale which helps to raise funds for startups and growth companies around the world. CBA has developed unique process and experience of international investment starting from deal screening, due diligence, term sheets, closing deals, special purpose vehicles to post investment relationships.
Last year, they hosted India's first Global Start-Up conference, Start-up India Rocks in October 2015 at The Leela Goa which was attended by over 200 delegates from 20 countries and over 100 entrepreneurs. India's leading Business Channel ET Now (https://youtu.be/xrc6a-BPjdw) covered the conference live and broadcasted a 30-minute episode. This was attended by over 200+ delegates from 20 countries including 60+ investors, 40+ corporates, over 100 entrepreneurs and approximately $3M worth of investments made in various ventures attending the event.
This year Startup India Rocks! 2016 is bigger and better. Conducting a roadshow in 20 cities to pick India's 100 best start-ups who will pitch at the final on 18th and 19th November 2016 at SAP Labs, Bengaluru and many more showcasing their products and technologies.
Each city event started with knowledge driven sessions like Series A to Z by Cross Border Angels covering topics that help entrepreneurs to understand the multiple facets of raising growth capital that startups face by using case studies of Scaale's portfolio companies. Thereafter, Legal insights session were conducted by Voxlaw and branding and strategy insights were provided by Content Marketing division of Times Network. Apart from that, Microsoft directed the startups on "Leveraging the Intelligent Cloud" a content driven session on the importance of cloud technology for businesses across sectors and geographies. Post the sessions, the shortlisted startups' pitch and the panel decide the winners.
The 20 city tour started in July with Jaipur, Kolkata and Hyderabad, where in total 16 startups won. The winners were from sectors such as 3D printing, fin-tech, analytics, etc. Going forward, the tour went to Cochin, Ahmedabad and Pune in August. These 3 cities gave Startup India Rocks 18 winners. Ahmedabad event was attended by Mr. Kaushal Chokshi (Founder of Scaale Group). Bengaluru and Chandigarh were the September cities. Bengaluru, the startup capital of India gave a highly positive response along with Chandigarh, a total of 15 winners. A small snippet of the Chandigarh event at Innov8 can be viewed here.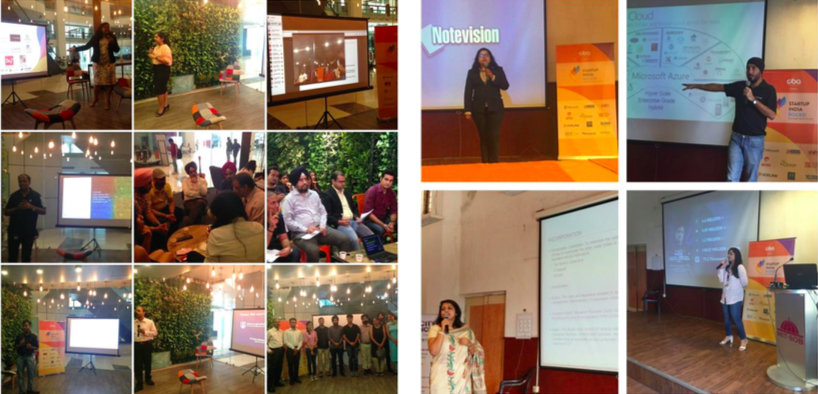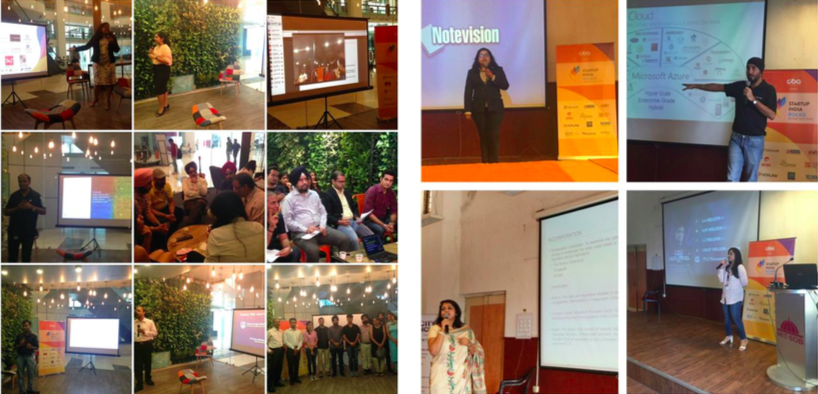 October was the startup month of the tour. A total of 7 cities were hunted for India's 100 best startups. Cities like Noida, Delhi, Vadodara, Mumbai, Chennai, Goa and Surat gave 32 winners, who will pitch in the finale.
The tour led Scaale and Cross Border Angels not only to tap the startups but also the investors, angel network, accelerators, incubators and co-working spaces. Some of the angel networks tapped are Calcutta Angels Network, Rajasthan Angel Network, etc. Some of the co-working spaces that supported the event are Innov8, Stirring Minds, AtWorks, etc.
The finale is during the Global Entrepreneurship week at SAP Labs will include product launches and pitching session and an opportunity to network with investors and last but not the least an opportunity to get funded through the conference.
To register for the event, follow this link.