Staying connected has become an integral part of life, most of which is catalysed by our smartphones. We need and have an app for every task- shopping, banking, learning, payments, medical facilities and the list goes on. It is not something that is critical for survival but around 56 percent consumers around the world cannot imagine life without mobile phones. 53 percent reported of getting anxious when their devices are not close to them. Our dependability on mobile phones is rising on a daily basis.
According to a recent survey by Nielsen, 74 percent said that they like the flexibility of staying connected anywhere and everywhere. Similarly, 70 percent strongly or somewhat agreed that mobile phones have improved their lifestyle. This has a clear impact on mobile shopping industry which is estimated to grow by 32% in 2016. So, how the always connected smartphone users make use of their devices to shop and are they really able to reap any benefit from the multitasking? Let's find out!
Use of Mobile Devices for Activities Related to Shopping
The total number of smartphone users is estimated to reach 6.1 billion by 2020, while the mobile subscriptions will touch 9.1 billion.
A majority of shoppers opt for mobile shopping these days. It is simply the convenience and comfort of purchasing online from anywhere and making payments instantly (or Cash on Delivery) that has worked in favour for eCommerce portals. The tremendous growth of eCommerce industry is proof! Globally, 53 percent respondents in the Nielsen survey compare prices on their mobile device; and 42 percent agreed with a better purchase decision. 52 percent look for product reviews and 44 percent rely on their smartphones to search for coupons or deals. Around 41 percent shop on mobiles for a seamless shopping experience.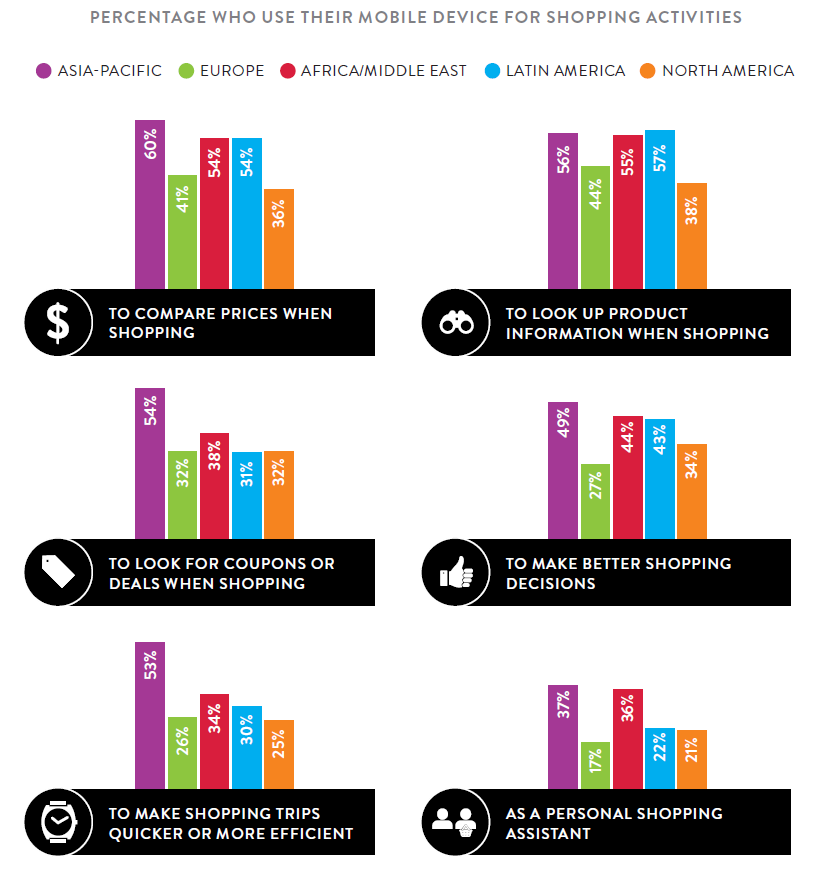 Asia-Pacific has the highest number of consumers who use mobile devices for these activities while shopping. China and India are the world's largest smartphone markets with 563 million and 204.1 million smartphone users respectively. Due to its massive user base, more and more people have the access and convenience to go online for shopping activities.
Talking about the use of mobile devices, 66% of the global respondents agree that electronic interactions are replacing face-to-face interactions. Moreover, 47% of the respondents prefer texting over talking.
Shopping: Mobile Devices vs. Mobile Apps
Use of smartphones, however, is not just restricted to shopping. Globally, 38% of the consumers purchased a product or service through their mobile devices in the past six months. Again, Asia-Pacific region takes the lead with 46% consumers making purchases through their mobile devices, followed by Europe and North America with 32% and 28%, respectively. 34% of the global consumers use mobile apps to make purchases while 44% users are from the Asia-Pacific region, followed by Latin America and North America with 25% and 23% each.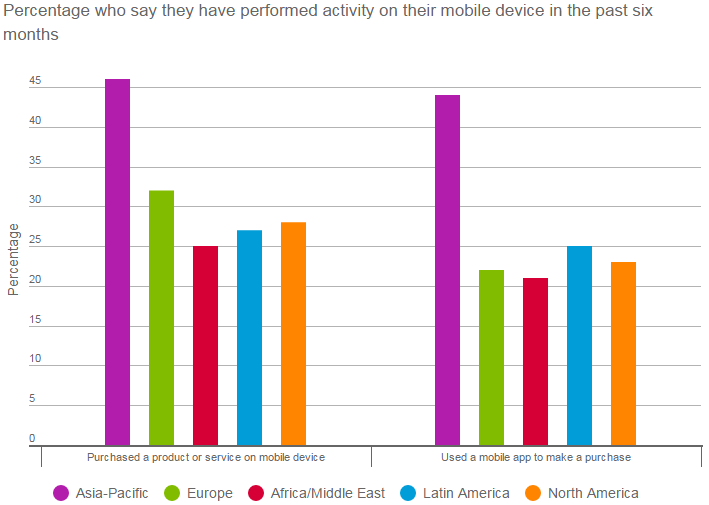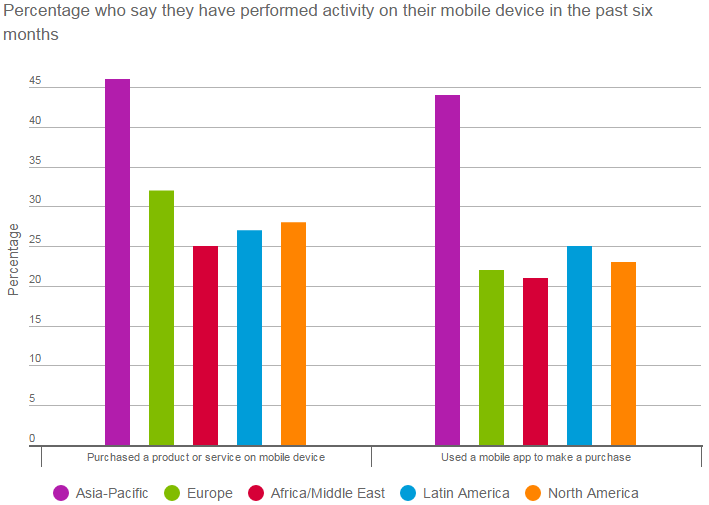 Overall, the survey revealed 11 countries that exceeded the global average of 38% consumers purchasing a product or service via mobile devices. Out of these 11 countries, six are from the Asia-Pacific region. China (50%) and India (49%) lead with the highest percentage of consumers followed by South Korea (47%) and Vietnam (46%). However, only six countries exceeded the global average of purchasing via mobile apps. Out of 6, five countries are from the Asia-Pacific region. China topped with the highest percentage at 50%, followed by Korea with 48%. India dropped down to the third position with 47% consumers.
A poor mobile experience may lead to lower conversion rates and drive shoppers to competitors' storefronts, sites or apps. Retailers developing mobile products should keep in mind four fundamental shopper needs: ease, convenience, choice and value. That is, the solution should satisfy a variety of trip purposes and deliver strong value for money in a way that requires less time and effort, said Stuart Tugg, Financial Services Leader, Nielsen Europe.
Asia-Pacific countries are dominating the worldwide e-commerce market due to several factors like the number of internet users with 49.6% population penetration, the number of smartphone users (1.13 billion), growing number of e-commerce platforms, and a huge population (over 4.5 billion). With the penetration of Chinese OEMs like Xiaomi, Huawei, Oppo, and much more, smartphones are now available at affordable prices with best features possible. This has played a significant role in increasing the number of connected smartphone users who are downloading more apps to ease out their daily digital activities.
Brands can reap the maximum benefit from Asia-Pacific region. They need to make their apps more and more lucrative with the best possible deals and offers to give the consumers the best shopping experience.