Along with the number of internet users, the growth of internet infrastructure in the US is apparently stagnated. The latest data on the average internet speed in the US is a clear sign that the country needs to upgrade its digital backbone as soon as possible to stay competitive and to secure a position in the global list of top 10 countries with the fastest average internet connectivity. According to the latest report from Akamai, the average internet speed in the US remained unchanged in Q2 2016, clocking at 15.3 Mbps, similar to the figure recorded in Q1 2016.
As compared to Q1 2016, 7 out of 10 states in the US witnessed a decline while one remained unchanged and two showed small positive gains. There was, however, no drop in the QoQ change for Q2 2015, Q3 2015 and Q1 2016 among the top ten states in the list. District of Columbia led the chart with an average connection speed at 24.3 Mbps with 1.5% QoQ gain and 47% YoY change in Q2 2016. Delaware was the highest loser with 7.8% QoQ decline and the average connection speed at 19.5 Mbps. Overall, the ten states had average connection speed exceeding 19 Mbps, but none reached the FCC's new 25 Mbps broadband threshold. All the 51 states had average speed over 10 Mbps, while Idaho had the lowest speed at 10.2 Mbps, decreased by 6.4% from Q1 2016. Out of all the 51 states, only 14 registered quarterly gains ranging from 0.3% in Nebraska (to 13.9 Mbps) to 8.4% in New Mexico (to 12.4 Mbps).
United States Average Peak Connection Speeds (IPv4)
In Q1 2016, all the states witnessed an increase in average peak connection speed. However, in Q2 2016, three states reported a decline, ranging from 1.5% in Massachusetts to 7.5% in Delaware, in average peak internet speed. The gains ranged from 0.8% in Virginia to 4.6% in Maryland. Washington being the capital city stands at the 8th spot which was at the third position in Q2 2015. Even New York, which is yet another major city, was at the 9th place.
District of Columbia is leading the chart with 95.5 Mbps average peak internet speed. Across the nation, 19 states saw a decline in the speed, compared to just one state in the previous quarter. The declined ranged from 0.1% in Montana (to 57.9 Mbps) to 9.7% in Maine (to 46.6 Mbps) whereas the increase varied between 0.3% in West Virginia (to 54.1 Mbps) to 12% in New Mexico (to 55.7 Mbps). However, the YoY change figures reported growth across all the 51 states ranging from 5.6% in Virginia to 44% in North Carolina and Alaska.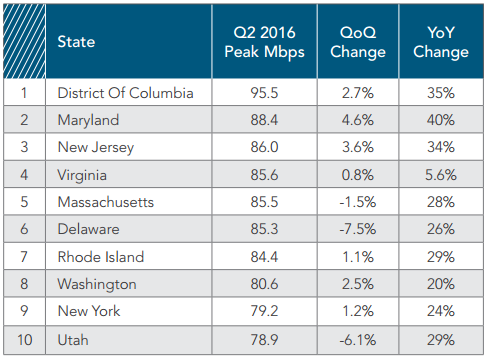 U.S. telecom companies are actively deploying new gigabit services throughout the country. Many states and local governments are also taking initiatives to improve the state of the internet. Minnesota approved a $35 million budget for broadband funding for 2017. Also, Palo Alto, CA, and Pikesville, KY are seeking information. They are looking for service providers to provide gigabit-speed access to every residence and business.
Global Average Connection Speed (IPv4)
The global average internet speed in Q2 2016 was recorded 6.1 Mbps, a 2.3% slower compared to the 6.3 Mbps in the first quarter. Q4 2015 and Q1 2016 were the only quarters with no decline in the average internet speed, globally or country-wise. Nine out of ten countries saw a decrease in the speed in Q2 2016, whereas Singapore is the only country whose average connection speed increased by 4.5%. The decline happened due to lack of adoption of the advanced IPv6.
IPv6 can cater growing number of hosts and increase in traffic, with better speed and other technological advancements. Globally, 53 out of 148 qualifying countries (with more than 25,000 unique IPv4 addresses) saw a quarterly increase in average connection speed as compared to 142 countries in the first quarter. Declines in connection speed ranged from 0.1% in Mauritius (to 5.6 Mbps) to 34% in Nepal (to 2.5 Mbps).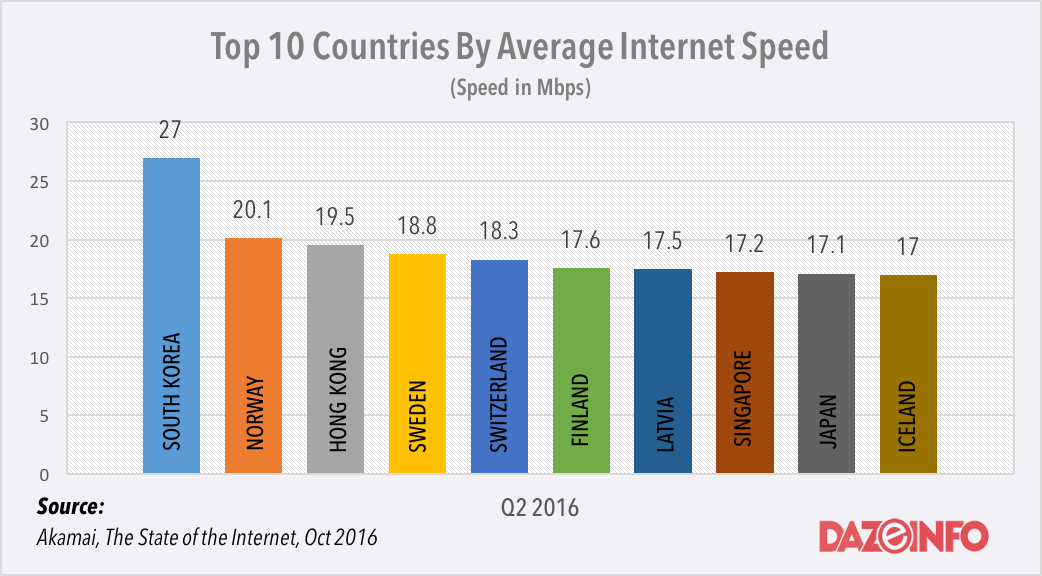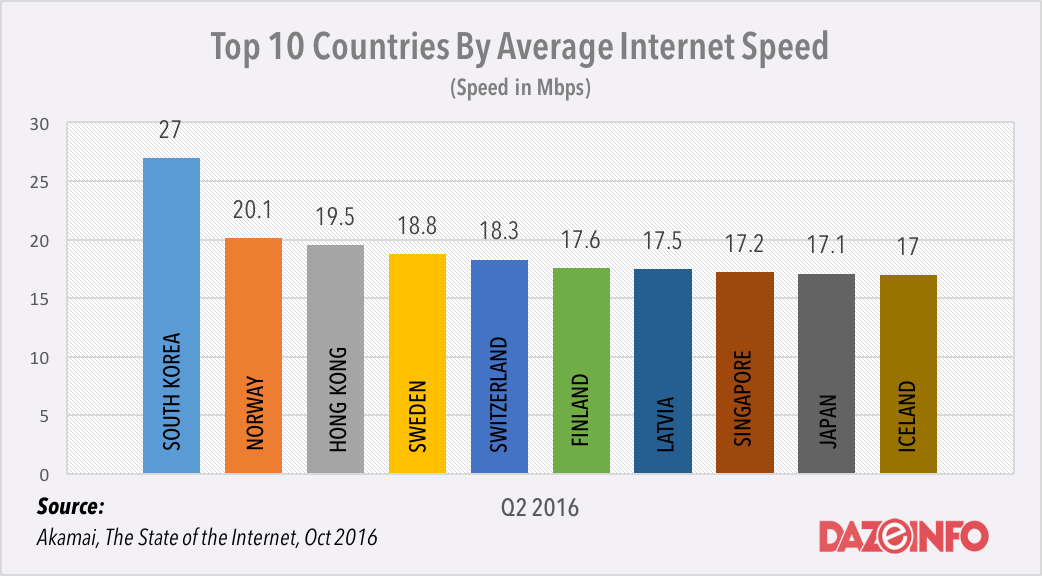 Global Average Peak Connection Speed (IPv4)
In Q2 2016, the global average peak connection speed increased by 3.7% to 36 Mbps, which was at 34.7% in the first quarter. Globally, only the third quarter of 2015 saw a decline in the average peak connection speed by 0.9%.
Singapore is leading the chart with 157.3 Mbps followed by Hong Kong and South Korea with 114.3 Mbps and 110.1 Mbps, respectively. However, only Indonesia saw a quarterly decrease of 17% to 91.9 Mbps on the top 10 list of Q2 2016. All the other countries witnessed a QoQ increase, ranging from 0.9% (Japan) to 32% (Bahrain). The speed may be impacted by mobile gateways connecting to Akamai servers via very high-speed internet connections and may not be entirely indicative of end-user fixed broadband services.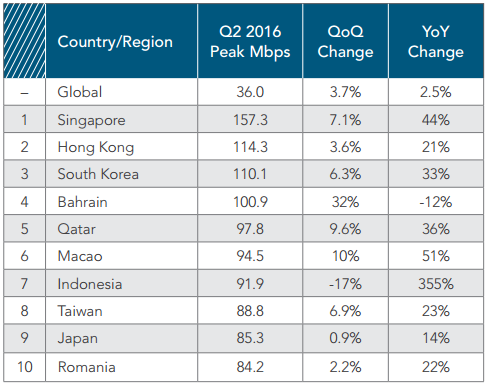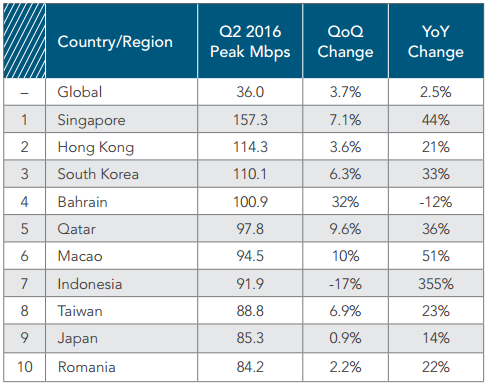 Global Adoption of IPv4 vs. IPv6
According to Akamai's state of the internet report, there was a 1% quarterly decrease in the number of unique IPv4 addresses to 800 million in Q2 2016, which declined by 8 million as compared to Q1 2016. The adoption of IPv6 fueled the decline. Akamai received a minimum of 90 million requests in the second quarter which includes traffic from some of the leading web properties and software providers like Comcast Cable (46%) and Verizon Wireless (74%). The IPv6 traffic percentage was highest for Belgium which stood at 38%, with 5.1% QoQ change. The traffic percentage for the same IPv6 for the U.S. was at 19% causing a 13% QoQ change. The adoption increased because clients such as Safari on Mac os x Lion and Mountain Lion used only IPv6 for a portion of possible requests. However, some of the consumer electronics still lack IPv6 support, which is acting as a barrier to its adoption.
There was no significant increase in the adoption of IPv6 as compared to the previous quarters. Luxembourg and the Czech Republic were wiped off from the top ten lists since Q4 2015, making a place for Ecuador and France. Even Malaysia and Japan could not make it to the top ten list of Q2 2016. Greece saw a significant QoQ growth regarding IPv6 adoption. However, more than 12% of users prefer Google Services over IPv6, which stood at less than 1% in 2012.
With increasing user base, the countries need massive infrastructure to improve and support the state of the internet. In the coming quarters, there are chances of better development regarding the state of the Internet.