Reliance Jio network has become a nightmare for a number of telecom service providers lately because of its irresistible data plans and offers. The potential of Reliance Jio can be deciphered from the fact that it has already captured more than 1.5 million users on its network across India before its official launch, and the trial programme will be progressively upgraded into commercial operations in the coming months. Reliance Jio is slated to launch its most awaited LTE cellular service officially on August 15.
Reliance is surely on a mission to capture the maximum number of users in India. The company has played another masterstroke partnering with other major smartphone vendors like Samsung and Apple. Thus, the service is not limited to Jio Lyf smartphones alone and users with VoLTE enabled smartphones like iPhone 6, iPhone 6s, iPhone SE and Galaxy S7 can also avail the unlimited free data with a new Jio SIM card.
A user has to download the Jio App first, generate code, go to the nearest Reliance store with appropriate documents to activate the SIM and then enjoy it for three months.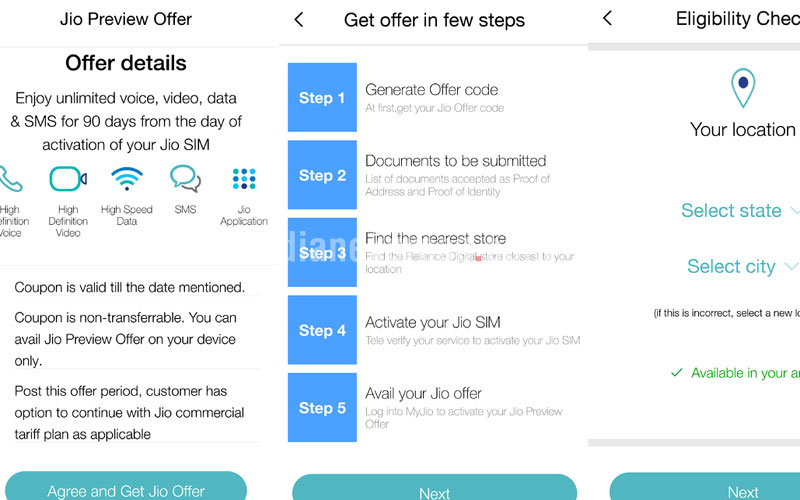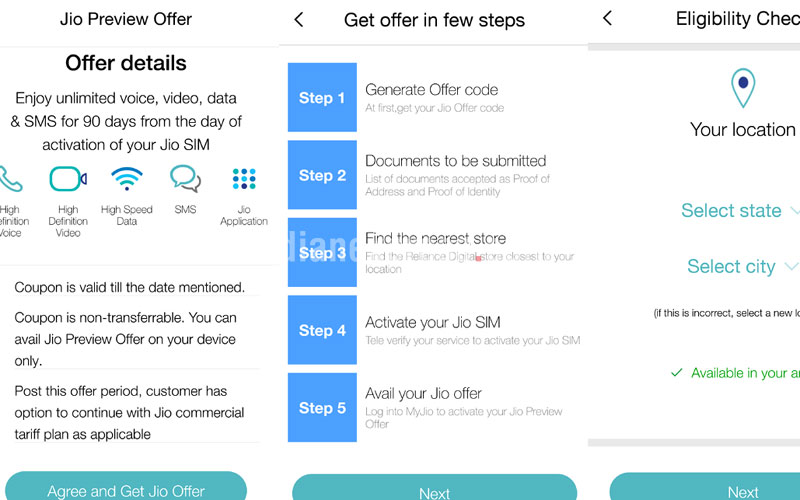 Reliance Jio: First Masterstroke
Reliance Jio brand has become a sensation since it has launched the record-breaking Jio Lyf smartphone that offers Unlimited free 4G data to its customers for three months. The irresistible deal helped Reliance to carve a niche in Indian smartphone market as well, by capturing a significant 7% of the total smartphone shipments in India in Q1 2016.
The Indigenous brand had earlier roped in Priyanka Chopra, Kangna Ranaut and many other Indian cricket celebrities for its brand endorsements thus striking the right cord with Indian masses. Besides, the Jio brand has become the brand ambassador for Indian Olympic team leaving for Rio Olympic next month.
The success of its smartphone and Reliance Jio network has, in turn, boosted a hell of the confidence in the company. The company has recently launched its online wallet service, JioMoney Wallet, just after the success of its Lyf smartphones.
Nightmare for others
Other than the jaw-dropping offers, Reliance Jio also provides a considerably fast download speed for a mere 0.5 paise for every 10 KB usage even if a user isn't using any data plan. Jio network has also intensified the competition in LTE market across the country by offering its 4G data network for almost half-price than other service providers.
Thus, the move has forced the other major telecom majors like Airtel to revise their data plan in fear that they might lose their customer base to Jio. Airtel, which used to offer 2GB of LTE data for Rs 455, has slashed its data tariffs in anticipation of stiff competition from Reliance LTE network scheduled to be rolled out next month. Airtel now offers 3GB of data for the same amount, matching the Jio's offerings.
India has a big window of opportunity
The smartphone penetration in India is considerably low as a meagre 17% of the population of the country has use smartphones. However, in 2016, Gartner has estimated a whopping 29% YoY surge in the total number of smartphone shipments in the country. The adoption of smartphones in rural regions of India is growing at a commendable pace as well. While The seasoned professionals are seeking faster and seamless internet connectivity to carry their world with them everywhere, major firms like Google with Project Loon and Free Wifi initiative are leaving no stones unturned to provide free internet to remote areas to board new users on the Internet. While most of the firms in India are trying to connect as many people as possible with the Internet, the race to own the Internet users has begun. Interestingly, the smartphone is playing an instrumental role in this as the growth of the mobile Internet is comparatively faster than the desktop Internet in the country. This is clearly highlighted by the fact there are already 371 million mobile internet users in India, while the number of internet users in the country hovers around 462 million.
Secondly, the internet and especially LTE penetration in India is growing at a skyrocketing pace, and a considerable two-third of the total number of smartphones that were shipped in the country in Q1 2016 were LTE enabled. Additionally, 702 million smartphone users in India are expected to generate 85% of mobile data traffic by 2020. The budget smartphone market is intensifying with new Chinese entrants offering state-of-the-art smartphones at a reasonable price, thus making a common man in India owning an LTE enabled smartphone.
Put all the above figures and findings in perspective; it's clearly visible that the war in the mobile data space has started. Telcos are well aware of the enormous revenue potential that can be garnered through selling data plans. However, a consumer is demanding for a faster but low priced, data plan as the usage is soaring with each passing month. Reliance Jio has apparently got an edge over other providers with low-priced 4G data offerings, but it would be interesting to see if the company can live up to the expectations of consumers on the post-sales support grounds – something which has always been a loose joint for Reliance services in the telecom sector.