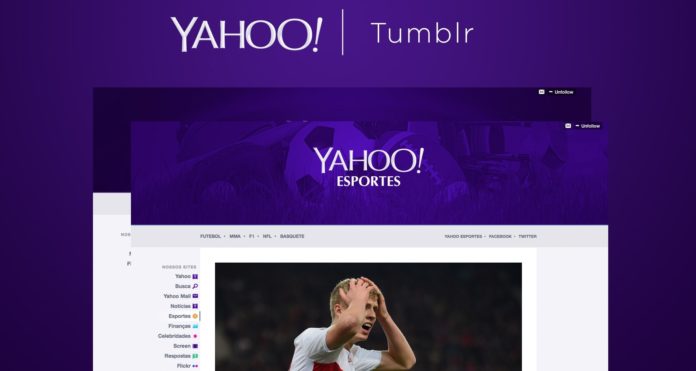 The great drama of Yahoo! seems to be unending. The infamous MaVeNS strategy of Yahoo's CEO Marissa Mayer has failed pathetically to an extent that the company once valued $128 billion is now up for sale. Apparently, the situation is turning from bad to worse as Yahoo's much-hyped acquisition of Tumblr for a surreal amount of 1.1 billion in 2013 has also failed drastically to an extent that Yahoo! has reduced the valuation of Tumblr by further down after another disappointing second quarter (April-June) of 2016.
Yahoo!, once the Silicon Vally's internet giant, said that it had paid too much for the budding startup and imposed a handsome $482 million as the Goodwill impairment charge following the company's revenue decline in the quarter. This is not the first time when Yahoo! has written down Tumbler's valuation amid to the declining quarter performance, earlier this year the company had written down Tumbler's valuation by $230 million. Combining the previous write off, the total market value of Tumblr has tumbled to a considerable $350 million now from $1.1 billion when Yahoo! acquired it. Consequently, the once promising social blogging platform, Tumblr is being considered as the latest victim of unfortunate Yahoo!
Yahoo!, the company once competed with a number of silicon valley giants likes of Google and Microsoft, has fallen into pieces and deciphering the current scenario, there seems to be no escape route for the firm. Revenues are slumping as the company registered a 19% YoY decline in its revenues in Q2 2016. Yahoo's prime revenue gainers suffered the most in the quarter; its search revenues witnessed a 24% YoY decline in Q2 2015 whereas its ad revenues suffered a 9% YoY decline.
Yahoo! has reportedly cut off its head counts and decided to close its number of offices. The company has reportedly cut off 2100 headcounts till now this year, reaching to 8,800 headcounts in total. The move took place after a series of bad quarters that had put Merissa Mayer under immense pressure to control its overhead expenses.
Despite the misfortunes, Yahoo's brand name still persists as a number of businesses including, AT&T, Verizon etc have submitted their bids for acquiring its assets.
Why Is Tumblr Failing
The prime reason for Tumblr's failure may be attributed to the flawed execution of its plans by Yahoo! and thus, its competitors leapt ahead of the microblogging and social sharing site. The acquisition plan was aimed at enhancing and expanding Yahoo's user base in turn giving a boost to Yahoo's declining advertisement revenues, which eventually backfired.
Marissa Mayer is solely responsible for Tumblr's debacle as the CEO decided to merge the ad sales department of both the companies. Additionally, the executive that she appointed had little knowledge about Tumblr's business model. Consequently, there was a clash of egos. At the same time, Mayer had set an unrealistic target for Tumblr to achieve $100 million in sales in a short span of time. Thus, tension and frustration carved inside the organisation and rest is history.
The amount offered by Yahoo! for Tumblr's acquisition was way more than its market value believed industry experts. The micro-blogging website garnered mere $10-15 million in revenues at the time of acquisition. Sadly, during the 3 years after its acquisition by Yahoo!, the revenues never soared. In fact, Tumblr failed to hold its user base as it never offered them the new and engaging content.
When MaVeNS Became Ravens!!
During its early days, Marissa Mayer's MaVeNS strategy appeared promising as it covered every aspect of budding business i.e. mobile, video, native advertising and social networking services.
Mayer's strategy to target the rising smartphone market by stressing on making Yahoo homepage as the prime choice for smartphone search homepage was impressive. Unfortunately, the execution was hurried, a huge sum was spent on hiring resources and the CEO unnecessary engrossed herself in the micro level decisions rather than staying focused on monitoring the main project. Soon, various conflicting ideas arose inside the project and, consequently, it was delayed and lost it designated track.
Yahoo's other businesses including its fashion magazine; native advertising business etc suffered the same fate because of one or two similar reasons. The debacle was so prominent that a number of analysts started estimating a negative market valuation for the company.
On the contrary, there are many other things that are still holding Yahoo!'s sinking ship. The company still has an estimated 1 billion regular user base and also owns a number of patents worth $3 to $4 billion. Thus, acting as a magnet and making a number of huge businesses houses, likes of Verizon, to bid for the sinking Titanic.