Apple Inc. (NASDAQ:AAPL) is indeed the most valuable brand and the sales of iPhone has played a key role in the company's gargantuan success. The most wannabe smartphone is not only helping Apple to rule the roost, but also making it dominate in many other segments, including email marketing.
In the last few years, as more and more people are demanding for everything on the go, email marketing has evolved as the most powerful and effective marketing channel. It is one of the top most favorites of marketers as it guarantees the ROI of 38-to-1. However, with the ongoing technology evolution, users are accessing emails on a number of devices these days as compared to a year ago; Apple Watch, Office 365, and several more email clients and webmails are slowly eating up into the market share of traditional email clients likes of Outlook. To optimize their email marketing campaigns, this has become a real challenge for marketers as they have to stay committed for a better ROI to their clients.
While the fragmentation of email client has cropped up a colossal problem for most of the email marketers, companies are actively trying to leverage on data to find an effective solution to it. Litmus Software, an email marketing analytics firm put all the captured data from 13 billion email opens together to understand where email recipients read the emails that could affect email campaigns. The results were surely not surprising as mobile has shunned desktop to emerge as the paramount choice of device to keep updated with the world outside.
The targeted email marketing for Apple iPhone bears more fruits for marketers as 33% of the emails are open on the device – more than double of emails that are opened on Gmail. Overall, 53% of total email opens were recorded on Apple's platform while just 25% of email opens occurred on Google's products. Surprisingly, the former king of the computer world, Microsoft, could manage to snatch only 11% share of total email opens in 2015.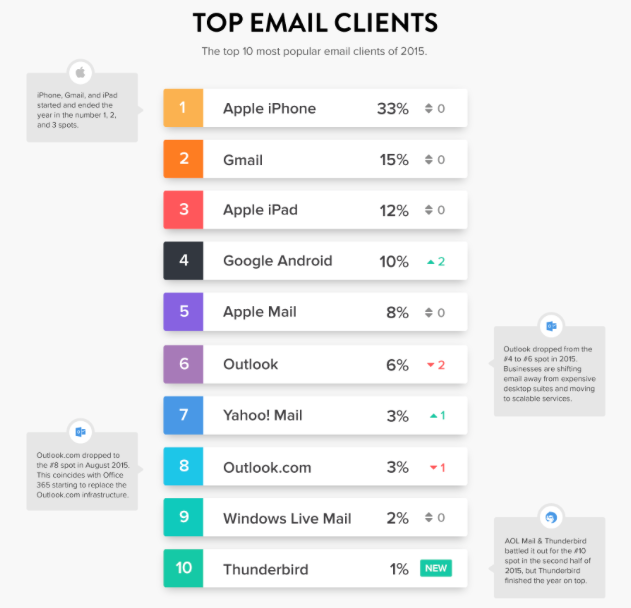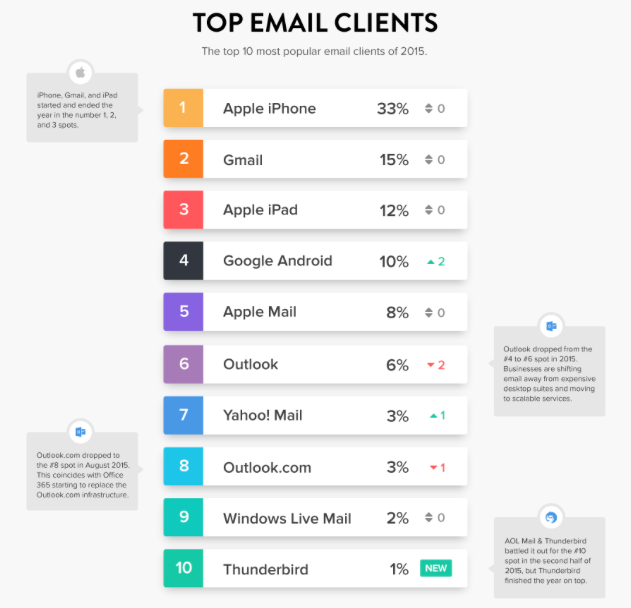 As people are preferring to carry their world with them, in a form of mobile, the percentage of email opens on mobile devices are increasing with each passing year. In 2015, email opens on mobile increased 17% to 55% while Desktop share kept declining to 19%. After a long 3 years of leveled growth, webmail had managed to show some kind of improvement, but the growth started slowing down by the end of the year, finally settling with 26% share of total email opens in 2015.
Major trends recorded in email opens are mentioned hereunder:
In Mobile segment, once again, Apple iPhone performed the best to email campaigns with 33% email open share.
Android users looked least concerned about email communication as it had represented mere 10% of email opens in 2015.
In Webmail segment, Gmail emerged as the most favorite of subscribers with 15% share of total email opens in 2015.
In Desktop, despite the fact that Microsoft Windows OS and Outlook enjoy the greatest share of the market, Apple Mail widen the lead. Compared to 8.4% of email opens on Apple Mail, Outlook email open share continued to shrink further to 6.4%.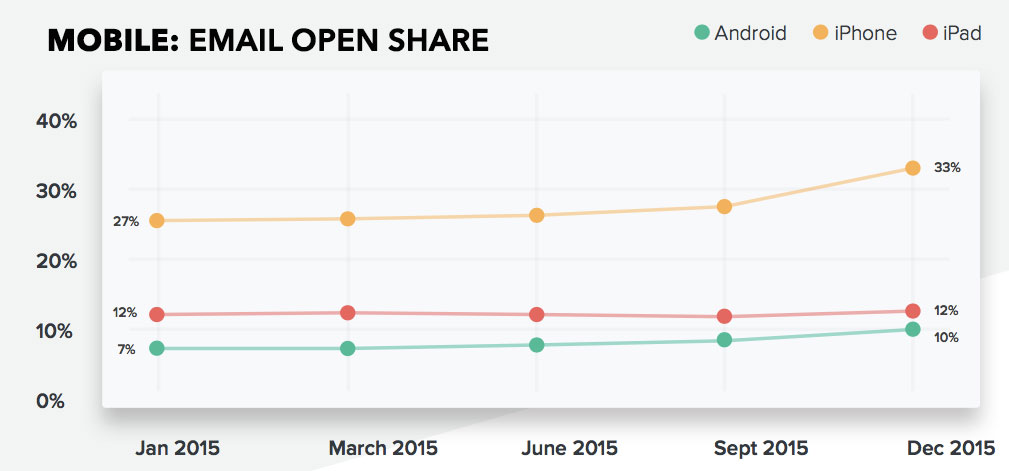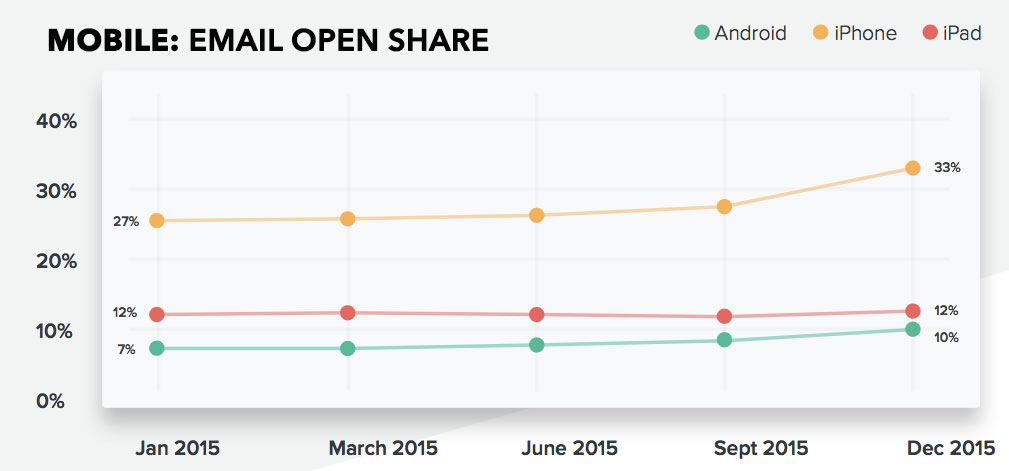 Actionable Insights:
To conquest the market more strongly, Email marketers need to make sure that the email campaigns are optimized for Apple iPhone and Apple Mail.
Mobile consists of 55% of total email opens. Email marketers should adopt the mobile-first strategy for all their email campaigns.
As Webmail represents the second largest share of total email opens, all e-newsletters must also be tested for the optimum performance on Gmail.
To make the most of their email campaigns, email marketers should design two separate campaigns for mobile and Webmail+ Desktop.
As the world progresses to test even more handy devices, the email marketers need to jack up their actions in order to ensure that they do not miss out on the race. Marketing is just like show biz, what shines is what sells. It is a time that the marketers' make sure that they shine or else be prepared to bite the dust.