One of the most interesting things that have followed in the wake of the post-Nokia era of phones in India has been a massive change in public opinion about budget phone manufacturers. And at the helm of this sea change in mentality had been a certain Indian smartphone manufacturer, Micromax, whose budget smartphone offerings took them from just another Chinese rebrand to the number 1 smartphone maker in India early in Q4 2014. Ironically, it's the budget smartphone segment that in recent months have turned away from their once favoured champion, and the 'Micromax- the Indian smartphone manufacturer' finds itself in dire straits.
In the last one year, Micromax has seen its shares come tumbling down from a healthy 22%* in Q4 2014 as the market leader, to 14.1% in Q4 2015. The cause behind it? A myriad of reasons all of which played their part in varying measures to bring one of India's biggest smartphone manufacturers down to a grating halt. Today we take a look at these factors, from the internal struggles of the company to the emergence of new Chinese OEMs into the Indian market and try to pinpoint exactly where Micromax went astray. Come along with us as we investigate the zenith and nadir of Micromax and find out if the best bet for this homegrown company lies on foreign shores.
A Heady Rise That Spoke of Imminent Fall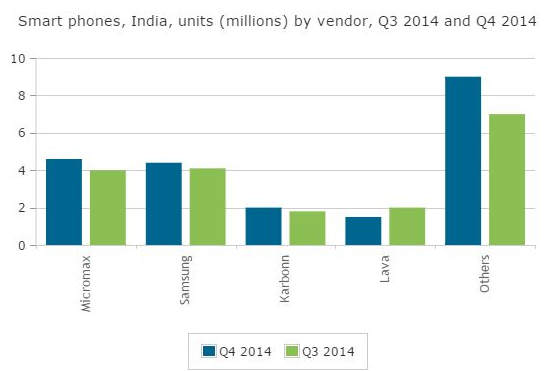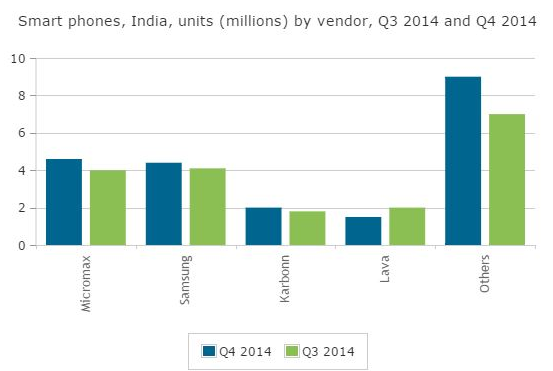 Before we begin analysing the current dire situation that Micromax finds itself in, let us first take a brief look at the company's ascent to the top of the Indian smartphone industry. India has always been a budget conscious market, and as we have highlighted many times in the past, the $100-$200 price point is the sweet spot for Indian consumers.
Way back in 2012, when the average price of smartphones in the Asia-Pacific hovered around $262, Micromax launched the Canvas 2 A110- the first dual-core smartphone to ever grace the Indian smartphone market in the ultra-budget category. With a price point of $150, the Canvas 2 was the game changer that shot Micromax from the bowels of obscurity into the limelight of the Indian smartphone arena. Carrying on the torch came the next iteration of the Canvas lineup the Micromax Canvas HD, an affordable quad-core handset.
At that time, the average ASP of Indian smartphones hovered around $200, and one of the main causes of the sharp drop in pricing was due to the proliferation of smartphones by homegrown companies like Intex, Xolo, Karbonn, Lava and of course, Micromax. In Q4 2014, Micromax reached its peak with 22% of market share. Second-placed Samsung was finding it hard to keep up with them as the Micromax imported Chinese handsets and consistently undercut Samsung in the pricing department.
Yet, little did Micromax know, that their impressive sales record had turned quite a few heads in China and the OEMs, that Micromax had till now imported phones from, had begun hatching plans of infiltrating the Indian smartphone market.
A Failing Buisness Strategy in a Changing Landscape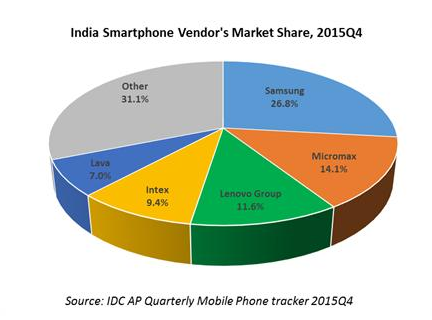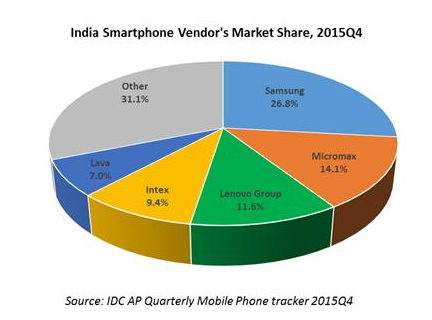 Fast forward to the present day and the Indian smartphone market has evolved at a rapid pace. 95 million smartphones have been shipped in 2015 alone to the country, a massive hike up of 32% from the 41 million in 2013! Yet if we look at Micromax's shipments for 2015, we will see that they dropped 12.1 % YoY and 23.5% from Q3 2015. Alarming signs indeed. Clubbing that with the rapid loss of market share of 8% points YoY and we see how bad of a pickle Micromax finds itself in.
But why does Micromax who seemed to once have the industry leader Samsung at gunpoint, now seem to be staring down the barrel? One of the deciding factors has been the entrance of companies like Xiaomi, Oppo, Huawei and Lenovo. For the Indian smartphone market, the INR 6,000-8,000 price bracket is the sweet spot with 22% of the market share coming from there alone. And that is a price segment where entrants like the Lenovo A6000 and A6000 Plus, Redmi 2 and Redmi 2 Prime have dominated for the past couple of quarters notching up sales numbers north of a million.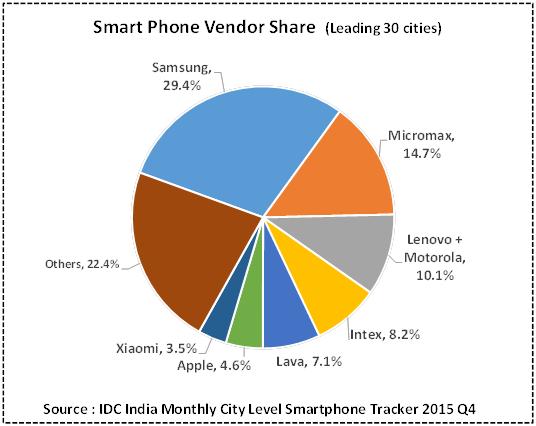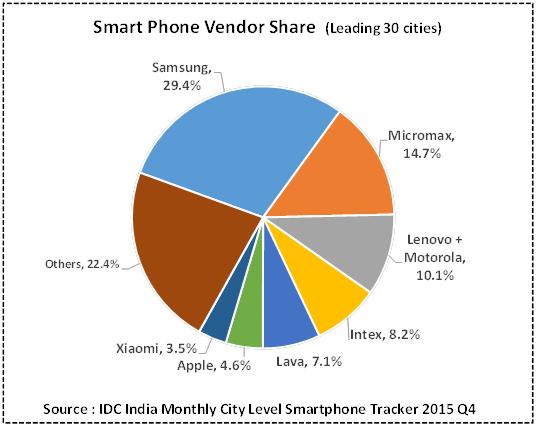 India, especially in Tier 1 and Tier 2 cities has become increasingly familiar with e-commerce sites. In fact, online sales contributed 37.3% to total sales in Q4 2015 growing at a brisk pace of 2.5x from the previous year. Half of this was due to the online-only sales model that was followed by the new Chinese players in the market. Micromax had preempted this and tried to beat Xiaomi and others at their own game by launching a sister brand Yu.
However, internal struggles that plagued Micromax has been responsible for Yu's faltering steps as well. In the past year, the Chinese OEMs have increased their total market share in India from 15% to 22%, and in our next segment, we will look at a few of the controversial decisions adopted by Micromax that may have let the Chinese OEMs wedge their foot in the door to the Indian smartphone Industry.
A Plethora of Bad Judgement Calls
Micromax made its name as a budget favourite by importing phones from China, rebranding them, and then letting them go in the market at wafer thin profits. This process had served it well till now and in the past few years, Micromax had managed to raise around $90 million in funding. However, this sales model would come under fire if and when the Chinese OEMs that Micromax imported their phones from would themselves enter the Indian market.
Realising this, Micromax in 2014 went for a change in management, hiring in new executives that would give the company a new outlook and devise a new business strategy. Unfortunately, the founders and the new hires did not see eye to eye and this caused a turbulence in the company and the direction it was heading. A mistake for which Micromax had to pay dearly as they lost a 1.2 billion investment from Alibaba, who wanted to buy 20% stake in the company. Not only Alibaba but Micromax failed at raising any money from a planned 1 billion investment from SoftBank Japan as well, all due to the internal strife among C-level executives in the company. As a result of a lack of investment, the company failed to raise enough money for independent design and development and the proposed RnD centre in Bangalore remained just another pipe dream that never saw full maturity.
As a result, when Xiaomi and their likes arrived, armed with flash sales and aggressive pricing, Micromax was left defenceless. Unable to adapt to the online model quick enough and faced by the hype of flash sales, in their last bid to survive, they gave birth to Yu.
An online and community focussed company, Yu promised to be all that Micromax was not, but with the dearth of a famous face like Hugo Barra for Xiaomi or the might of Bollywood celebrity endorsements like Oppo, the audience found no one to relate to. In what could only be called as the act of abandoning a burning ship, Vineet Taneja, CEO resigned from the company a few days back, following the footsteps of the Sanjay Kapoor, former Chairman of Micromax, who had resigned almost a year back.
Final Thoughts
We generally reserve this section for summing up the article and providing a few actionable points for a better future. Having said that, Micromax doesn't seem to be headed for one and if the recent interview of Vikas Jain, co-founder, Micromax, is an indication, he'd rather deny the situation by generalising that Chinese smartphones as a whole have made the Indian smartphone industry very tough rather take responsibility for his companies failures.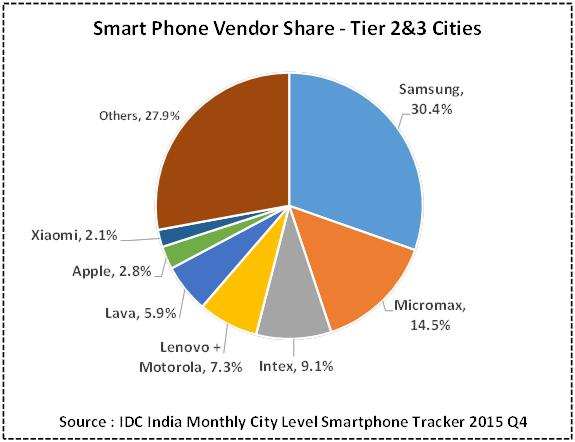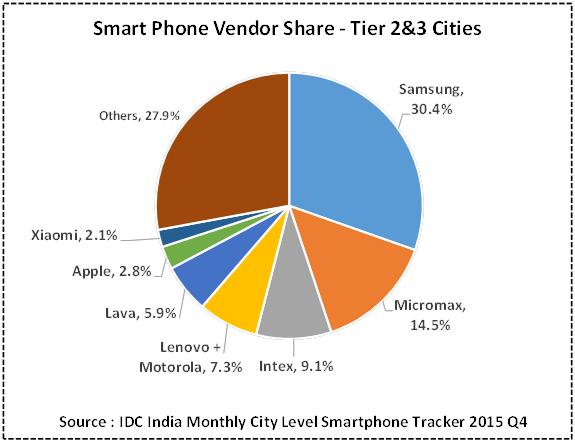 What the Indian brands did to the global brands two years ago, Chinese phone makers are doing the same to Indian brands now, and over the next year we see tremendous competition for Micromax and other Indian smartphone makers," said Tarun Pathak, an analyst at Counterpoint Research in New Delhi.
And while we agree completely with his take on the situation, there is more at play here than just the low-cost Chinese OEMs. Samsungs affordable J series constituted almost 2/3rd of its total shipment in Q4 2015 and this shows the impact that the affordable smartphone has had on the Indian market especially in the offline markets. The graph above bears testimony to the very same story as we see that in areas where e-commerce hasn't yet penetrated too far, Samsung holds a massive 30.4% market share due to its impressive offline presence.
So pincered between the online business models of Xiaomi, Oppo, Coolpad and others and Samsung's increasingly competent offline budget offerings, where does Micromax go?
"Micromax needs to diversify geographically and also needs to diversify product lines," said Neil Mawston, executive director of the global wireless practice at London-based research consultancy Strategy Analytics.
Diversification indeed seems to be the only path left, if Micromax were to survive. The government has offered several initiatives to help indigenous manufacturers and Micromax can look to use them to diversify into Televisions as well as Tablets. With the benefit of these two products being low competition markets, Micromax will find it easier to make their mark in the emerging markets.
As for their efforts in the smartphone industry, Micromax, one of the top 10 brands in Russia should look to consolidate their position and bring their products to other countries as well where the Chinese OEMs have yet to make a mark. Without an indigenous production facility, Micromax is limited to only assembling its phones after importing them from China and as such has to play an elaborate game of cat and mouse with Chinese OEMs. Till now, they've managed to hold onto their position in India but the situation for them looks grim in coming years.
*22%: Micromax's smartphone market share in Q4 2014 according to Canalys. We have cited Canalys only for Q4 2014 while rest of the figures are from IDC. For Q4 2014, data from Canalys was considered rather more accurate than IDC by all most of the analysts and publishing houses.