Smartphones have slowly been taking over almost every electronic gadget on the market today. At present, a high-end smartphone can replace most of the gadgets we used to rely on such as calculators, MP3 players, recording devices, digital cameras, and even televisions—causing a significant decline in the production and sales of many of these formerly indispensable electronics.
Compact digital cameras and DSLR cameras are still considered essential by professional photographers and hardcore photography enthusiasts. A blog post in Adorama Learning Center notes that DSLRs allow people to experience photography at its best, making them the tool of choice for professional photographers worldwide.
However, these cameras are not as in-demand as they once were. The digital camera market has been hit particularly hard in recent years following the rise of consumer interest in the far more versatile high-end smartphone.
An Overview of Total Camera Production Over the Last Eight Decades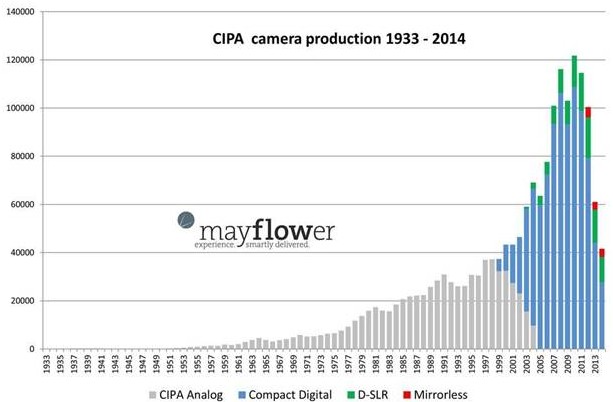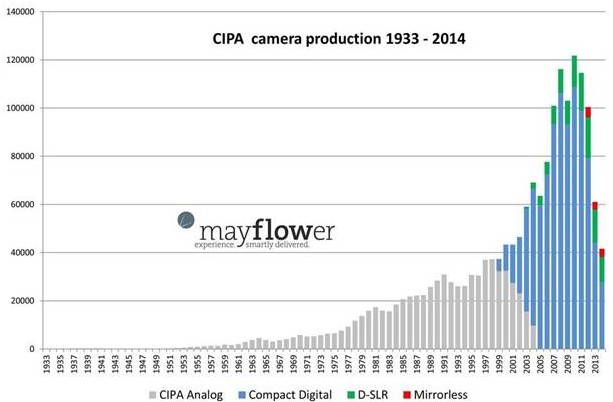 Image Source: Mayflower Concepts
According to a graph created by Mayflower Concepts based on statistical data from Japanese organization CIPA (Camera & Imaging Products Association), digital camera production experienced an all-time high shortly after a noticeable drop in 2009, which can be attributed to the global recession. This was preceded by a substantial upsurge in the early to mid-2000s, at which overall camera production went up from a little under 40,000 to 100,000 units for compact digital cameras and DSLR cameras. However, production began to decrease in 2011, which incidentally, coincided with the release of the iPhone 4S—the first iPhone model to boast 8 megapixels (significantly higher than its predecessor's 5 megapixels)—and 1080p HD video recording.
If we were to factor in the smartphones, we would probably get a much more accurate picture of what the digital camera market is like now. Taking the same graph by Mayflower Concepts, photographer Sven Skafisk created a new one that included smartphones, using data from Gartner Inc.
Image Source: PetaPixel.com
Interestingly, the average DSLR camera production has not changed much in contrast to compact point-and-shoot cameras. The same can be said for mirrorless cameras, which rose to popularity in 2012.
The data shows that something has indeed affected the digital camera market—and the sudden popularity of high-end smartphones had to do with it. Still, judging by the virtually constant DSLR camera production levels in the past few years, it seems there is no danger yet of smartphones overtaking the professional side of the digital camera spectrum.
Why is that so? Smartphones that are currently on the market still lack certain features that make them a comparable replacement to a high-quality DSLR camera. In fact, they have a long way to go before they can compete with any DSLR, and this is because for most professional applications—whether it be a magazine photo shoot or a high-quality YouTube video—people still prefer the powerful advantages of a DSLR camera.
For instance, here are a few key DSLR features that you definitely won't get from a smartphone:
Superior image quality
Wide variety of zoom lenses that allow for shooting from a great distance
More options for shooting in all kinds of low-light situations
Quick shutter speeds for capturing photos at lightning speed
Higher resolution images to help capture even the smallest details
Better color accuracy
Complete artistic control
Not everyone who needs a camera will require all these features, of course, and that's where the smartphones win.
Smartphones Beat Out DSLR Cameras in Flickr's List of Most Used Camera Brands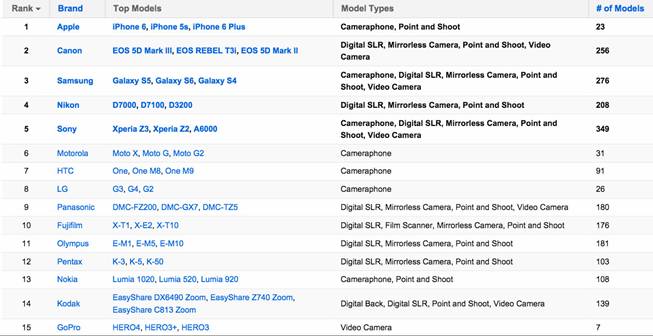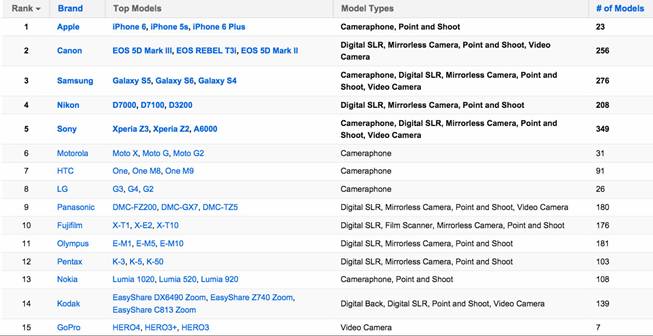 Image Source: Flickr
With each passing year, smartphone cameras just get better and better. They still are not quite up to par with the image quality of professional camera models, but to most people, they are clearly good enough. Case in point—in Flickr's latest list of most popular camera brands used by the Flickr community, Apple claims the top spot over DSLR giants Canon and Nikon, with Samsung ranking third. Thanks to the impressive quality of most smartphone cameras these days, more and more photography enthusiasts have been using their mobile devices to fulfil their artistic urges—at less cost. Some smartphones do clock in at around the same price as basic DSLR camera models, but if you take into account the fact that your phone also doubles as a video camera, music player, daily planner, watch, and so much more; it is clearly the more cost-effective, not to mention more versatile, option.
Nonetheless, all members of the digital camera family—not just DSLR cameras—that have interchangeable lenses are still strongly in the running despite the rise of smartphone sales. "Digital cameras with a built-in lens have faced fierce competition with the advent of the smartphone," CIPA states in a recent press release.
"Digital cameras with an interchangeable lens, however, provide picture quality that is completely different from that of smartphones and demonstrate an unrestricted expressiveness when combined with highly individualistic exchangeable lenses, which continue to excite camera fans, and demand for these cameras remains firm."
Overall demand for digital cameras, in general, is still declining, though. CIPA's press release, which details an outlook on the shipment forecast for 2016, predicts a year-on-year decline of 12.4% in total shipments of digital cameras. This is significantly better than that of 2015, which saw a decrease of 18.5% from the year before. Total digital camera shipments for 2016 are projected to be at 31 million units—4.4 million units less than the previous year.
The good news is, DSLR cameras and other types of digital cameras with interchangeable lenses are still performing relatively well and are making up for the slack in overall production and sales from regular compact digital cameras with built-in lenses.
"Digital cameras with an interchangeable lens are rapidly accounting for a steadily increasing share of total shipments—27% in 2013, 32% in 2014, and 37% in 2015—and acted as a break on the decline in total shipments," reports CIPA.
Canon Inc. Spokesman Takafumi Hongo even had this to say to bolster the case for digital cameras. "Taking photos with smartphones and editing them with apps is like cooking with cheap ingredients and a lot of artificial flavoring. Using interchangeable (lens) cameras is like food cooked slowly with natural, genuine ingredients."
Therefore, as far as the digital camera market goes, DSLR cameras still maintain a strong foothold in their particular niche. Maybe someday, technology will produce smartphones that can seriously compete with powerful professional digital cameras but, until then, for consumers who have very distinct needs when it comes to their camera equipment, there is nothing on the market that can come close to a professional DSLR camera.