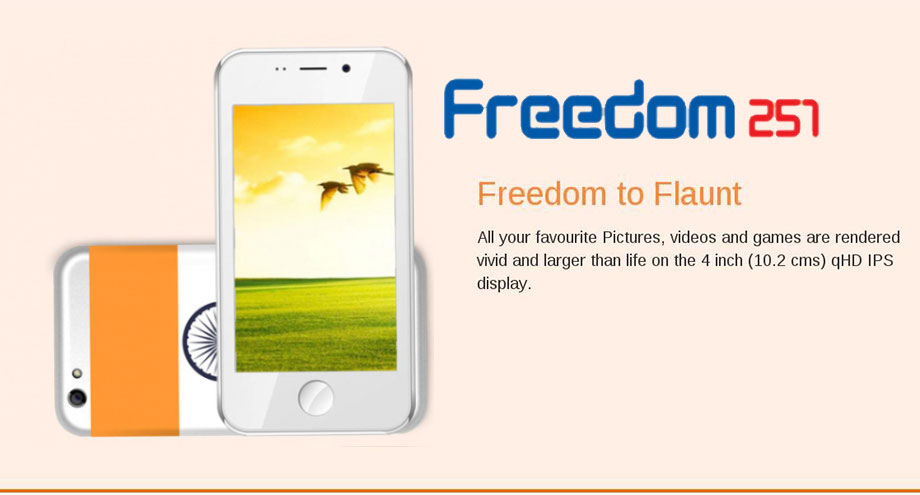 If there's one thing, that has been beaten to death in the past few months, it has to be the budget oriented smartphone market in India and how this low cost and high volume market, will sculpt the future of the industry. However, Indian buyers have kept up their quest for even cheaper products and their eternal search for the cheapest phone seems to have found an answer, in Ringing Bells latest product, the Freedom 251. Priced at just Rs 251 (3.66$), the claim to fame for this 4 inched device is, its apparent, value for money.
Why apparent? Because the spec sheet is definitely straddling a fine line between barely usable and e-waste. The most common argument against it is, that the price justifies all; one must question the use case scenario of such a device, and it's target demographic. Making waters more murky is the sloppy nature of the website, the relatively young and inexperienced company and the 'June' delivery date. Are the Modi government's stamp of approval and a printed decal of the Indian flag on the back cover of the smartphone enough to make this new endeavour of Digital India fly high? Or will it fall flat on its face like it's preceding Akash Tablets? We will reveal it to you!
Taking a Look Inside The Cheapest Smartphone: Freedom 251
Before we delve deeper into the impact this smartphone can have on the Indian and to an extent, on the world smartphone market, let's first take a quick look at the spec sheet for this device. While we won't bore you with the detailed specifications of the device (the video above will satiate your curiosity), we will highlight a few interesting things in this spec list that has struck us, as being of particular interest!
This is a dual sim handset with 3G enabled on both the sims. Along with that, a few selective apps will be bundled with the retail version of the smartphone such as Women Safety, Swachh Bharat, Fisherman, Farmer, Medical, WhatsApp, Facebook and YouTube. While the first few apps seem to be a nod to the schemes of the Modi Government, the inclusion of popular messaging and social networking platforms, are a clear indication of the Digital India movement. Also, the device seems to have a glob of whitener on top of the screen, but we will examine that a little later.
In spite of all the hype that this phone has managed to generate, and after a keen observation of the companies revenue model, brings out some pertinent questions. So let us address the elephant in the room, how can a smartphone be made in just Rs 251, let alone marketed and sold with a bunch of in-box accessories.
Freedom 251 Price Point: Who Will Take The Losses?
Before we even begin this segment, let's make one thing absolutely clear. In the economic and technical state that the world is in right now, it is physically impossible to make a phone and price it at Rs 251, without incurring huge losses! So the question arises, who is bearing the losses?
The first one that immediately comes to mind is the Indian government. After all, government subsidizing the cost of products is nothing new; and this smartphone seems to be meant for people in rural areas who cannot afford smartphones at the conventional price point of 4000-6000 INR. However, there seems to be no such indication in press reports from the company that, the Freedom 251 has been governmentally subsidized.
Next are the Indian telecom providers. Buying phones under contract is a pretty common occurrence in countries like the US, but it hasn't been prevalent in India, as yet. This is primarily because a vast majority of the Indian mobile user uses prepaid connections instead of postpaid connections and are hence, not tethered to a monthly bill. While subsidizing a phone to increases network proliferation and as a result, increasing their business might have been a strategic master stroke, none of the Indian telecoms look up to the task for such a giant risk.
In fact, a recent letter from ICA National President Pankaj Mohindroo has raised similar concerns. In the letter, it has been mentioned, that the BOM (Bill of Materials) for a device with similar specification comes in around Rs 2.700 (40$), considering the cheapest market prices. Adding other expenses such as import duties and the cost of distribution, the ICA has said that the price cannot be pulled below Rs 4,100 or in the extreme case of lower profit margins and an online e-commerce sale, the price cannot be lower than Rs 3,500-3,800 (52-55S).
So how can a company survive after sustaining such huge losses? A senior official from Ringing Bells has an answer, but the theory has more holes in it than Swiss cheese.
Broken Promises: Ringing Bells In Vain
It's not just us, who has been asking these tough questions and faced with the same query on an interview with the Times of India, a senior official of Ringing Bells had some interesting insights to share. Firstly, they have declared that their product, although made in close association with Modi Government's 'Made in India' initiative, has not received any subsidy from the government or any 3rd party organisation. However, this revelation did little to quell the mystery surrounding the pricing of the Freedom 251.
On being questioned further, Ashok Chadha of Ringing Bells elaborated on their business plan and pricing strategy.
"We are working on a variety of cost-saving initiatives to keep the cost of the devices lower than its approximate per unit price of Rs 2,500. These include local assembling in India that saves us around Rs 400, large-scale sourcing that saves around Rs 400-500, online sales with no on-ground staff that itself saves us around Rs 500."
The astute reader may have already done a quick mental math and found out that all of these cost-cutting measures add up to around Rs 1100, which means the Freedom 251 still costs Rs 1,400 (20.44$)to make. The company apparently plans to make the rest off, by creating an online marketplace that would allow third party companies to sell products using their platform.
There are several glaring problems with this business model, and we have chosen to highlight only a few prominent ones
 A Sliver of Light At The End  of The Tunnel
Despite our cynical take on the entire situation, one thing cannot be denied. If the Freedom 251 project does manage to take off, then it will be a monumental moment for India. The impact of this one phone could change all our predictions and assumptions and India could make rapid strides to close in the gap between China as the largest consumer base for smartphones. We have strung together just a few scenarios, that will get a jab in the arm if the Freedom 251 manages to deliver on its promises.
As we head to the end of this analysis, our thoughts on the Freedom 251 can be best described as 'cautiously optimistic'. Expecting greatness out of a tiny, Noida based startup, seems like child's folly, hence, we will reserve our criticism for their product and instead, choose to applaud the vision and the courage to undertake such a mammoth project. No matter how hard Ringing Bells may fall, and fall they will; one can be overjoyed by the fact that the scenario of Indian smartphones and startup is producing such inspiring projects. The future of mobile in India shines brighter than the Star of Bethlehem, even if ringing bells remain inconspicuously absent in the gaiety!