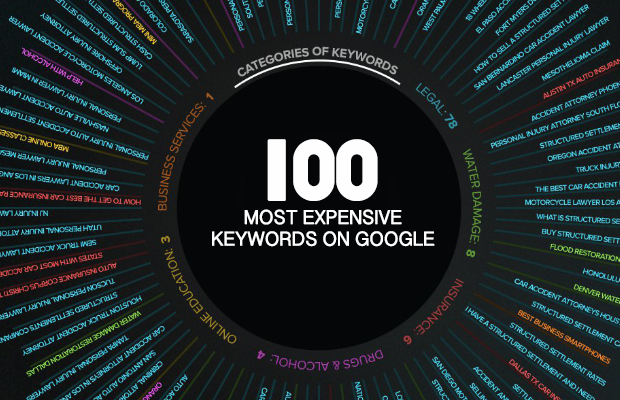 Google is nothing without a keyword. To search anything or everything; a keyword is indispensable. It had been a question in all our minds that how Google earns profit out of a keyword. Now everyone knows the fact that each clicks matters! Adword Advertising and Pay per click inform us the main source of its turnover. As per the recent study by Mainstream, Pay per click (PPC) advertising has contributed the highest for the revenue of Google, which is nearly about 97%.
What are the most expensive keywords in Google? The keyword for which you would pay a pretty penny has a lot to do with Google's profit too. According to the research and studies conducted, it was found that the cost per click purely depends on the search volume. If we list down 20 most expensive keywords, it shows the keywords with the ultimate search volume.
To dig deep into the subject, WebPageEx designed an infographic, powered with Semrush data, that highlights 100 most expensive keywords on Google, top keywords categories and their average cost.
While most of us, as a publisher, struggle to achieve a decent cost-per-click (CPC) and believe anything close $5 is the best payout keyword, the game of Google keywords is beyond imagination. You can earn as much as $670 from a single keyword-click. The top 10 keywords with highest cost-per-click can make your earn anything between $435 and $670.
When it says expensive, naturally we think how much cost we need to pay (or earn) for those keywords. Some of the legal terms like 'San Antonio car wreck attorney', 'Sell settlement', 'Structure settlement' etc. are charged within a range of $400 to $670. Whereas the keywords related to water damage like 'Flood restoration Chicago', 'Water damage Clearwater FL' falls under the range of $315 to $350. This is how the pricing list starts and it descends in accordance with the search volume of the keyword.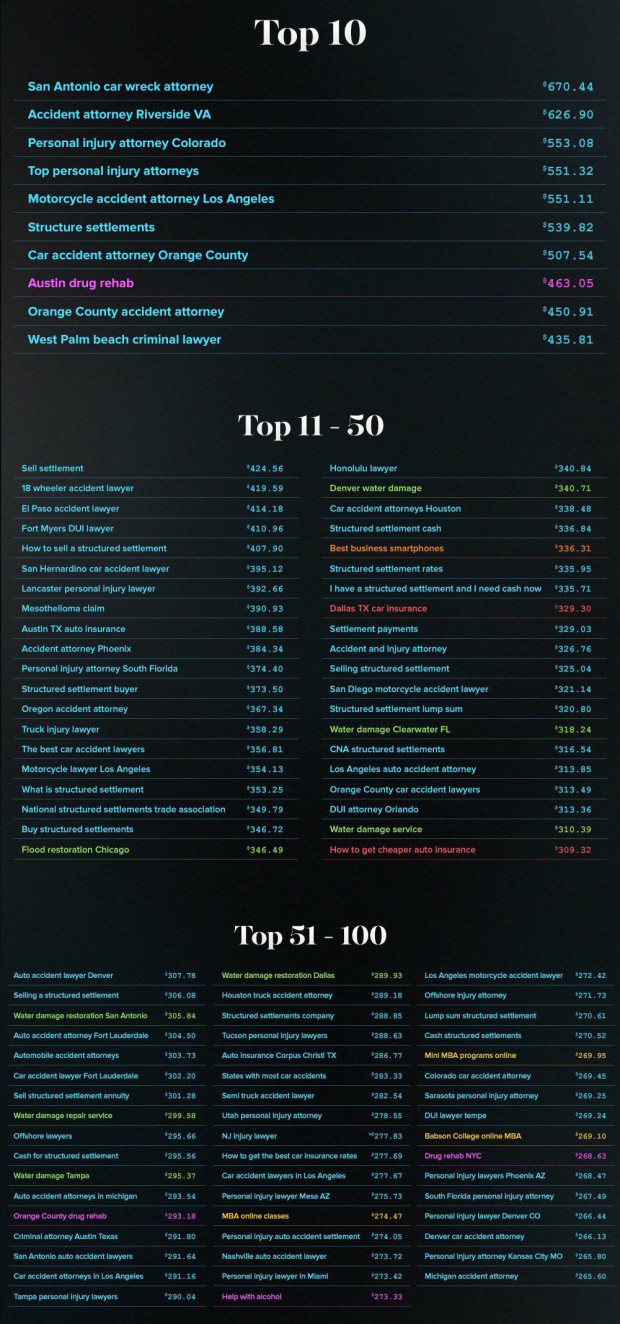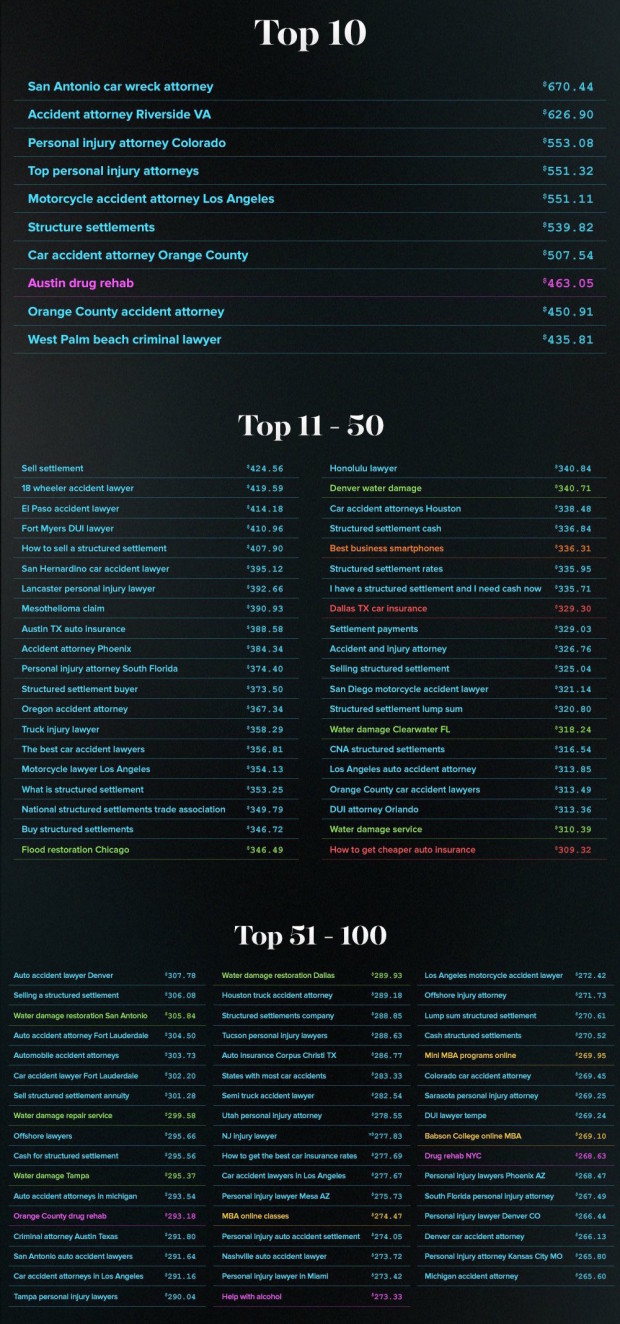 From this, it is quite clear that the business, which is ready to pay out quite well to acquire a new customer like financial or legal sectors, have the advantage of possessing the most expensive keywords. Just because of the reason that they handle an immense amount of money. SMEs, which find it hard to beat the battle with the giant companies, can go for automotive marketing. 78% of top 100 most expensive keywords are related to legal, followed by Water Damage and Insurance with 8% and 6% respectively.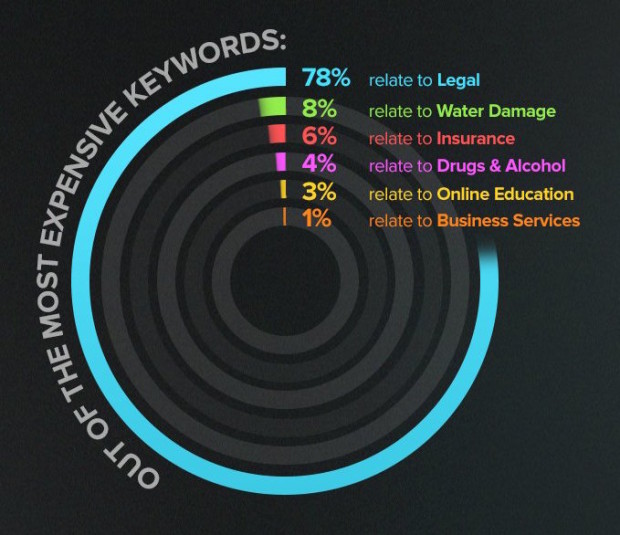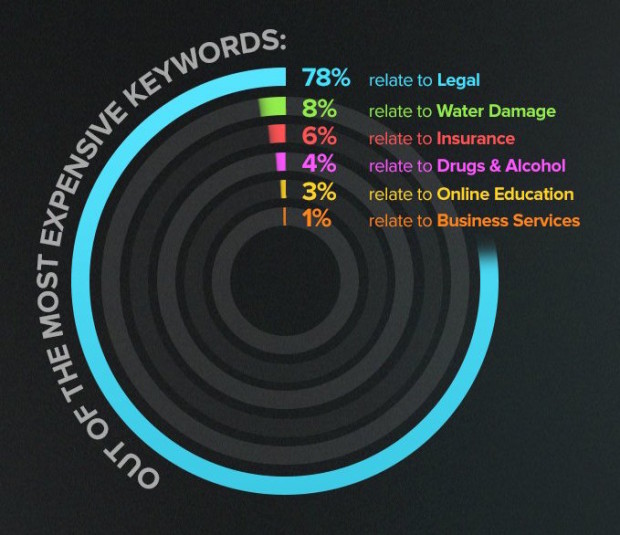 One of the other interesting findings is that 58% of all such keywords are location sensitive. Which means more than half of people who use such keywords always seek to have related help/suggestion/service from within their locality or nearby. This is a clear indication to the fact that SEO experts must pay a close attention to the range/area of their clients' services and link it properly while optimizing their content for Google.
If you are interested in detail infographic, listing most expensive keywords by top categories and some more related information, you could follow this link.
Google's entry to the encrypted search reveals that the data of keywords are never easy anymore. Always keep tracks of your keyword rankings to check on the impact of that specific word in increasing the traffic to your site. In addition, you could use tools like Google keyword planner or Long Tail Pro to find out the intensity of competition happening in Google.