After the latest three changes made by Facebook Inc. (NASDAQ:FB) that have almost killed the organic reach, the page owners have kind of been compelled to experiment with the ways they handle their pages. Every page administrator is looking forward to know whether posting more frequently will help them to increase their reach!
Social Media Analytics firm Locowise recently conducted a survey to get an insight on how the number of posts published by a page impacts the reach and engagement of the page. The study was conducted on 600 Facebook pages with more than 250 million likes combined.
The report suggests that almost 31% of the pages owners prefer to update their page 2-4 times a week. 25% of pages posted once a day while only 4% of the pages got updated more than 10 times a day. 9% of pages posted even less than one post a week.
Talking about the reach, pages which posted 1 post a week enjoyed the maximum benefits. On an average they reached 15% of their page likes per post. Pages with 2-4 posts a week reached almost 10% of their audience, while the pages with more than 10 posts a day managed to interact with only 6.5% of their audience.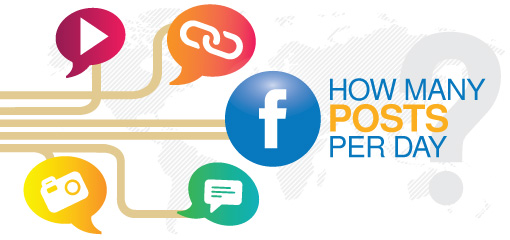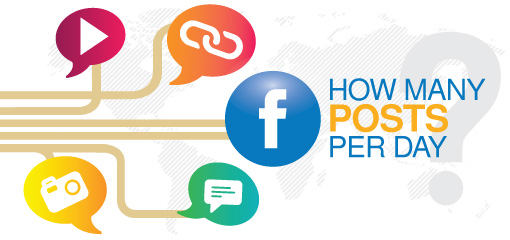 However, on the engagement parameter, the pages which posted 1 post daily as well the pages posting 2-4 posts a day, ranked equally with almost 12 percent engagement. The least engagement(5.9%) was of the pages which posted 5-9 posts a day.
Important Highlights of the Report:
31% of Facebook pages post two to four times per week.
25% of Facebook pages post once a day while 18% pages posted once every week.
Only 4% of pages post more than 10 times a day.
Pages with 1 post a week reached maximum users per post.
While pages with more than 10 posts a day reached the least number of users.
Another interesting finding of the report is that all the pages which posted two or more posts a day got the least negative feedback i.e only 1%. While the pages which posted 2-4 posts a week amounted for the maximum negative feedback of about 2%. Same was true for the pages posting 1 post a week. Pages that posted even less frequently than a post per week got 1.82% negative feedback out of all the interactions.
Facebook Page Post: The Fewer the Better?
The report seems to break a lot of myths related to Facebook pages; Every page owner expects the more frequently they post, the more organic reach they would get. However, that isn't the case. In fact, the least you post, the better will be your page's reach.
From past few years, Facebook has been trying to cut off the organic reach of Facebook pages.The introduction of Facebook Zero acted as the final blow. The main motive that has guided Facebook to take this decision was to get the Facebook pages to invest in their advertisement program. Until now only 5% of the Business pages are investing in Facebook ads but this move will compel the rest 95% pages to join in. This will help Facebook in generating huge amount of profits by opening a new stream of revenue.
The pages will now have to do a lot of pick-and-choose before posting any update as they will get a better reach only if they update their content less frequently. Thus, the page owners will have to intelligently decide which updates are more crucial and which ones can be left.
Facebook has left no stone unturned to get these pages in their advertisement program. Thus, sooner or later the pages will have to move towards Facebook Ads if they would like to sustain in the market.
Another question that arises here is how quickly big brands would accommodate the new changes in Facebook's algorithm. The brands who use their Facebook page to frequently update the users with their new changes will have to rethink their strategy if they are not willing to invest.
For such publishers, Twitter could turn out to be a better medium to deliver frequent updates that aren't of great importance while the Facebook page can be used to give the most important updates.