The number of Smartphone users in India is increasing rapidly with the emergence of new brands exploring the Indian market. A study from Networking Solutions giant Cisco estimates that India, the 2nd largest Smartphone market globally, will have over 650 million Smartphone users in the next four years whereas the tablet users will reach 18 million by 2019.
Besides the rise in Smartphone users in the country, the number of mobile internet users is also expected to reach 213 million by June 2015, according to the Mobile Internet in India 2014 report published earlier this year. These reports have already forced online retailers like Flipkart, Amazon, Snapdeal, Myntra etc. to rethink their marketing strategy but it is not just limited to eCommerce brands alone. In a recent interview with Economic Times, Kishore Biyani announced that Big Bazaar will launch an app next month with an aim to combat with the rise in eCommerce sales all over India.
He also added that,
"We are launching a price-match offer where if you shop from us and anybody else is selling cheaper than us at that moment, we will automatically give credits in your account — anything online or offline,"
Earlier this year, Myntra announced that it receives over 80% of traffic and 60% of sales from its mobile application because of which the leading fashion e-retailer brand has decided to shut down its web portal by the end of this year. Adhering to the rise in mobile internet users in India, Flipkart too has reached a decision to shut down its Mobile website which will now redirect the users to its Mobile App.
The Smartphone market in India is at its ultimate peak with over 170 million Smartphones being shipped in the country by the end of 2014. Hence, the eCommerce brands are eyeing on these remote users who can buy their products from anywhere at any time of the day using mobile internet. The eCommerce brands are already establishing themselves over desktop users through their web portal while they are targeting the Smartphone users by introducing a user-friendly mobile app version of their web portal.
These e-retailer brands are aware of the fact that the chances of the user getting distracted while using a personalized mobile app of the brand is very low compared to browsing products through the web portal. With web portal, a user can at any time open a new tab to check the similar products on other eCommerce sites while with the mobile app, the user most often plays around within the application.
It is no hidden secret that the popularity of eCommerce brands is hurting organized retailers since the past 2 years. Many eCommerce giants like Flipkart, Amazon, Snapdeal and many others have earned a decent share of sales in the past couple of years by offering relatively low prices to build customer loyalty. Last year during the festive season, these e-retailer brands had offered tempting discounts worth hundreds of millions of dollars and raked in huge number of record sales in the history of eCommerce industry.
Hence, it is evident that real world retailer brands like Big Bazaar lost a good number of sales during that period. In his interview, Biyani said that he's not worried about the growth of eCommerce industry as he believes that the eCommerce bubble would never match the overall volume of sales registered every year by the offline retailer market. Looks like he is right, as retail eCommerce market in India had accounted for only 0.70% of total offline retail sales in 2014, and even after 4 years, by 2018, the markets share is estimated to swell to 1.4%, reaching $17.58 billion.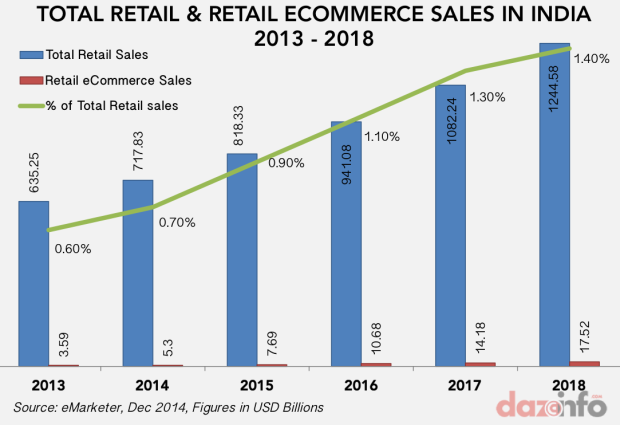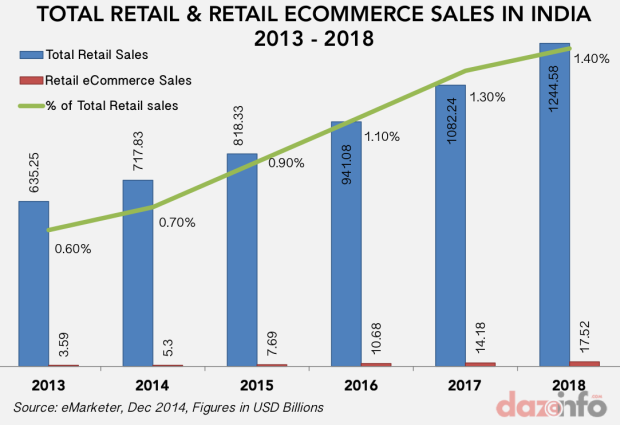 However, the expected launch of a mobile app from Big Bazaar tells a completely different story. The hypermarket king will be testing the app that will allow users to compare the prices offered by online and offline retailers. The consumers can make the price comparison within a week from the date of purchase. Also, taking a cue from Amazon's 30-minutes Drone delivery service, Future Group will initiate an omni-channel pilot program where both its Big Bazaar and Food Bazaar stores will be delivering goods to their customers in Mumbai within an hour after they place their orders.
It's important to note that last year Kishore Biyani had shaken hands with Amazon India after accusing the poster boy of Indian eCommerce industry Flipkart of undercutting to destroy the offline retailers and their future.
The prime intention behind launching this app looks like that Future Group wants to retain the customers back to the real world by building their confidence to shop at Big Bazaar while being assured that they are not paying any penny higher than any other online retailers. With the launch of this app, Future Group is aiming to declare a war against the popular eCommerce brands and this time in their own arena. The main challenge for Future Group is that these online retailers already have a grip and experience in the market for so long along with a strong user base across both desktop and mobile platforms.
Although it is a good positive move from Future Group, the performance of the app against other eCommerce apps from leading brands will be the deciding factor for its success.