If a picture says a thousand words, a one minute video is worth 1.8 million, say Forrester's researchers! It is one of the most engaging ways to tell a story. Sharing video content with users has become one of the main strategies for content marketers and social media experts of late.
By 2017, 69% of all internet traffic is expected to come from videos, and the demand for them will treble, says Cisco. Interestingly, Facebook is becoming the preferred platform for sharing video content, at the expense of YouTube, according to the recent study done by social media analytical firm SocialBakers.
As of now, experts who realize what a powerful impact online video can make to the consumer psyche are moving on to Facebook Inc. (NASDAQ:FB) for sharing videos, ignoring Google Inc. (NASDAQ:GOOGL) owned YouTube, it is being observed.
Till 2012, videos were created and uploaded to YouTube and then shared over Facebook. Not so any more! The thumb rule for marketers two years back was "YouTube first, Facebook second".
Video sharers and content marketers have now, in a clear departure from the previous policy, been uploading videos to Facebook directly, observed Emma James, SocialBakers' Head of North American Marketing. Now what does that indicate?
SocialBakers, the most popular provider of social media analytic tools, statistics and metrics for Facebook, Twitter, Google Plus, YouTube and LinkedIn, analyzed over 180,000 video posts across 20,000 Facebook pages. They took into account all links shared from YouTube and the videos directly uploaded to Facebook before coming to the conclusion that Facebook is emerging as a serious threat to YouTube.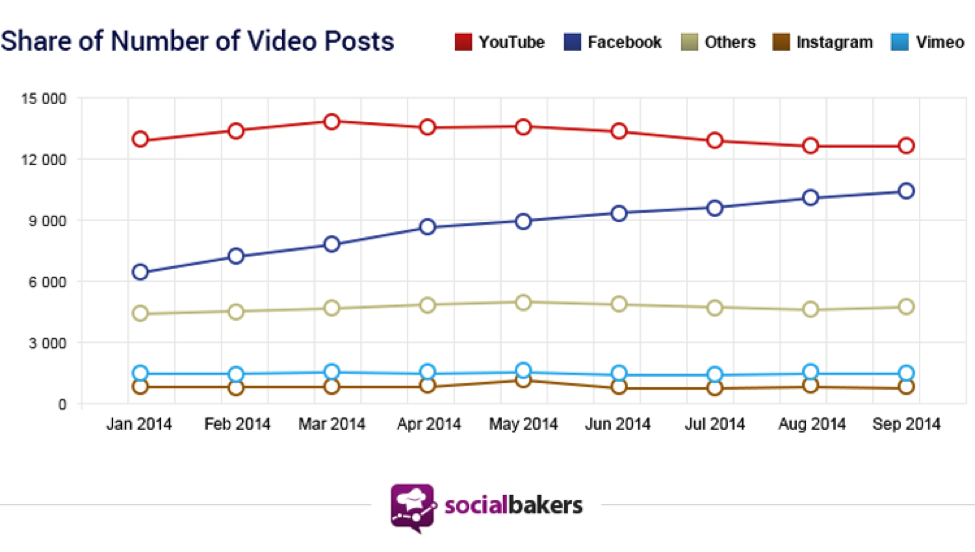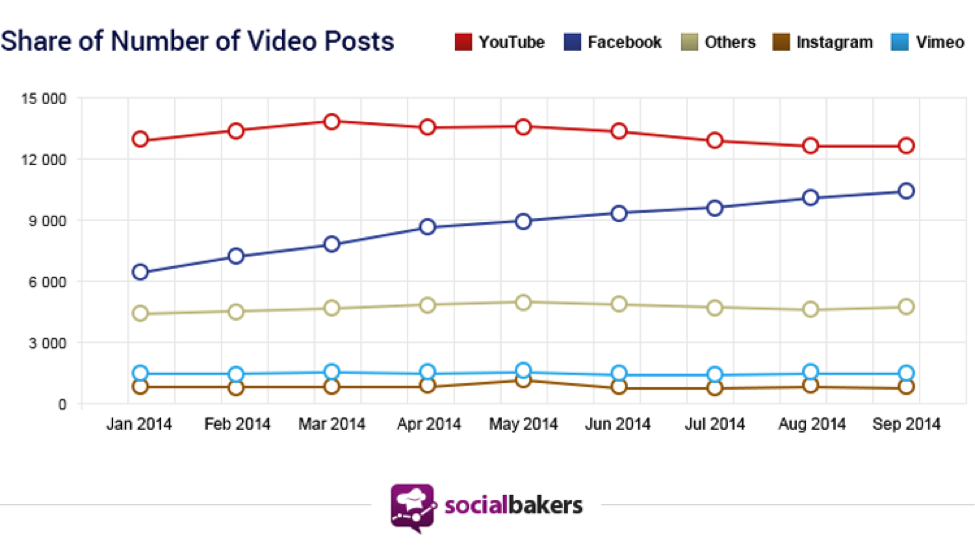 While the number of video shares over YouTube has been, more or less, declining steadily, those over Facebook have registered a sharp increase. One can also notice that YouTube, which had a distinct edge over all other platforms where video content is shared at the beginning of 2014, is losing ground. As the year progressed, the sharing of video content over YouTube has plummeted while those being shared over Facebook almost doubled over the January- September period. The period from May-June has been particularly rewarding for the Zuckerberg owned networking site.
Facebook claimed "Growth in video views exceeded 50%from May through July of this year, and since June there has been an average of more than 1 billion video views on Facebook every day. Video on Facebook was built to be mobile first, and now more than 65% of video views are on mobile. And we're just getting started."
As the year draws to an end, the gap between YouTube and Facebook has narrowed down and the latter looks poised to wrest the top position from Facebook soon.
When content marketers want to share videos with their existing and proposed clients, they seek maximum mileage and engagement out of their effort- whether by way of likes, share, comments or subscriptions. And since Facebook has been consistently outperforming YouTube, the former is becoming the preferred choice for sharing video content.
YouTube is the clear loser as a result of the shifting priorities. Facebook's share of interactions has also increased steadily, as is obvious from the bar chart below: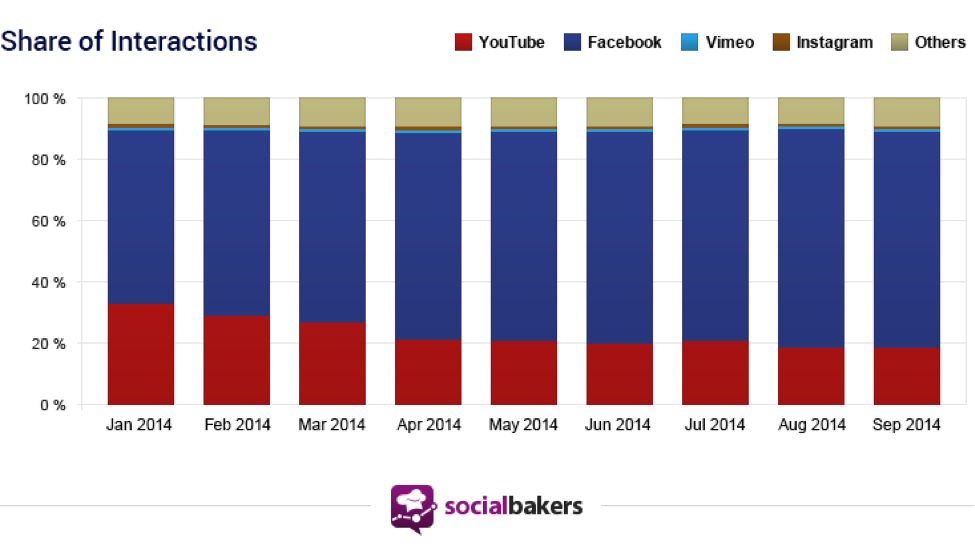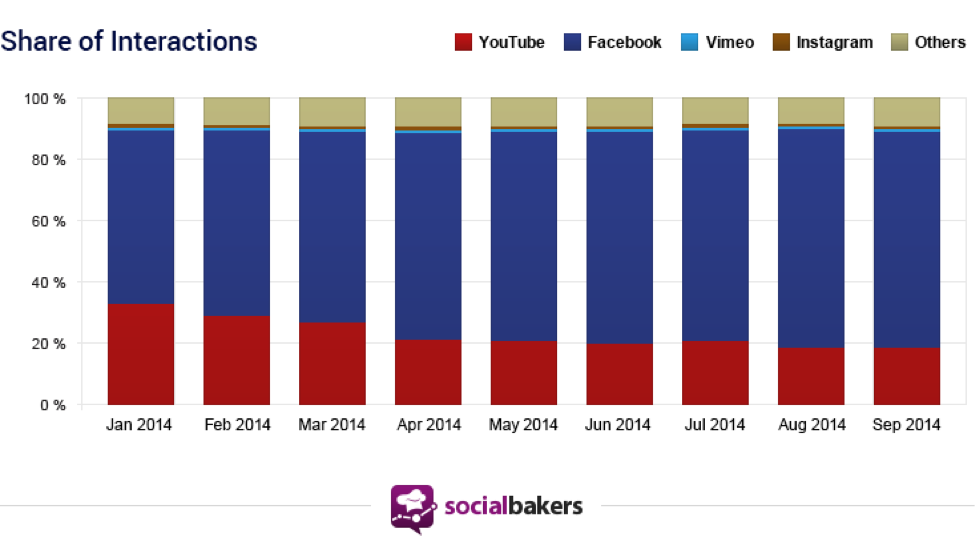 Why is this happening?
There is a clear and well marked strategy behind the changed video sharing scenario.
Facebook has, over the years, made several arrangements which make it easier for users to discover and share great videos on their site.
Facebook videos would start playing automatically as users scrolled down their NewsFeed and through the Facebook policy of auto playing of videos has not gone too well with some of its users, that has not affected the site's popularity as Facebook users learned that Auto-play settings are easily customizable on both web and mobiles.
In May, Facebook rolled out an update which allows people to see video metrics i.e. how many people saw a video, how many unique video views and the average duration of the video view. The number of views on public pages helps users to discover new products and the most viewed videos at that point of time. Marketers, particularly, loved the detailed metrics they got to see with this update.
Later in June, the ranking of videos on NewsFeed was improved so that users of the site are served with videos that suit their tastes and match their preferences. Furthermore, after a user is done with watching a video, he is shown more related videos, hoping he might stumble across something more interesting and/ or useful.
Not only content marketers and brand owners, public figures and publishers are benefitting from the popularity of video content over Facebook as well.
Now, while Facebook might be ecstatic over the sudden splurge in the number of views, the fact is that users had no control over the playing of videos- which explains the sudden explosion in the number of views during this period. There was not much a user could do if the video started playing automatically as he was going through his news feed. As more and more people came to know about the customizable settings, the rate of growth declined, though it did continue to rise steadily.
Further, though that helps increase the number of views, the degree of involvement didn't improve much.
"While there's reach advantage for auto-play, there's an issue as to whether you're getting good engagement. You're getting good engagement from user-initiated (video on YouTube) by definition," said Gian Fulgoni in an interview with Beet.tv, comScore's co-founder and executive chairman.
Will Facebook Videos Emerge As A Threat To

Youtube

?
How will the increasing popularity of Facebook videos affect YouTube?
Though Facebook might wrest away a sizeable market share of video marketing from YouTube and might cause it some initial damage, the proposition that Facebook will surpass YouTube sounds far-fetched.
At present, Facebook differentiates between the videos posted directly on its site and those that are shared via YouTube and to make the best of both the platforms, it looks like advertisers and publishers will have to use both these platforms in the right ratio.
Videos like Gangnam style and Harlem shake (and back home, the rapper Honey Singh who debuted on YouTube when no one was willing to give him a break) got huge hits only on YouTube. Facebook is yet to create international stars out of their videos' sharers.
The CEO and Co-Founder of Socialbakers, Jan Rezab, also feels that as bounce rate of Facebook is reducing due to video content, YouTube is at risk. Marketers are also fonder of this medium to upload content as it engages most of the viewers. The trend is rising now without any indication of reversal as of now.
Though Facebook videos might pose a threat to the popularity of YouTube, it would be difficult to believe that they can obliterate YouTube with an aggressive marketing strategy. Not in the near future, at least.