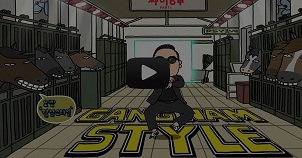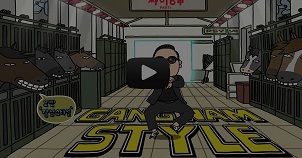 South Korean pop artist PSY's "Gangam Stlyle", today finally crossed the magic mark – 1 Billion views. The video which was launched on July 15 this year, just took five months to reach to the magic figure. "Gangam Stlyle" has chart-busted every record in the history of online-entertainment, in just five months of release. As we reported previously, views of "Gangam Stlyle" are growing as an average 7 million views per day. So by the time you read this it would be far more than a Billion.
PSY's official YouTube channel which already have crossed a billion views few months back(1,427,493,853), it had 14 videos on it before "Gangam Stlyle", and astonishingly most viewed video was PSY's "Right Now M/V"-with only 10 million views.But now, after the release of "Gangam Stlyle" PSY's official channel has 2,144,633 subscribers, it is even more than Universal Music Group (highest number of views as a channel 5,896,430,687), which has 985,142 subscribers. Previously, Justin Bieber's "Baby" was most viewed video with 813,253,370 views and J LO's "On the floor" was at the second spot with 632,509,634 views. Both of these video took more than a year to reach this figure, but "Gangam Stlyle" did not only cruised pass them; it did in less than half of time.
Why it became so efficacious and legendary?? Some say because of his dance, some because of music but since success has no reason but failure has many, nobody is sure of reason. With Christmas and New Year round the corner, flurry of parties coming in, "Gangam Style" is going to grow more gigantically maybe even more than its average – 7 Million views per day. The video has gone so viral that many other regional and local videos across the globe are heavily influenced with "Gangnam Style".
"Gangam Style"has not only gone viral, is well monetized and tagged under 'Premium Publisher" category. This means advertisers are paying higher to run their ad on the video and YouTube is also sharing higher revenue with "PSY" compare to normal publishers. Now let's throw a light on financial gains, let's consider $.30 per CPC and $.49 eCPM (Views) to measure PSY's financial gain from his YouTube channel. The average eCPV is $0.02 for 15 seconds ad(but the publisher is paid only if complete ad is seen by the visitor).
Income from eCPV (View) Ads: (Total channel views/100o) * $0.49 =1,427,493,853/1000 *$.49= $699,471
Income from CPC Ads (On the basis of standard 1% CTR): (Total channel views/100) * $.30=1,427,493,853/100 * $.30=$4,282,481
It has benefitted YouTube with 4,981,952 * .79= $ 3,935,742. It might seem a very fruitful figure but can be even more than that, and with the views increasing in the coming days this is definitely going to grow!!