Giants like Apple Inc. (NASDAQ:AAPL) and Samsung Electronics Co. Ltd. (KRX:005930) have long been competing for better smartphones with latest technology. It is, however, little-known "white-box" vendors, whose growing demand is taken by surprise. Being courted by various international manufacturers, these vendors seem to have a promising future, thanks to the emerging markets. An ever increasing demand for the affordable connecting devices has led to the sales of white-box smartphones see new heights. As per latest reports by Gartner, the worldwide sales of white-box smartphones and tablets have reached an astounding figure of 450 million units and 74 million units, respectively.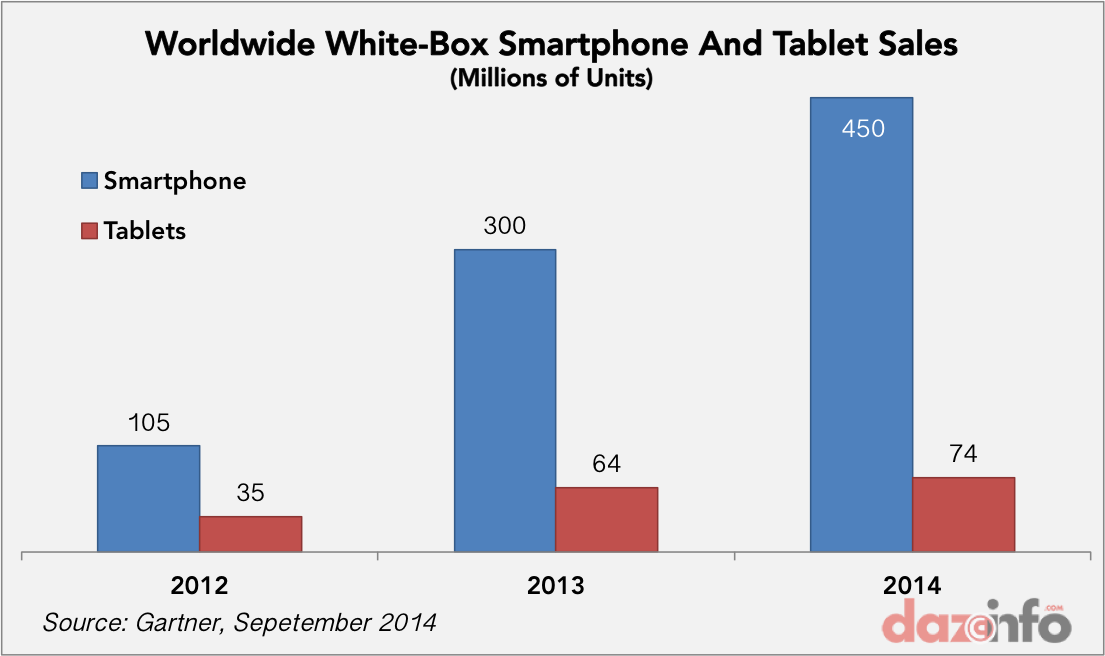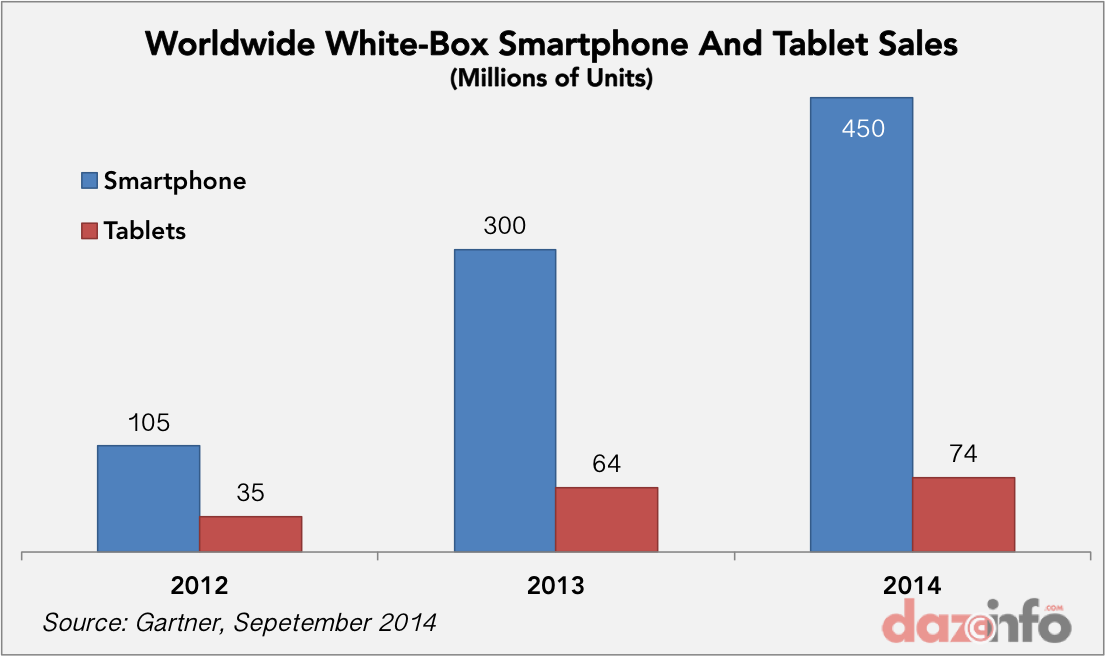 The buzz about the white-box
White-box systems are the generic systems which do not carry any brand name and are custom built. The device is created using a turnkey solution based on application processors and reference designs. Simply put, such systems are made from the commonly available parts. Small companies/ vendors assemble and sell them under their own brand name. A third party deploys a solution which is immediately ready to use upon implementation and is designed to fulfill a certain process. This avoids the headache of setting in-house solution. Eventually the price of production to an extent that it can be afforded easily. The combination of open channel market growth, competitive strategies and feature elimination/ integration has escalated the demand of more affordable smartphones.
China

 is leading the graph

Chinese white-box vendors may not be widely recognized, but are known for their staggering amount of smartphone shipments. It is reasonable on the grounds that the country with the highest population is also amongst the fastest developing economy and the largest country by the number of active smartphone users. By the end of 2013, the number of smartphone users in the country touched 700 million and it's expected to grow phenomenally in 2014 due to staggering growth of homegrown low-price smartphone manufacturers Xiaomi and ZTE.

Crowd of China is already pacing up with the changing times. They are looking out for the latest smartphone features which can cater to their desire for the latest technology. Provided at affordable rates by Chinese white-label brands like Onda, Emdoor and Vodo or the other less known vendors, they are eagerly taking a hand-on experience with these white-box smartphones. Of all the smartphone devices, there are smartphones worth $50 and Android tablets with prices around $200. In addition, smartphone users in China are moving towards 4G and beyond, which is expected to create new opportunities for white-box vendors by late 2014.
Competition for global OEM's
The smartphones are no more a privilege of global OEM's. It has been seen that with the market becoming more mature, the white-box smartphone ecosystem is allowing other OEM's to launch Android smartphones. The smartphones are made from scratch in a short time period of as small as four weeks. Moreover, it has been seen lately that recognized brands are too eyeing on these white-box vendors. At times, when Intel is planning to expand its tablet arena, this US based chip-maker is tapping China's little known "white-box" makers in Shenzhen, China for its tablet chips. Intel has announced to spend $100 million to fund the Chinese product development. It is expected that out of 40 million tablets that Intel plans to ship with Intel chips, Shenzhen will hold a good share. Even established brands like Lenovo and TCL are getting involved in everything from sourcing to design difference in the use of turnkey chipset solutions.
White-box market need to sustain user base
Highly preferred by emerging economies like India and China, the user base of these white-box devices has been swelling in the current scenario. From budget-constrained users to replacement buyers, the emerging markets provide a diverse user group.
As per another research by Digitimes Research, the shipment of white-box tablets alone reached 22.3 million globally in the second quarter of 2014, which is an increase of 9.3%. Of these shipments. The WiFi-only models had the largest share of around 56.4%n while the inexpensive WiFi+voice models accounted for 6.6% of the total shipments. According to the Gartner's latest report Greater China and emerging Asia/Pacific are the highest contributors to the white-box tablet market with their share totaling to 53.7%.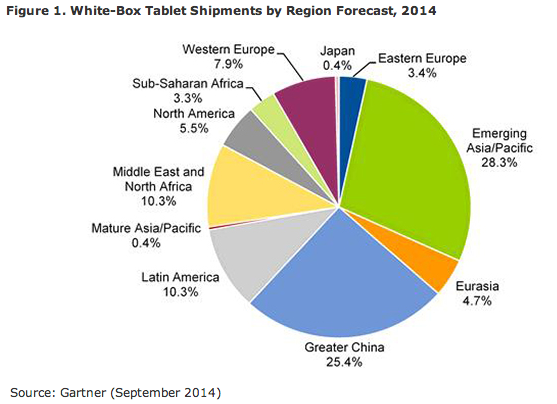 However, this growth of tablets is expected to slow down in coming five years with the global brands giving a tough competition. The white-box vendors will need to revise their strategies and adapt to changing market trends to remain in the market. Catering to the low end users, they are expected to sustain their popularity among them because of the availability and the affordability, but, with global brands bring down the cost, it is going to affect them on a big scale. However, slow the change may be, it needs the attention of white box vendors immediately.