Apple Inc. (NASDAQ:AAPL) claims that the iPhone 6 is the best iPhone company has ever made. As iPhone 6 is already up for grab, reviews, ratings and test reports have started flooding the internet. Few days back we showcased the repairability score and battery performance of iPhone 6 and iPhone 6 Plus in comparison with other top smartphones available in the market, now its time to highlight some of the test reports, which could be very important from the phone's handling stand point.
SquareTrade recently conducted a series of test, including breakability and water resistance, on iPhone 6 and iPhone 6 Plus. According to the test results both the devices performed impressively well and outclassed its predecessor iPhone 5S any many top-of-the-line Android smartphones in the market.
Overall the 5.5-inch iPhone 6 Plus scored 5 out of 10 while 4.7-inch iPhone 6 settled with 4 points. These breakability scores are measured on the scale of 1 to 10, higher the score, the higher the risk of the device being damaged.
SquareTrade conducted a series of tests before reaching out to these scores; the first test was about patches and both iPhone 6 and iPhone 6 Plus help up when they were slid across rough patches. The second round was all about water resistance, both the phones were submerged in a pond of water for 10 seconds and didn't catch any kind of malfunction or functional glitch. This was followed by the drop test, where both the iPhones were dropped from the height of 6 feet. In this test both the iPhones got scratches though, iPhone 6 Plus came out after six drops.
Just to understand how well iPhone 6 and iPhone 6 Plus performed overall as compared to other top-rated smartphones, iPhone 5S scored 6, while Galaxy S5 got the rating of 6.5.
The durability and breakability has always been a challenge, especially with the big size smartphones. However, Apple has proved that the company is committed to making only the most durable smartphones despite of the large 5.5-inch display. The below infographic compares the iPhone 6 and iPhone 6 Plus with iPhone 5S and Galaxy S5 in terms of size, screen, water resistance, Drop test and scratch proofing along with an overall score.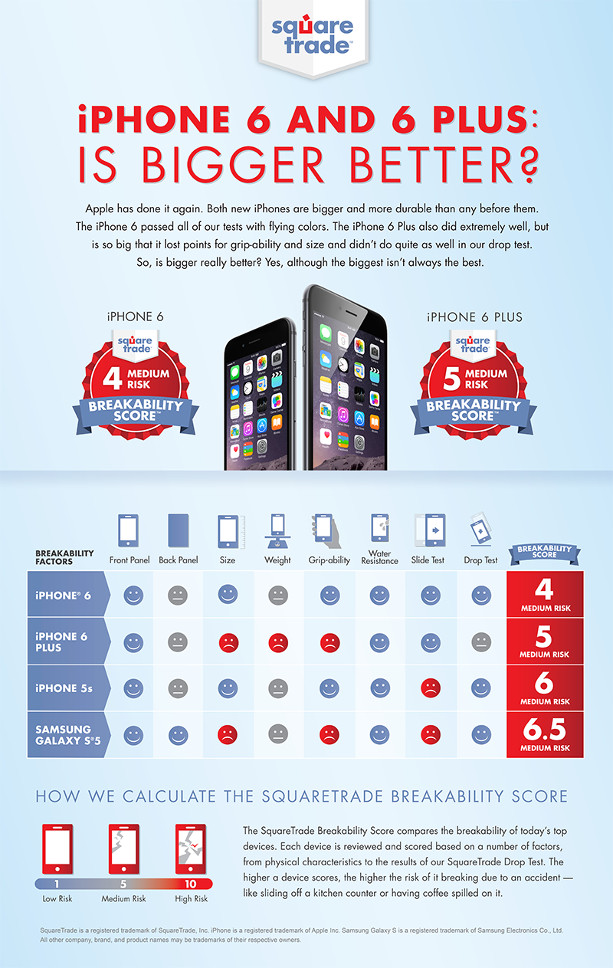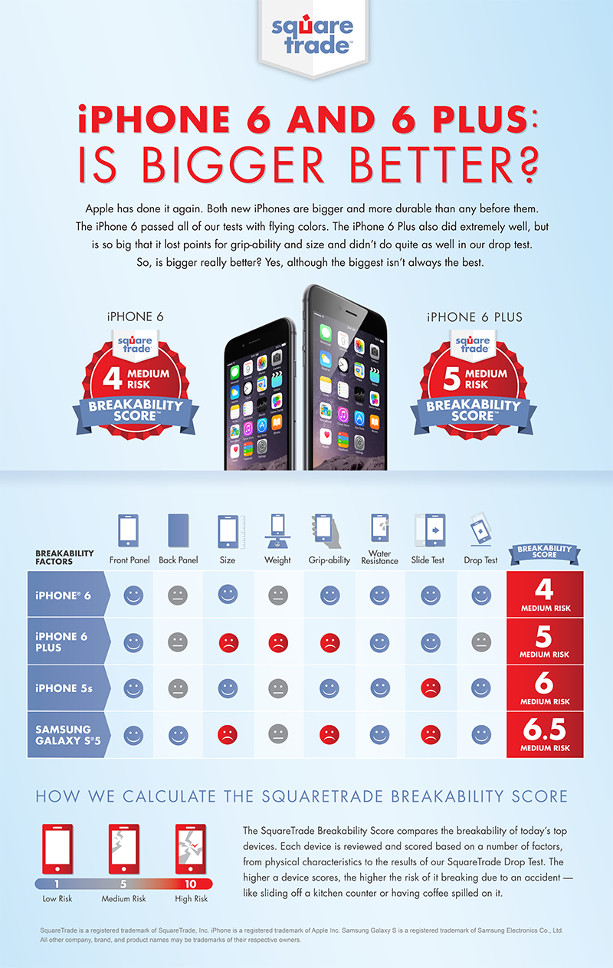 Also, here is the video from SquareTrade showcasing all the tests done on iPhone 6 and iPhone 6 Plus.