The global internet average connection speed grew by 1.8% Q-O-Q to reach 3.9 mbps which is ready to surpass 4Mbps in Q2 2014. 9 of the top 10 countries that had qualified showed a quarterly increase with South Korea at the top spot with an increase of 8% steering 9 Mbps ahead of Japan, according to the report by AKAMAI from countries with more than 25,000 IP addresses during Q1 2014. Latvia and Finland reported a quarterly increase in average connection speed by 10%. But Czech Republic was the only country to show a decline in the average connection speed by 2% with an average speed of 11.2 Mbps. 98 of the qualified countries reported an increase in average connection speed during the first quarter of this year, out of which 39 countries showed 10% or more increase in average speed Q-O-Q. On a yearly basis, the average connection speed rose by 24% compared to the same period last year. Y-O-Y increase was seen in all countries except for 7 out of the qualified countries. 6 of the qualified regions had average connection speed of 1 Mbps or less in Q1 2014 which is the same as Q4 2013. Guatemala reported highest loss percentage of 43% with 1.9 Mbps and Libya continues as the country with lowest average connection speed of 0.5 Mbps.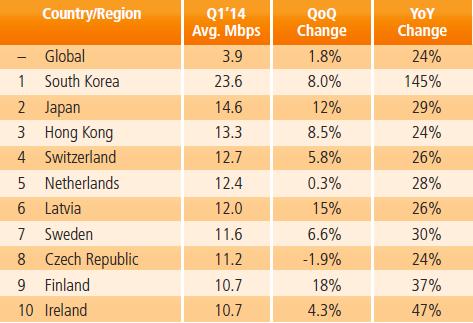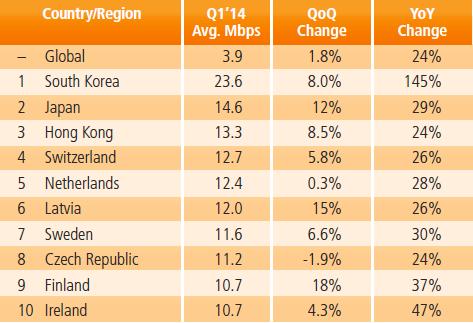 Decline in peak average connection speed (-8.6% Q-O-Q)
Global average peak connection speed dropped by 8.6% to 21.2 Mbps in Q1 2014. 92 of the qualifying regions showed decrease in average peak connection speed Q-O-Q with the lowest decline of 0.1% in Guam with 22.1 Mbps and the highest decline of 61% in Libya with 6.2 Mbps. The quarterly increase in the peak average connection speed among top 12 countries were below 10% with an exception of Uruguay nipping an impressive 24% increase. But the Y-O-Y peak average speed increased by 13%. The yearly growth in Hong Kong was a scanty 0.3%, while in Uruguay the increase was a whopping 206%. The lowest peak average connection speed was seen in Iran in Q1 2014 with a speed of 6 Mbps.
The state-of-art infrastructure capabilities South Korea leads the list boasting the fastest internet connection with peak average connection speed of 68.5 Mbps and average connection speed of 23.6 Mbps as of Q1 2014. However, to leverage technology advancement in the future the country is planning to upgrade its wireless networks to 5G by 2020 to make downloads 1000 times faster than now.
India And China Disappoint 
India is ranked at 118the position in the list of top countries by global average internet connection speed. The average connection speed in India increased by 34%  Y-O-Y to 1.7 Mbps in Q1 2014. However, the average peak connection speed in India decreased by 1.5% Q-O-Q reaching to 12Mbps while it increased by 7.6% year-over-year. These figures clearly showcases that despite of registering a positive growth in average internet connection speed, India has slipped down in ranking as many other countries have performed better than India in infrastructure deployment and upgrades.
On a sadder note, mere 0.7% users in India get more than 10 Mbps internet connection speed and only 4.9% of broadband users enjoy speed up to 4Mbps despite the fact that broadband subscriptions in India reached 65.33 million by the end of May 2014. India gained 111% growth on broadband  with connecting speed greater than 4 Mbps Y-O-Y. TRAI has reported that minimum download speed available to 3G networks would be from 399 Kbps to 2.48 Mbps. TRAI also notified that the minimum broadband speed has been raised to 512 Kbps from earlier 256 Kbps.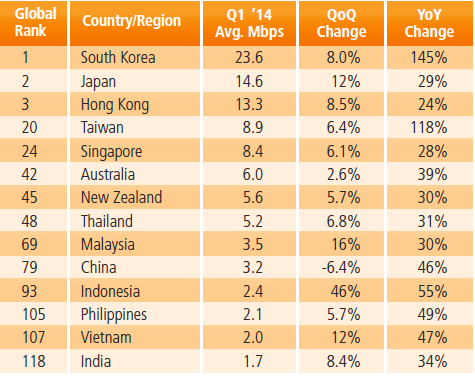 China stood at 79th position in the average connection speed in the global rankings. Despite of the growing penetration of smartphone and mobile internet in the country China showed a decline in both average connection speed and peak average speed Q-O-Q  by decreasing 6.4% and 1.2% respectively. However, on the yearly basis the average connection speed increased by 46% to 3.2 Mbps and peak average increased by 43%. Earlier, China's state council said that internet speed for urban areas will be about 20 Mbps and had also set an ambition that all rural areas will be equipped with a connection speed of over 4 Mbps by 2015.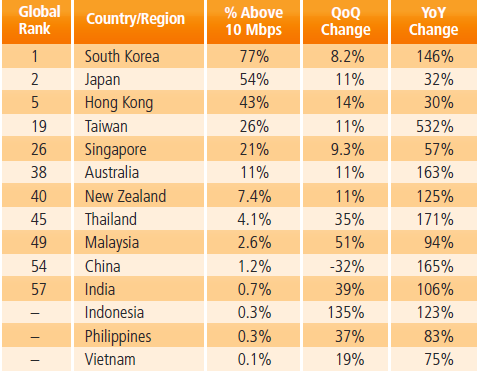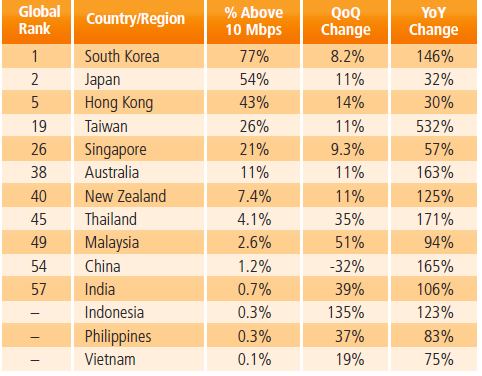 The overall steady Y-O-Y growth reveals that a strong foundation of internet has been built. But the enormous outburst of internet users is hogging up the bandwidth which will account to provision of better engineered Internet applications and services that makes use of the internet connection. However, the disappointing performance of big internet markets, such as China and India, is really a matter of concern. As more and more people in the countries are turning towards the internet for online shopping, it would be important for the government of these countries to make a strategic move to accelerate the improvisation process of internet infrastructure.