With little over than 1.3 billion users, Facebook Inc. (NASDAQ:FB) continues to widen its leads over competitors, including Google+ and Twitter. As Facebook gains more grounds on the web and mobile, internet users have started showing more confidence in the network by authorizing themselves using Facebook login. In Q2, 2014 the social networking giant continued its dominance in social login space by authorizing nearly three out of five social login attempts on web and mobile together, according to the recent report, titled The Landscape of Social Login, from Gigya. Facebook maintained the lead with closest competitor Google+ that managed to authorize 27% of total social login in Q2 2014. Surprisingly, all other social networks, including twitter, LinkedIn, Yahoo, together managed to gain only 20% of the market.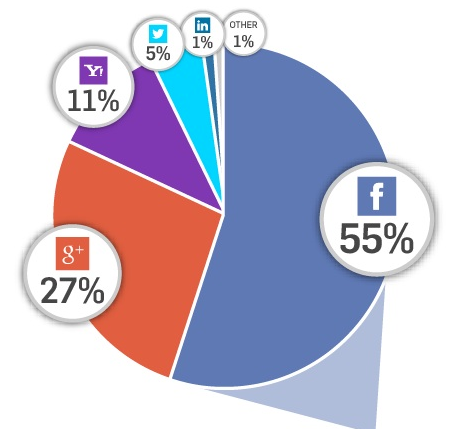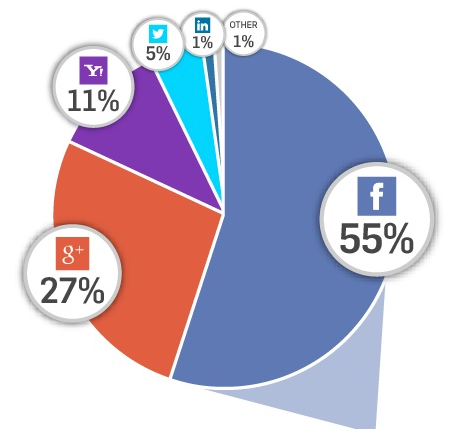 The distinctive lead of Facebook continued as the company has made several efforts to make social login process more secure and easy to integrate in the last few quarters. This has resulted in improved market share, which has grown since the beginning with 2014 with each passing quarter.
Unlike Facebook, Google+ is not showing any sign of gaining market, however, it remained steady for the last few quarters. In last one year the market share of Google+ has been floating between 20% and 30%.
In mobile devices, Facebook has widen the gap with Google+ despite of the fact that Android has got the greatest market share in which Gmail and Google+ sits as default app. With little over than one billion mobile users Facebook authorized 64% of logins sessions in Q2 2014, followed by Google+ and Twitter with 25% and 7% market share, respectively. Interestingly, in mobile space Facebook and Google+ has swept away the competition by authorizing nearly 90% of all social logins that took place in the second quarter of the year.
The biggest surprise came in the form of eCommerce login sessions' data, where Internet users showed an unprecedented trust in Facebook. Facebook authorized three out of every four social login sessions, while Google was restricted to just 16% of the market share. It's worth noticing that Google generates the highest amount of traffic to leading eCommerce sites; about 20% of traffic to Amazon.com, 9% to Alibaba.com, and 16% to ebay.com, according to Alexa. In contrast Facebook accounts for less than 5% of total traffic on these websites. Despite of these facts, Google owned Google+ lagged behind Facebook in eCommerce social login scenario with sizable gap.
While analyzing the social login data by region, it is identified that in North America and Europe Google+ still has a sizable market share in social login space. However, in emerging regions, especially APAC, Facebook has authorized nearly four out of every five social login sessions.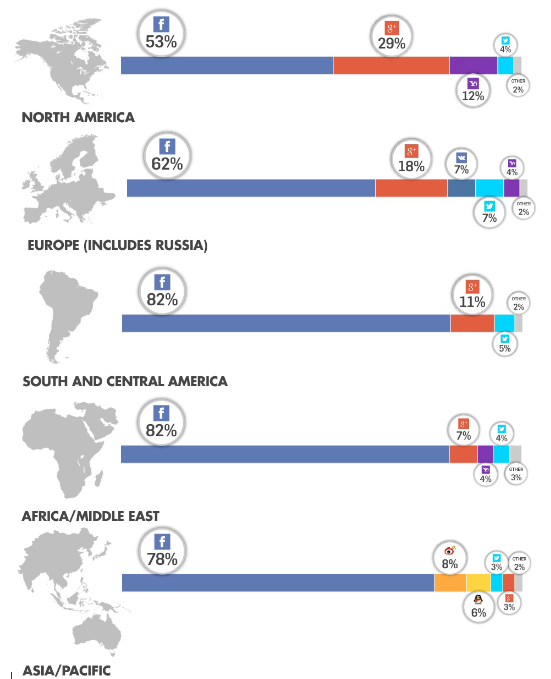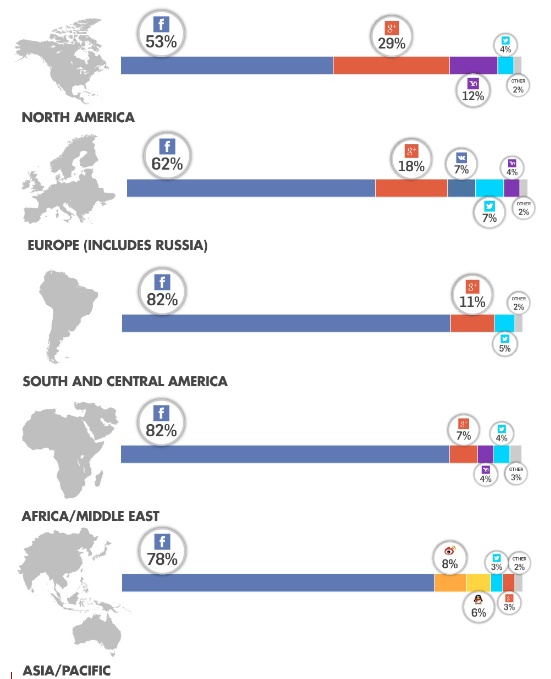 The growing culture of social login is convincing websites and E-stores to implement social login features. Nearly 50% consumers are using social login to authorize themselves at various online properties now and with the above findings it's evident that Facebook has won their trust like never before.
Key Takeaways:
A

Website

must offer social login features to visitors and consumers.
Facebook and Google+ must be available as an option for site visitors.
Though, LinkedIn has gained the trust among corporate, Facebook is winning the confidence of consumers and exposing themselves more through Facebook.
In Russia and China local networks VK, Weibo and Renren are giving tough competition to Google+ and Twitter.
In North America, websites must offer visitors Facebook, Google+ and Yahoo as social login options.