India's average mobile internet speed is improving at an unprecedented rate. The average mobile Internet download speed in India was recorded at 30.96 Mbps in February 2023, according to the Speedtest Global Index. Out of 137 countries, India currently stands at the 67th position, up 2 places compared to the previous month. That's a dramatic improvement from November 2022, when India's median mobile speeds placed it at 105th position globally.
In January 2023, India climbed 10 spots to 69th for median mobile speeds globally, up from the 79th position in December.
The Covid-19 pandemic has dramatically increased the adoption and usage of mobile internet in India. Mobile was the only alternative for the majority of Indians to keep themselves entertained at home and to stay connected with family and friends during the lockdown.
Moreover, Bharti Airtel and Reliance Jio, the country's two largest telecom providers, launched 5G services last year, which further boosted the uptake.
Another report from Opensignal reveals that 5G has improved the state of the internet in India. The average 5G mobile download speed in India was 242.1 Mbps in December 2022, an astonishingly 16.5 times faster than the 14.7 Mbps of 4G.
The internet speed rankings for some of the largest cities in the world are also available on Ookla's Speedtest Global Index. Interestingly, two Indian cities made the list of 171 cities worldwide. Delhi jumped 11 places to 78th in the month of February 2023 in global median download speed. The Capital of India, with an average mobile download speed of 36.02 Mbps, is fast-catching up with Mumbai. The average mobile download speed in Mumbai was 38.12 Mbps, placing it 76th.
Dubai, United Arab Emirates, wins the top spot with the fastest average mobile download speed of 229.57 Mbps, while Kabul, Afghanistan, is ranked 171st with the slowest speed of 3.88 Mbps.
Fixed Broadband speed in India
India slipped two places in February 2023 in terms of fixed broadband speed and now ranks 81st out of 180 countries. However, the country saw a marginal increase in speed. India's fixed median broadband speed increased to 50.87 Mbps in February, from 50.02 Mbps in January.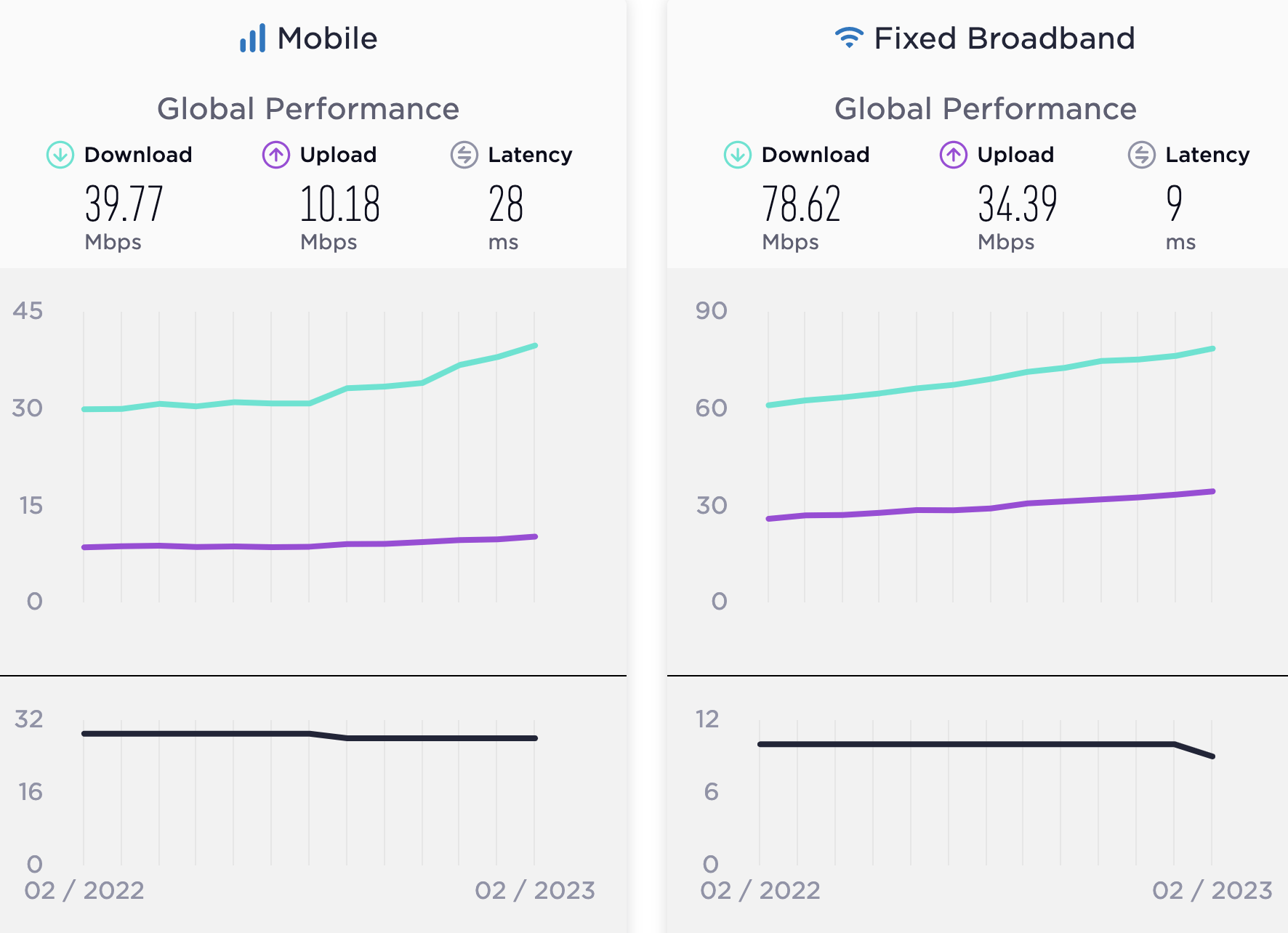 City-wise, Delhi is far ahead of Mumbai in terms of average fixed broadband speed in February 2023. Out of 194 cities in the world, Delhi is ranked 86th with a median download speed of 70.58 Mbps, while Mumbai is placed 109th with a median download speed of 48.22 Mbps.
In a Nutshell
The average mobile download speed of 30.96 Mbps is nevertheless disappointing for a rapidly developing country like India, which ranks second in the world in terms of smartphone users, Internet users, and population. India continues to lag well behind many industrialized countries, such as the United States, China, Singapore, the United Kingdom and others.
Nonetheless, India's internet speed ranking is profoundly changing, particularly after the advent of 5G services. It is expected to be among the top 50 countries in terms of average mobile download speed in the coming year.
Till then, stay tuned for more updates. If your internet speeds allow you to, that is.