Gone are the days when very few percentages of people could afford premium smartphones due to their high price tags of $600 or more. E-commerce giants such as Amazon, and Flipkart, have provided numerous opportunities for consumers to buy smartphones at exorbitant costs from their favourite brands, with jaw-dropping discounts, EMI offers, and other exciting deals. As a result, the premium segment has consistently outperformed the overall global smartphone market.
According to Counterpoint Research, premium devices accounted for 55% of the total global smartphone market revenue for the first time in 2022.
Despite a dramatic 12% YoY drop in the overall smartphone market worldwide, the sales of premium smartphones grew by 1% YoY in 2022. What's more interesting is that the premium models accounted for more than one-fifth or 21% of all global smartphone sales in 2022.
Yet, 2021 was one of the finest years for smartphone manufacturers who make flagship devices. The premium segment accounted for 27% of global smartphone sales in 2021, the highest share ever.
Top premium smartphone brands by market share
Apple continues to dominate the global premium smartphone segment with a 75% share. This means three out of every four flagship devices sold worldwide in 2022 were iPhones. The Cupertino giant recorded 6% YoY growth in its iPhone sales worldwide.
Apple's rise in mature markets was driven by upgrades to its installed base. The brand's loyal fan base drives iPhone sales in the US, Europe, China and other markets. For example, If an iPhone user also owns an Apple Watch or Mac, the individual's next smartphone upgrade will most likely be another iPhone.
Apple's share in the premium segment could have grown even further if the company had not faced supply distribution issues for the iPhone 14 Pro and Pro Max during the peak holiday season in 2022.
The sales of Samsung premium devices declined 5% YoY in 2022. Moreover, the market share also declined from 17% in 2021 to 16% in 2022. The Korean giant's weak presence in China is one of the primary reasons for falling behind Apple in the premium segment. The launch of the Galaxy S22 series in 2022 and foldable smartphones, however, helped the company to maintain the second spot.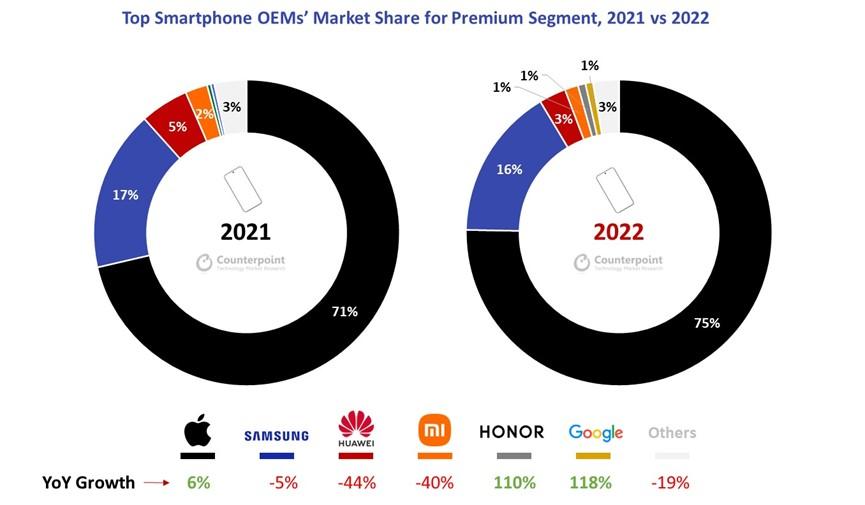 Huawei and Xiaomi suffered the most in the worldwide premium smartphone market in 2022. Both Chinese OEMs reported at least a 40% YoY decline in their devices' sales. This considerable drop was mostly caused by poor operating conditions in China, where they generate a significant portion of their flagship sales every year.
In contrast, Honor and Google emerged as the biggest winners in terms of flagship devices' sales worldwide in 2022. HONOR reported a staggering 110% YoY growth in sales, whereas Google reported 118% YoY growth in 2022.
Factors driving premium smartphone sales
It is important to keep in mind that high-end consumers were less susceptible to macroeconomic instability than those at the lower end. As a result, smartphone sales in the premium segment grew significantly, while entry and mid-tier segments declined.
Moreover, as smartphones have become an integral part of our lives, people are willing to spend more on them and keep them retained for longer periods. This is one of the primary reasons why the $1,000 and above price segment was the fastest growing (38% YoY) in 2022.
The "premiumization" trend across all major markets has also significantly contributed to the YoY growth in sales of flagship smartphones. People upgrading from their previous devices fuel demand in the premium segment. Upgrades are noticeable not only in developed markets like North America but also in emerging nations where smartphone users on their third or fourth device begin to enter the premium market.
This year we expect more Android OEMs to launch their 5G-enabled flagship devices, which can be foldable or flip.