The intense competition in the e-commerce industry has pushed leaders in that niche to use new and innovative methods of marketing, sales, delivery and customer experience. The explosive adoption of Smartphone and social media has helped marketing, sales and customer experience. While on-time product delivery, by far, remains the biggest challenge.
Imagine apparels, gadgets or any other product, you just bought online, being delivered on your terrace – by a drone! Yes, CEO of Amazon.com Inc. (NASDAQ:AMZN), Jeff Bezos says that this could the reality in the next five to six years and shoppers will witness a whole new level of shopping experience.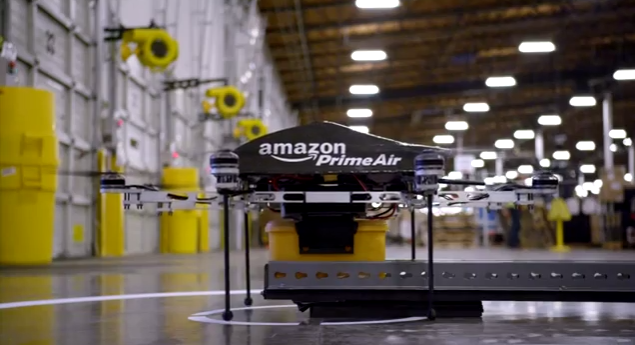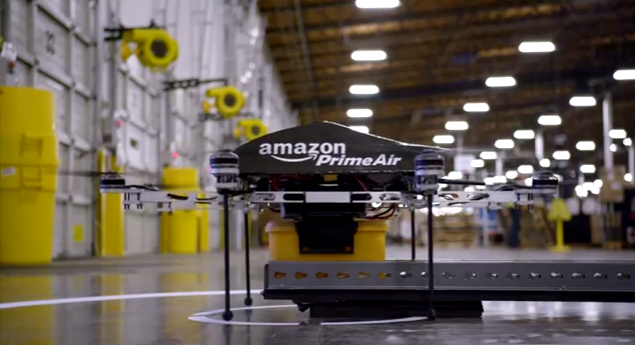 In a recent interview to CBS's 60 Minutes, Bezos displayed the next generation delivery mechanism, or call it Delivery Drones, that will deliver the product within a few hours of purchase, probably. He has named the service as Prime Air and these delivery drones could carry packages up to five pounds and can travel 10 miles in less than 30 minutes.
"These are Octocopters..These are effectively drones, but there's no reason these can't be used as delivery vehicles." – Jeff Bezos.
The service is, however, at quite an early stage of development and besides operating challenges could involve various legal hurdles that Amazon needs to over come. Federal Aviation Administration (FAA) in the U.S. is yet to define rules that must be followed by any unnamed flying vehicle.
But Bezos sees this coming and expects that the Prime Air service could be initiated within four to five years. He seems quite positive towards FAA approval and sees no reason why the authorities will register any objections against such an intuitive delivery mechanism. Apparently, the company is confident about the service and has acknowledged it on its own landing page.
Prime Air Holds Prime Challenges Too
The service comes with possible challenges like – crash or stealing. For a company that has got high hopes and has made a sizable investment in a service which targets environments which can't always be controlled, it would be interesting but challenging to ensure the success.
For those who are excited to see how the Prime Air service will work, Amazon has made a video demonstration, available to all. The video after this break: