Facebook Inc. (NASDAQ:FB) is swallowing a major share of social media advertising revenue, out playing Twitter Inc. (NYSE:TWTR) and other social networking sites. According to the Wallstreetpr, Facebook is expected to grab the major share of the predicted total digital ad spent worth $9.4 billion this holiday shopping season. Retail brands on Facebook are estimated to contribute the biggest pie of this ad spend. Last year, Facebook earned 90% of total ad-spent during the holiday shopping season compared to 10% by Twitter. Facebook is pacing itself exceedingly well, both in retail and mobile advertising sections and a majority of advertisers are looking to shell out more cash to publicise their product to the 1.189 billion monthly active users (of Facebook) rather than a mere 232 million MAUs of Twitter. Facebook has more than 73.5% or 874 million of the total user base who enjoy its services on mobile platforms whereas Twitter which was born as a mobile network has a mere 173 million users on mobile.
Retail Brands On Facebook Have 45x More Followers Than That On Twitter
The graph below depicts brand fans of top 10 retailer brands of the U.S in comparison with followers of the same brand on Twitter. If we compare the number one retail brand Walmart – the number of Facebook fans are approximately 34 million whereas on Twitter it is hardly 421,000 plus followers (currently the figure is 425,000+). A similar situation was observed in case of Target which had 22.5 million Facebook fans and 971,ooo plus Twitter followers (number of followers as of now – 978,000+), Macy's has 13.4 million Facebook fans which is much more when compared to its 318,000 plus Twitter followers (currently they have 323,000 plus Twitter followers). Retail brands on Facebook on an average have 45x more brand fans than followers on Twitter.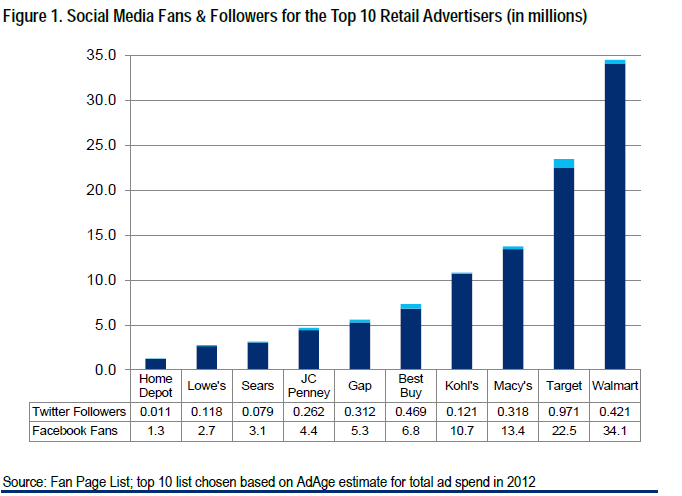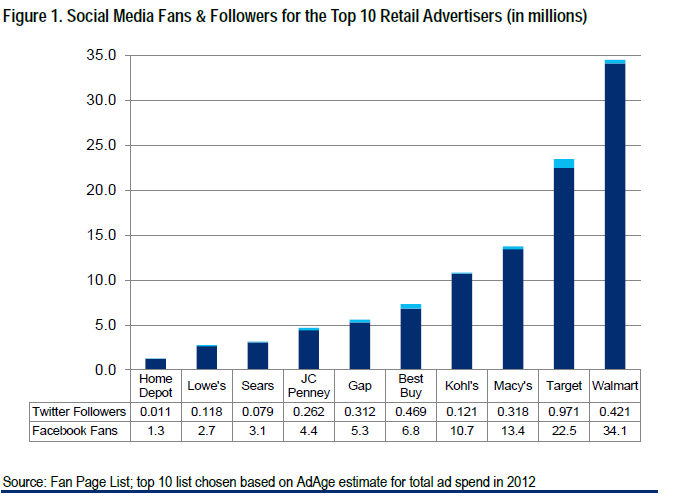 Facebook is shaping up well according to the demands of advertisers and fast-changing trends in the advertising industry. Facebook had initially faced many issues  like – a large number of users shifting to the mobile platform, advertisers demanding more specific ad-campaigns, indigestible metrics for measuring ad success, lack of advertising initiatives for brands with niche audiences and a lot more.
But the way Facebook has evolved in the last 1 year to resolve the above mentioned issues is quite commendable. It has successfully transformed its desktop success to the mobile platform with more than 874 million users actively using their services on the mobile phones and tablets. It has galloped at a swooping pace in addressing the issues of advertisers by initiatives like better location specific and gender based ad-campaigns, custom audience feature – an Ad campaign based on contact details of individual users (niche audience), a better insight of ad success report, Preferred Marketing developers program and the reviews feature. It has also revolutionized its mobile technology to drive a major chunk of the referral rate, which recently shot up to a whopping 253%.
Facebook Brand Engagement Is More Than Total Followers On Twitter Of The Same Brand!
It is indeed important to have followers for any brand page, but the engagement is more decisive, amount of user-engagement decides growth of a brand. Facebook yet again outplays Twitter – on an average 340,000 Facebook fans engage (sharing and talking about) with the top 10 retail brands on a weekly basis, which is undoubtedly much more than engagement on Twitter and in some cases is more than the overall fan base of same brands on Twitter. If we analyze the graph below, the engagement rate by Facebook fan base of Avon is 540,000 whereas it's Twitter followers are just 70,000.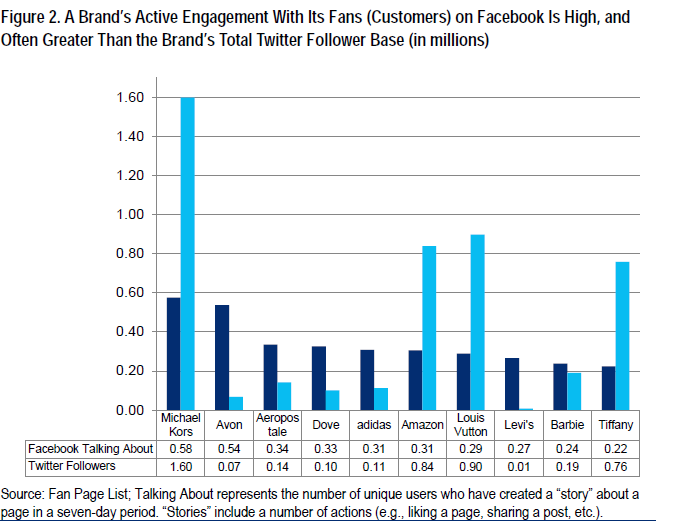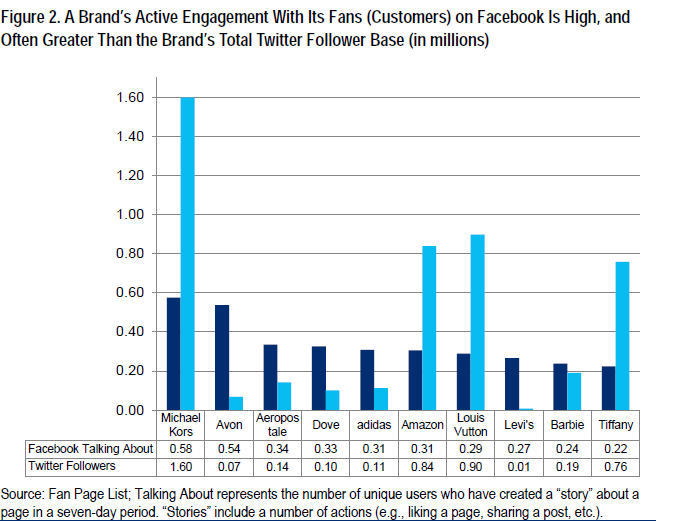 Twitter is the undisputed leader amongst social media networks when it comes to the mobile space whereas Facebook's numerous features do not fit well on the mobile screens. But the micro-blogging site has not yet capitalized its mobile dominance that well in terms of advertising of retail brands, providing  hefty returns to the advertisers and an increasing count of active tweeting users. Even though advertiser are well aware of the fact that features like tweet and re-tweet are a much more valuable form of engagement than like or share (in Facebook), the active user base which actually bothers to tweet is rather miniscule and disappointing. More than 84.6% or 764.78 million of Twitter's registered users are passive and hardly bother to Tweet. Twitter lags behind Facebook in driving referral traffic to online websites.
Although, Twitter lately realized the importance of visual feeds and introduced inclusion of pictures and videos within the tweet, the feature is yet to be properly integrated with its various advertising schemes, hence very few advertisers are able to analyze its impact. Twitter is failing to innovate itself in the advertising arena when compared to Facebook, it is not yet able to meet the sophisticated demands of advertisers for targeting specific audiences. It's success story is more convincing only in developed markets, whereas most of the advertisers from emerging markets are not very convinced about Twitter's Ad results.
According to an August poll by Shop.org, nearly 34% claimed to have spent a major share of advertising budget on Facebook prior to the holiday shopping season, about 28% said Pinterest Inc., 19% upvoted for photo sharing app – Instagram and a mere 15% said Twitter. Perhaps networking sites with better visual representation or photos were more successful in driving them customers.
Future Of San Francisco Based 140 Char Microblogging Service!
Thousands of public investors have showed faith in Twitter and are hoping that it continues to dominate social media in the future. Twitter is now using public money and they ought to take a couple of brainstorming initiatives to boost its growth at a faster rate. According to Bloomberg Global Poll which interviews 750 customers, around 68% of the investors predicted that stocks would fall below its first day closure of $44.90 within the next 6 months.
J.J. Hirschle, who was recently hired to grab in more retailers to advertise on the platform, held meetings with Best Buy Co. (BBY), Target Corp. (TGT) and other big retailers to opt for Twitter for marketing their product. According to eMarketer Inc, Retail spending on digital ads contributed to 22% of the total expenditure in 2012, and this figure is expected to rise further from $9.4 billion this year to $13.5 billion by 2017. Currently, a major share of it is pocketed by Facebook, Twitter needs to accelerate, in order to harness a substantial increment in its share and continue with the sparkling IPO momentum a little longer. Twitter lags behind Facebook in terms of marketing dollars from retail brands who are known to spend a vulgar amount of cash on digital ads.
Twitter should also focus on the talent hiring arena as employers consider an average Twitter user to be more intellectual than a Facebook user. The micro-blogging site should try to entice wayward users and increase its actively tweeting user base. It is important for Twitter to educate users and advertisers of emerging markets about its customs and traditions and how its explosive and viral nature and real-time conversation features can continue to evolve the communication modes of users worldwide.
Twitter should focus on some of its other products like Vine, which hasn't changed much in the last couple of quarters and the user base is increasing at snail's pace, whereas Facebook revised its photo sharing app Instagram, which has more than 150 million users and growing, and was monetized recently to attract advertisers and promote user engagement with brands. Twitter's mobile advertising exchange MoPub, hasn't been in news since its acquisition.