Peter Chou, an Electrical Engineer from Taiwan, born in Myanmar who is believed to have a perfect eye to spot a right design for a mobile phone. His knowledge about materials and hardware is revolutionary. What more qualities can a CEO of one of the leading mobile manufacturing companies have? He is credited for all the success HTC Corp [TPE:2498]  ever had. Some of the former employees believe Peter Chou has an ability to draw new ideas from air and simply bring them to production within a very short span of time and that's how HTC sensation XL came in to market within three months. A similar phone in other companies would usually take a year and half to ship from ideation. When the smart phone market was in the growth stage, Peter Chou has hired executives from Apple, Sony and Samsung. His quick decision-making , ability to make changes even at the last moments and innovation were the real strengths of HTC.
But if we look at recent progress of HTC's income and share price the number are speaking a different story…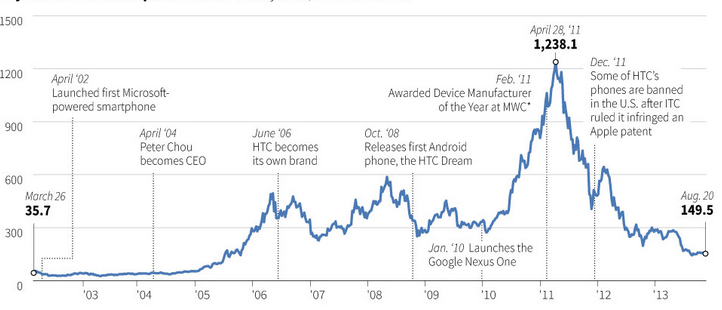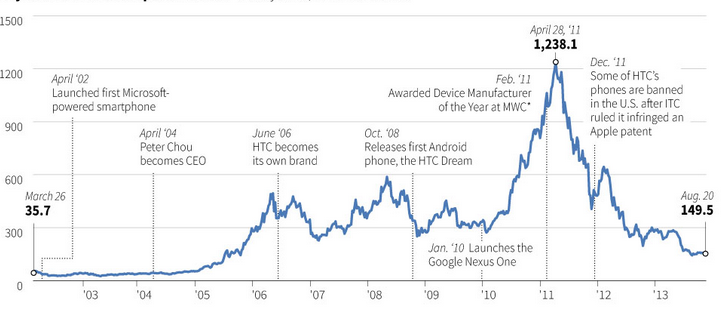 The share price has decreased 87.9 % over the past 2 years from 1238.1 on April 28 2011 to 149.5 on Aug 20 2103 which is an 8 year low as well. This decrement is not something which is usually seen due to some product saturation or wrong decisions leading to quarter losses or operational losses. This is more than that and HTC needs a complete strategic reshuffling.


The income has also dropped to a seven year low and the market share is also 5% less than what it had five years ago. HTC is also out from the top five league. These indicators account to an all-new different story according to Reuters, which has interviewed many former and current HTC's employee's to find the reason for the dynamic slow down. And all the answers are pointing out to the top Leadership and management style.
"Many of them believe that Chou's abrasive management style and weak strategic vision play their part in the company's decline". claims few of executives on the condition of anonymity according to Reuter.
After hiring many new executives he failed to create a healthy working environment in the company where he simply dismissed many of the executives openly and hardly cared for the views. They even said the Chou hardly discussed before coming to conclusions. Chou ran parallel teams for a single tasks and the top management never discussed any numbers during their meetings. Cross departmental meetings were also very rare in HTC which actually helps in easing out many problems and gives a lateral approach to decision making.  Human resources are the greatest strength of any multimillion dollar company and such conditions can badly effect its performance, which is visible in HTC's case, One of the other concern was that there is no successor to Chou in the company.
To all  these apprehensions HTC's board has passed a statement that  "HTC's board and broad employee base remain committed to Peter Chou's leadership. The (flagship) HTC One product family – which has been met with accolades by media and consumers alike – was a result of Peter's vision and leadership, and speaks for itself."
HTC has recently taken some steps to revive its position. They have endorsed "Robert Downey Jr" Iron man Fame to be their brand ambassador and launched many cheap phones In china and America and are putting all efforts to fight back.
HTC is committed to revive and apparently making every move possible to roll back into its glorious days. The management style of Peter Chou, however, is a matter of concern and, definitely, need to be discussed in length. Whatever may be; only  time can decide the result of current decisions.
Source REUTERS