Compared with TV, marketers say digital video ad is doing a better job of helping them achieve awareness and, especially, engagement goals. Targeting is one of digital video's most important features, and marketers say they will spend more on digital video ads in the future as targeting gets even better. Viewers pay more attention to online video ads than to traditional TV commercials and also recall them better. In 2013, Almost three-quarters of marketing professionals worldwide planned to increase their spending on branded video content or video ads in the next year, according to a survey conducted by AOL Networks.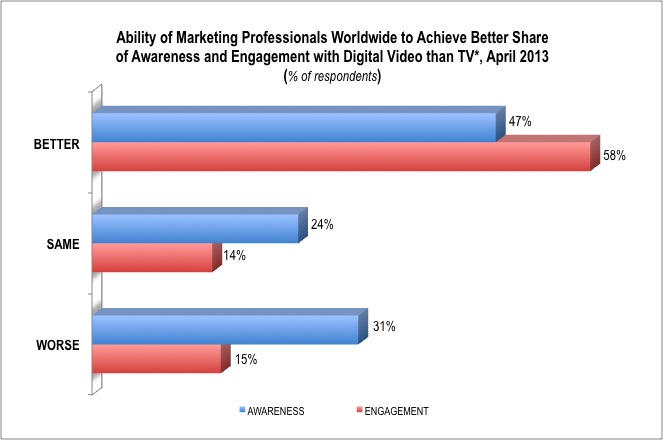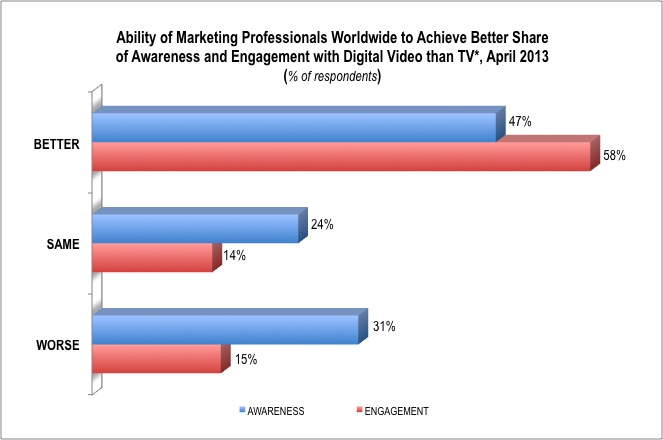 Digital advertising's frequent role a direct-response vehicle, it has been found out that digital video ads beat out TV ads for achieving engagement goals: 58% marketers thought digital video ads performed better than TV ads by this measure, compared with 15% who exclaimed engagement was worse for digital video ads. 47% of respondents believe that digital video ads drives awareness better than TV ads.  Still more than 31% of marketers who said TV ads got better awareness results.
Digital Video Ads: Target Sections
Targeting seems to be the biggest and secret aspect behind digital video ad success. When marketers determine whether to put more dollars toward digital video ads and by how much, targeting then becomes the only key. With 73% of respondents of marketers says with better targeting would affect how much more money they put toward digital video ads expense. The highest percentage of marketers (87%) said targeting was an important factor while planning a branded digital video campaign, just ahead of those who's cited reach (85%) and content (81%).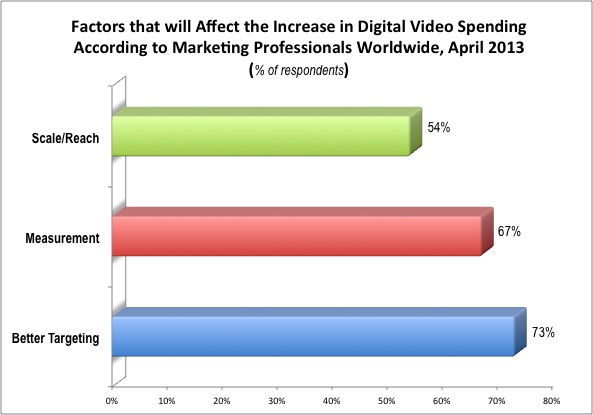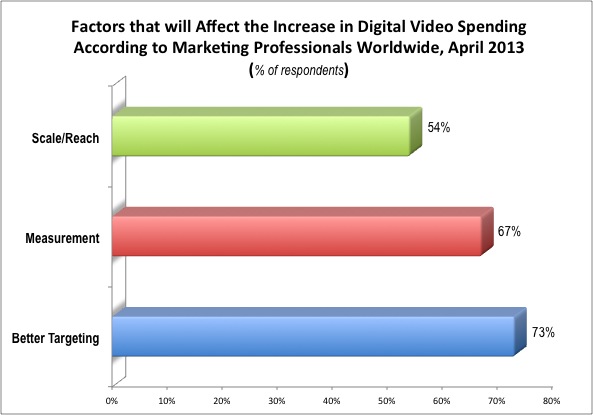 In TV advertising is expected. Considering to that even the marketers go all in on digital video ads, they must contend with consumer resistance to the ad format. A Starcom study from January 2013, in which participants in the US were shown a controlled series of clips and told that they were either traditional TV programming or original streaming content, found that consumers remained more resistant to commercials in digital formats, with 45% having a negative attitude to such ads vs. 39% who had negative opinions of ads shown on TV.
But the study also showed that viewers may simply have a stronger reaction to video ads overall, whether good or bad. More consumers reported having a positive attitude toward ads in original streaming content (25%) than in TV programming (22%).
It looks like there is a great potential for digital video ads to deliver strong results for marketers, as long as they identifies the right audience and create compelling content such that viewer's don't mind the intrusion.
As marketers increasingly adopt multichannel campaigns, digital will emerge as an effective support mechanism for TV, helping TV both stay relevant and become more measurable. A similar dynamic will be evident with radio and outdoor, albeit on a smaller scale. The bottom line: Digital remains in the driver's seat.