Tablets, the handheld mystical devices which never fail to amaze you. Today people are going gaga over these devices. Tablets have got zillion numbers of good reviews but they do have their share of negative ones.
Recently in one of the main interviews given in since the launch of BlackBerry Z10 this year, there have been some rather amusing statements from the CEO.  BlackBerry (BBRY)  CEO Thorsten Heins said "In five years I don't think there'll be a reason to have a tablet anymore," he added that, "May be bigger screen in your workspace, but not a tablet as such. Tablets themselves are not a good business model."
Why The Bitterness?
For BlackBerry Tablets hasn't been a strong point. The company instigated its first PlayBook tablet in April of 2011; it received rather a cold response from the market. There were reasons for that, the prime reasons being the lack of an Email, calendar app on the device. According to a study the company shipped 255,000 PlayBook tablets in Q3 2012 though the sales were quite decent but while Apple Inc (AAPL) shipped 14 million iPad units in the Q3 2012 alone. The PlayBook barely made a mark in overall tablet market share. May be because the PlayBook failed to charm the market, his perception towards Tablet segment have changed, let's just say he is not a huge fan of tablets.
Can The Prediction Be Right?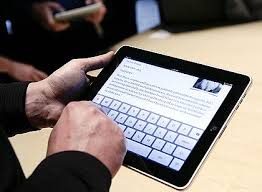 According to another study the tablet market is destined to grow further globally in 2013. There may be nearly 150 million Tablet shipments in 2013 resulting in $64 billion in revenue.
IDC forecasts that total sales of tablets using Google's Android operating system will make up 48% of the total tablet market in 2013 compared to 46% share projected for iPad. But even if Apple loses its reign, the room left for the competitors is minimal. Profitability is also growing tighter in tablet market segment, Apple has even come up with iPad mini to tap the 7 to 8 inch tablet segment as well so all these rapid changes hint towards the abundant growth for tablets in future as well.
Heins said about having bigger screens in the workspace but now it's the post PC era people are getting rid of PC and our adopting the latest technology i.e. tablets so that logic of his doesn't add up to today or for the coming future gadget diehards.
As a company in recovery mode, BlackBerry will likely be challenged to compete in a Tablet market segment where profits are so tight, even if it wants to compete in the market then it has to come with a killer Tablet to charm the users and to stand tall in front of the   competitors until then it is safe for BlackBerry to concentrate on Smartphone segment.